Can Technology Make You a Better Writer?
Writers love to talk about the tools they use. But that begs the critical question: can technology make you better a better writer?
The answer is a cautious yes. For example:
Apps can motivate you to set and stick to your writing goals.
Some applications make it easier for you to write by eliminating the distractions of other technologies.
Online tools can let you work in different environments or from various devices. (Cloud-based writing tools come to mind here.)
Software can help you become better at revising and editing, which improves your output.
Remember it's not the technology, but how you use it that matters.
Some writers are have firmly set habits and ways of working. These people greet writing apps and tools with a shrug, or at best curious indifference.
What about people at the beginning of their writing careers, still establishing process and habits?
Specifically, I'm thinking of college students.
An English professor at a Pennsylvania college asked about writing tools for his students. I decided to look beyond my own experiences and habits.
The Wisdom of the Writing Crowd
What technologies would you recommend to other writers at the early stages of their careers?
To meet the needs of college students, any suggestions should be:
Easy to use
Free or affordable – let's not add to the student loan debt!
Useful for all types of writing – research papers, term papers, fiction, etc.
I posed this question to people in writing groups on Facebook and LinkedIn, and these are a few of the responses I've received, categorized as much as possible by the phase of the writing process addressed.
Apps for Researching/Collecting Ideas
Evernote (Evernote.com) –  This is the big gorilla in the research-gathering and note-taking area. To synchronize notes across more than two devices (say, your phone and your laptop), you need a paid account, which starts at $3.99 per month, or $34.99 per year. If you want a free alternative, read on.
Apple Notes with iCloud – Apple Notes is a great alternative to Evernote for Mac and iPhone/iPad users. It comes free with your device and loads super-fast. (It's my go-to choice for grabbing notes and ideas on the fly.)
Google Keep (google.com/keep) – Lest you accuse me of having an Apple bias, you can also use the free Google note-taking app.
Bear Writer (Bear-Writer.com) – This iOS and Mac application spans from note-taking to writing, and comes recommended by writer friends. The core version is free to use.
Pinterest – Are you a visual thinker? Consider Pinterest. The author Abbie Edmonds shared this tip about using Pinterest:  "I pin websites to Pinterest to a secret idea dump board that I keep."  Oh, it's also free to use.
Organizing Ideas
I love an outline, but it can take me quite a bit of writing and exploring to get to one.
Some writers love using mindmaps to arrange their thoughts. Google "mind mapping software" and you'll find an array of options.
But did you know that Canva, that wonderful graphics software that authors everywhere rely on, also has mind-mapping templates? If you're already familiar with Canva, this is a huge win. Plus, you can produce attractive maps to use in talks or other materials. Go to Canva, choose Templates, and search for "Mind maps."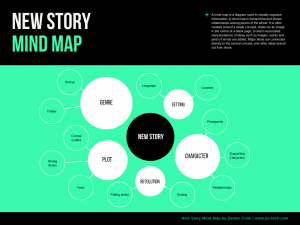 Freewriting Apps
Freewriting, or writing rapidly and fluidly without criticism or correction, is a terrific way to create a daily writing habit and practice writing in a state of flow. (Read the post Fast, Fluid, and Fearless.) Here are a couple apps that can help you get comfortable with the process.
The Most Dangerous Writing App – Use this browser-based application to train your ability to write without editing and refining. Its creator, Manual Ebert, has a cognitive science background, and created the app to train people to separate the act of creation from self-editing. He reports that it is widely used in classrooms.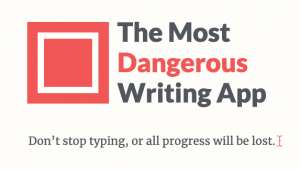 750Words (750words.com) – I used this app for a couple years to make a solid habit of writing every day. It tracks the days you hit your goal and the ones you missed. It's free for the first 30 days, then $5 per month afterwards. Again, this might be useful for training a writing habit.
Focusing on the Work
Sometimes we need technology to avoid the distractions of technology – very meta. Here are two that writer friends report using:
Freedom (freedom.to) – This application works across your browser and phone (iOS and Android). Use the app to block specific websites for time periods – like checking Facebook during your dedicated writing time. The basic plan costs about $2.50 a month.
FocusKeeper (limepresso.com) –  One writer friend recommended this ioS-based timer for work.
Writing Environments
Google Docs – As a basic cloud-based writing environment, Google Docs fits the bill beautifully. It's already widely used in education and supports group project work and editing, so it earns a place on this list.
Ulysses (Ulyssesapp.com) – This Mac and iOS app organizes projects and provides a clean workspace. A writer friend recommends it. It's sold as a subscription, with monthly or discounted annual subscriptions. The company discounts student pricing, with six-month subscriptions for $10.99.
Scrivener (literatureandlatte.com) – I finally started using Scrivener when struggling with organizing my research for Get the Word Out. Now I love it. It looks like it would be fabulous for working on a thesis as well.
Editing and Revising
The secret of good writing? Excellent editing. Here are a few suggestions.
Grammarly (grammarly.com) – Many writers recommend this one. Use the browser extension and you can check your writing anywhere you're working. And it's free.
ProWritingAid (ProWritingAid.com) – I use this robust grammar/style checker; you can find free or affordable paid versions. Read my review here.
WordRake (WordRake.com) – If you do most of your writing in Microsoft Word, you'll love WordRake for its tight integration into Word. WordRake cleans up the excess words in your prose and offers smart suggestions. It's a great investment in your personal writing voice.
Hemingway App (hemingwayapp.com) – Death to academic-sounding writing! The Hemingway app will search out passive voice, complex sentences, and over-reliance on adverbs. It also assesses a grade level for your writing. Use the free browser version or the desktop app (Mac or PC, $20).
Vellum is a fantastic piece of software for turning your words into beautifully formatted books. I've started using it for both my print and online books.
Merriam-Webster online (merriam-webster.com) – Is that one word or two? Or hyphenated? What's the correct usage? Merriam-Webster's online site can answer most of those questions. Warning: I end up getting distracted by cool word-related posts.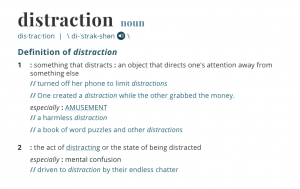 ---
That's my woefully incomplete list. Are there any apps that you would want to add? Let me know in the comments and I'll update this before I send it on to the college class!
Remember, your most important writing tool is your brain. More on that in The Writer's Process – the proud winner of a Gold Medal in the Reader's Favorite international book award contest.
Additions from Readers
Michael Finkelstein recommends Unicheck plagiarism checker to protect yourself from inadvertent plagiarism. Thanks, Michael, that's a great idea.
Jessica Majewski wrote a terrific post about writing tools on the When You Write blog.
From CloudWards, here's a software comparison that includes tools for screen-writers: The Best Writing Software 2019: Quill and Ink for the New Age.
From PlagiarismCheckerFree, here's a guide to understanding (and avoiding) plagiarism: 9 Smart Tips for Avoiding Plagiarism.