A book is a gift you can open again and again." —Garrison Keillor
Some books are better when shared.
Here are a few reasons for purchasing and sharing my books with your teams, book groups, or customers.
Virtual visits for writer's groups and  book clubs
When you purchase 10 or more copies for your group, I can Skype or Zoom into your meeting to chat about the book. You can purchase directly from Cuesta Park Consulting, or from the retailer of your choice. Contact info [at] annejanzer.com to schedule.
Discounts and customization for businesses and associations
Purchase books in bulk for employee training and development:
Educate marketing teams about the nuances of operating in the Subscription Economy
Help your employees improve their writing skills to contribute content at a higher level
Or, use books or customized extracts from any of my books to support your content marketing campaigns.
Purchase directly from Cuesta Park Consulting for the following discounts:
11-20 copies: 20% discount
21-49 copies: 25% discount
50-200 copies: 50% discount
201-1000: 62% discount
1001+: Contact us directly at info [at] annejanzer.com to talk about your needs
Larger orders may be customized to include:
Your logo or message on the cover
An introduction or note from your team
We can also create customized print or electronic excerpts to meet your marketing or training needs.
Ask about customizing and cobranding
---
33 Ways Not to Screw Up Your Business Emails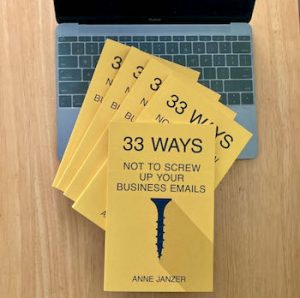 This is the perfect book for college graduates entering the workforce, new hires, or teams trying to work better in an increasingly remote or virtual world.
Comments from reviewers:
"Should be required reading in businesses, schools, and if it were at all possible, my neighborhood email chain."
"We don't spend any time teaching folks to "do" email, and yet we spend SO MUCH TIME on email. The tips in this book will make your team's communication more thoughtful, direct, and actionable. Which will save YOU time."
"Managers, if you want to improve your team's productivity, you would do well to get this book for every team member."
---
Subscription Marketing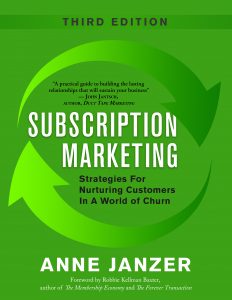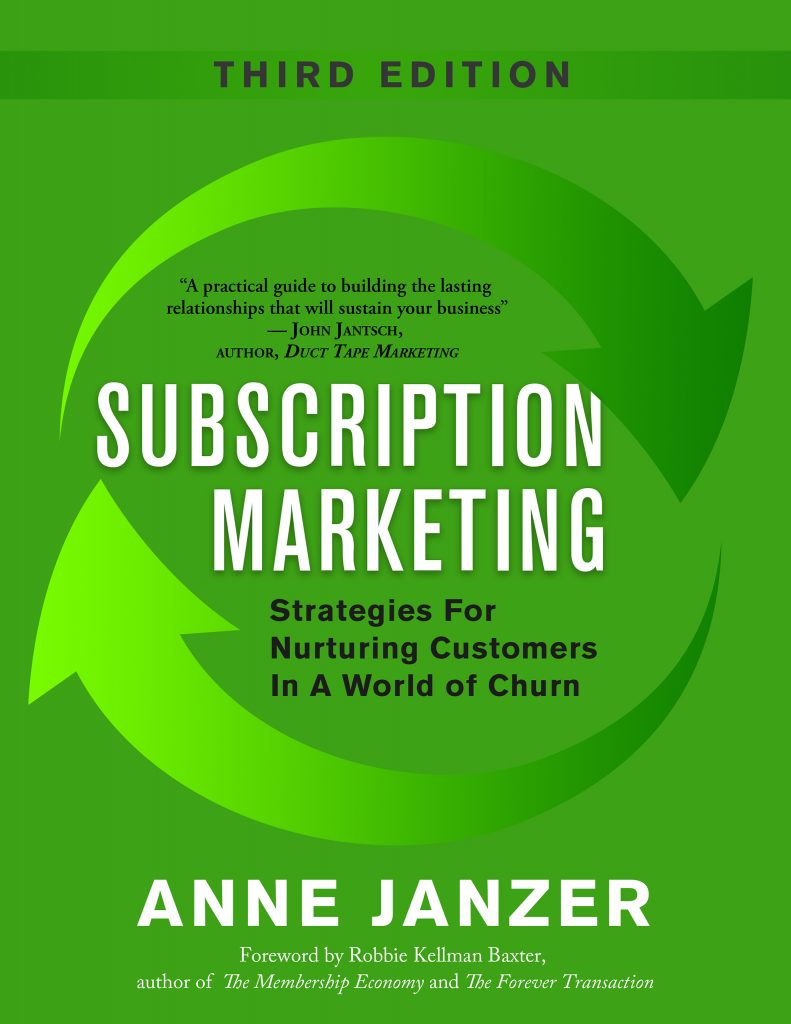 Now in its third edition, Subscription Marketing will change the way you look at acquiring and sustaining customers.
Comments from reviewers:
"I read many Subscription Marketing books. This is the one I bought for my team to read. Great ideas to retain more clients."
"I just finished reading Subscription Marketing and the book completely changed the way I view my subscription company's approach to marketing."
"Worth reading by all levels management in all core business functions."
"The subscription model is impacting sales and marketing in a big way. Janzer tells you why that's happening and what it might mean for your business. Don't miss this book."
Subscription Marketing is one of the best marketing strategy audiobooks of all time, according to Book Authority.
Order in bulk now
---
Writing to Be Understood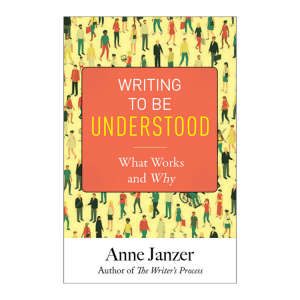 Writing to Be Understood: What Works and Why is applicable for writers in business, academic, scientific, and technical settings, as well as anyone who wants to write great nonfiction. Whether you're buying for your writer's group, workplace, or classroom, the paperback version offers an affordable path to bulk purchases.
Comments from reviewers:
"I write and also hire people who write. From now onwards my first interview question will be 'Have you read Anne Janzer's book?'"
"As a college instructor who teaches online, writes content, and communicates with students exclusive in writing, I found Janzer's approaches to be spot on. A valuable book for anyone who writes to communicate information to any audience."
Writing to Be Understood won a gold medal in the 2019 Independent Publisher Book Awards.
Order in bulk now
---
The Writer's Process
The Writer's Process helps writers juggle creativity and productivity in writing, no matter what the subject.
Writers groups of all kinds will find its exercises and insights helpful. It's also used in many college writing courses.
Comments from reviewers:
"This motivating and inspiring book helped me to better understand my process as a writer, and therefore become a more productive writer."
"If you've ever struggled with making time to write or hitting your writing deadlines, this book can help. Anne gives you the tools you need to develop a structured, repeatable writing process you can put to work to reach your writing goals."
"Whether you are a seasoned journalist or part-time blogger, this book is must-read for every writer."
"If I weren't retired, I would have bought copies for all of the folks who reported to me. Most of them had to write as part of their jobs, and they all lead software development projects. This book would have helped in all aspects of their jobs."
The Writer's Process won a 2017 Readers' Favorite Gold Medal award and a Foreword INDIES Book of the Year Silver Medal.
Order in bulk now
The Writer's Process Workbook
The Writer's Process Workbook includes interactive assessments and exercises based on the ideas in the book. Use it with
Writers groups
Writing classes
Buy print books with a bulk discount from Porchlight Books.
The Workplace Writer's Process
Give The Workplace Writer's Process to a single writer, and they'll be more successful. Give copies to an entire team or department, and watch what happens with your content development projects.
Comments from reviewers:
"This is a comprehensive book that all writers should add to their resource library."
"Great book for planning and executing writing projects…for teams of 1 or 50."
 "I can't wait to use the step-by-step process approach for planning, writing, revising and review in my next project."
The Workplace Writer's Process won a 2018 IndieReader Discovery Award for Nonfiction.
Order in bulk now
---
Get the Word Out: Write a Book That Makes a Difference
This book is a great choice for nonfiction writers groups or groups of thought leaders and change-makers who want to make an impact with their writing.
Comments from reviewers:
"This is the go-to book if you'd like to write your first book. It's filled with tons of practical recommendations to turn your writing dream into a real one."
"This book encompasses everything I love about writing nonfiction. It shows how you can make a difference in the world by writing a book that is focused and has a purpose. As others have noted here, it's the kind of book you will wish you'd had before you started, so don't wait! If you want to create change through writing books, this is a must-read."
Order in bulk now