Some books are better when shared. Take advantage of these bulk purchase offers.
Support marketing or writing teams in generating content to drive marketing initiatives
Inspire management teams considering new business models (Subscription Marketing)
Help individuals contribute and perform at a higher level through written content
Library buyers and book retailers: All of the books are offered returnable and discounted in the Ingram catalog. Find the ebooks on Overdrive, and audiobooks on Overdrive and Hoopla.
The Workplace Writer's Process
Give The Workplace Writer's Process to a single writer, and they'll be more successful. Give copies to an entire team or department, and watch what happens with your content development projects.

Comments from reviewers:
"This is a comprehensive book that all writers should add to their resource library."
"Great book for planning and executing writing projects…for teams of 1 or 50."
 "I can't wait to use the step-by-step process approach for planning, writing, revising and review in my next project."
---
The Writer's Process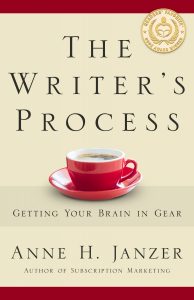 The Writer's Process helps writers juggle creativity and productivity in writing, no matter what the subject. Give it to anyone who can benefit from a more fluid writing process.
Comments from reviewers:
"This motivating and inspiring book helped me to better understand my process as a writer, and therefore become a more productive writer."
"If you've ever struggled with making time to write or hitting your writing deadlines, this book can help. Anne gives you the tools you need to develop a structured, repeatable writing process you can put to work to reach your writing goals."
"Whether you are a seasoned journalist or part-time blogger, this book is must-read for every writer."
Bulk purchase offers from me:
Purchase 10 or more copies for your team or company and book a phone call to talk about the writing challenges you face at your workplace.
Purchase 25 or more copies and get two hours of phone consulting (or, in the Bay Area, an in-person consultation with your team.)
To take advantage of these offers, send a copy of the bulk purchase receipt to info [at] annejanzer.com.
---
Subscription Marketing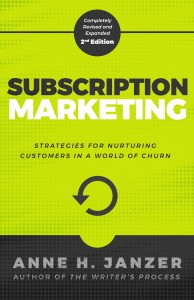 Now in its second edition, Subscription Marketing may just change the way you look at acquiring and sustaining customers.
Comments from reviewers:
"I just finished reading Subscription Marketing and the book completely changed the way I view my subscription company's approach to marketing."
"Worth reading by all levels management in all core business functions."
"I highly recommend this book to anyone in marketing."