The world of book marketing is in constant flux. I'm on a mission to share what I learn with other authors. Join me if you'd like.
Here are some things that might help you on your own book marketing journey.
Book Marketing Webinars
Interested in getting more book reviews or demystifying the "author platform" thing? Check out my book marketing webinars.
Join the Inner Circle of Book Marketing Advice
At the end of every month I make notes on what I've learned about book marketing: new things I've encountered, experiments run, lessons learned.  Then I share those thoughts with my friends on this list. If you're interested in those geeky details, sign up here.
Ad Hoc Book Marketing Coaching
Want to talk through your nonfiction book marketing issues with someone? Book a 30-minute "office hours" consultation to talk through your issues.
Assorted Resources for Indie Authors
Looking for ways to test titles or create ebooks? Check out this list of a few of my favorite resources here.
On Book Promotions and Discounts
I've had some moderate success doing promotions of discounted books. These two blog posts for the Nonfiction Author's Association lay out my process and results:
Part One covers setting the price, duration, and promotion plans for your discounted sale.
Part Two is about evaluating the performance of your campaign
On Podcasting as an Author Marketing Strategy
I'm a big fan of doing a virtual book tour via podcasting. Find my advice in this three-part bog series:
An Author's Guide to Being a Good Podcast Guest: Part One
Part Two: Preparing for the Podcast
Part Three: The Podcast Interview and Beyond
On Using BookBub Ads
BookBub ads have many cool features: you can use them to find people who like the books of specific authors, or to target individual geographies and platforms.
Here are some thoughts I contributed to Jane Friedman's wonderful blog:
Other Topics in Guest Posts and Podcasts
Check this round-up of recent posts I've contributed to other blogs:
How Much Book Marketing is Enough?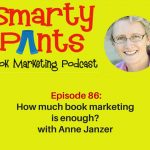 Balancing Creativity and Productivity in the Writing Process