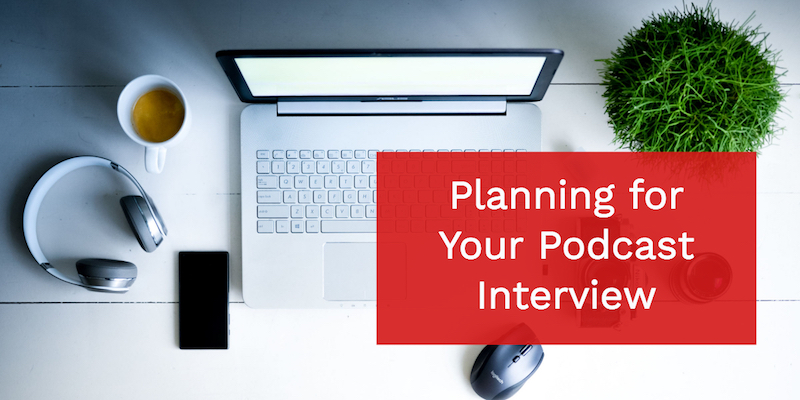 This is the second in a three-part series of posts about being a podcast guest. Read the first one here.
Congratulations! You've landed a podcast interview to talk about the subject of your book. What do you do next?
Prepare. Here's my personal preparation time line.
Immediately
I like to take notes and assemble my research for a podcast as soon as it's confirmed, even if the interview itself won't take place for weeks.
Why? Because then I remember why I wanted to be on this podcast!
If you researched the audience, subject and reach ahead of time, it's fresh in your mind. Assemble a file right away. Here are a few things to include in your notes.
Audience information. If you followed the advice in the first post, then you looked into podcast's topic, audience, tone, etc. Keep those notes. And if the podcast listeners are outside your usual audience, do a bit of thinking now on what might interest them.
Host instructions. Douglas Burdett hosts the Marketing Book Podcast – you'll hear more from him later in this series. He goes out of his way to be thorough in helping his guests be successful, offering detailed written and video instructions. He maintains high standards for his podcast (and is a fabulous host), and as a result, it has a loyal and growing following. This is one reason his listeners love his podcast.
If the host offers instructions, do them the courtesy of reading them, printing them, and following them. If the host doesn't offer guidance, the notes that follow should help you prepare.
Standard questions. Some podcast hosts open or close each episode with a signature question. You should have noticed that when you did the research (see part one in this series). If not, make a note of it now. There's nothing more awkward than being caught flat-footed by a question that the listeners have heard a dozen times. Listeners (and the host) might interpret it as being disrespectful.
Technical details. How will the interview take place? Over Skype? Zoom? On a phone call? Make a note of it now, because you may not remember weeks from now. If the interview will take place over Skype or Zoom, make sure you have equipment that can work. Schedule access to a quiet place with high speed internet. (If you're traveling, this may require advance planning.)
Also, get a good headphone. It doesn't have to be expensive. You'll need a headphones with built-in noise cancelling, dynamic microphone, and USB connection. (Your fancy Blue Yeti or other condenser microphone only sounds great if you are in a perfectly quiet environment, because it's designed to pick up all kinds of noises.)
Douglas Burdett (of the Marketing Book Podcast) recommends the Logitech H390 Comfort noise-cancelling  headset — about $25.  Seriously. Think of it as an investment in your personal brand. As Douglas says, "Your credibility will take a hit if you don't sound good."
(I've included his wonderful video on the topic at the end of this post.)
A few weeks before the interview….
Send the host everything they will need to promote the podcast once it's done. Do this well ahead of time – then the host won't have to bug you for it later. (Nobody likes hounding people.) Here's what you should send:
Headshot (a professional-looking one)
Short bio
Introduction — something that the host can read to introduce you, tailored for their audience
Book cover image — you do want people to know about your book, right? Send the cover image.
Links to your author website, Amazon page, whatever you want to share with listeners.
If you plan to do a lot of podcast guesting, put this on a page on your author website and then you can just send the link to podcasters. They will appreciate it.
One week before the podcast interview
Confirm the time. If you haven't heard from the host since you first scheduled, send a quick email confirming that it's still on the schedule. Stuff happens, and you don't want to spend time preparing for an interview that doesn't take place.
Send some talking points (if the host has not sent you questions or topics). Some podcast hosts do extensive research (like, reading your book!) Most don't. Draft some discussion topics or questions that the host might ask you, and share them. Volunteering possible discussion areas helps the host frame interesting questions that will appeal to the listeners, so you both sound smart from the start.
A day or two before the podcast interview
Make notes about the topic areas. Review your talking points and take a few notes. I don't usually use them, but they offer a  lovely sense of security when the day arrives.
Practice talking aloud about your subject. You may feel goofy doing so, but it's important. Otherwise, you might run right into the illusion of fluency.
If you simply "think" through the discussion points, you'll sound brilliant and witty in your own head. We all do – it's like singing in the shower.
But when you try to form those vivid thoughts into spoken words, particularly on the air with other people, you can end up tongue-tied. That's the illusion of fluency. Please, practice ahead of time.
Draft a few tweets. Write down a few pithy takeaways or tweetable points. You might be able to slip them into the conversation in a way that sounds natural. That gives the host something to highlight in the show notes, or to tweet. You're making it easier for them to share.
Test the technical details. If the interview will take place on Skype, log into your account. Make sure everything works, and you remember your password, etc. If it will use other software like Zoom, download the client and test it out. Make sure everything works. You don't want to be caught by surprise at the last moment.
30 to 15 minutes before the interview
Phones, doorbells, dogs, babies.  Find a way to avoid all of the noise-makers in your life that might interrupt the interview or distract your attention. Silence the phone, shut down other tabs, and basically try to create a quiet space. Make sure people around you know not to interrupt.
Do you plan to do the call while driving a car or sitting in the airport? Not cool. It will sound terrible to the listener.
Necessities. Get a drink of water. Print out your talking points if you want them nearby. (Again, security.)
Energize and relax. Listeners don't want to feel your nerves. So try to find that balance of relaxed and energized. Do some jumping jacks. Stand in a power pose, like superman. Listen to upbeat  music.
You can relax and sound brilliant – because you've prepared!
Ready? In the next post, we'll discuss what to do during and after the podcast. Hint: the "after" part may just be the most important bit.
---
Read Part Three: The Podcast Interview and Beyond
Want to go deeper on the performance? Register for my webinar on being a podcast guest.
Watch Douglas Burdett's video on the importance of microphone selection: