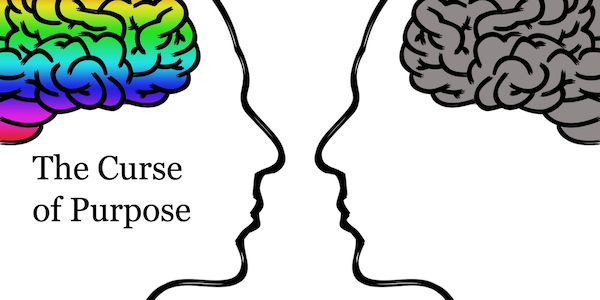 A local news broadcast the other night showed a clip of a woman being dragged away from the audience at an event discussing immigration. It looked like she was given the floor to pose a question, and then launched into a diatribe that led to her removal.
The debate over immigration is heated, and the current administration draws many protests in California. So, there was nothing surprising about this news clip. But, it got me thinking about effective communication strategies.
Writing lessons can be found everywhere – even on the nightly news.
Could this have played out differently? What might have happened if she had attempted to pose a thoughtful question, rather than shout an opinion?
I don't question the woman's commitment, her passion about the cause, her right to speak, or her values. But in that moment she chose protest over dialog. She forfeited effective communication – knowingly or not – because of the strength of her passion about the subject.
If her goal was to change anyone's mind, or even to spark reasoned debate, she did not succeed.
The moment encapsulated the reality of communication presented in the name of "public debate" that never manages to get past the surrounding group of people who agree with us, or to penetrate people that hold different, or unformed, opinions.
In some situations, passion interferes with effective communication.
The Curse of Purpose
By all means, write about the subjects that matter to you. But when dealing with topics near and dear to you, be careful.
Too much passion can make your writing less effective.
A previous post here, Finding Purpose Through Writing, discussed what to do if you didn't have a strong sense of purpose driving your writing.
This post is the necessary companion to the first. It's about what happens when you approach your writing with too much passion, or when your sense of purpose overrides your understanding of the reader.
I call this the Curse of Purpose – and you can see it all around you.
The Curse of Purpose is my (admittedly made-up) counterpart to the Curse of Knowledge – a cognitive bias in which we assume that other people know the same things we do.
The Curse of Purpose happens when we assume that our audience shares the same general values or ideals that we do, the same sense of purpose.
When we suffer from the Curse of Purpose, we believe that all we have to do is remind people of a cause – the suffering of animals, destruction of the coral reef, or unfairness of a particularly policy – and they will immediately embody the same feelings as we do.
The world doesn't work this way.
When you do a frontal assault on purpose and your reader does not already agree with you, you can do more damage than good.
The strength of your commitment to a purpose can shut down your compassion for the reader. You can become so intently focused on the subject of your writing that you forget its object – the person with whom you want to communicate.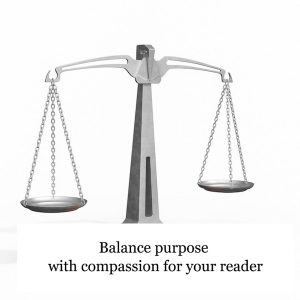 Do You Want to Cause Change?
Effective communication requires two parties: the writer and the reader. If you don't penetrate the reader's attention or understanding, you won't be effective, no matter how passionate you are.
There's a place for impassioned writing. Use it to inspire those who already agree with you.
When you need to reach beyond your existing crew, temper purpose with compassion for your reader. Take a deep breath and look at the world from your reader's perspective, if you dare. Then find a way to balance your beliefs and excitement with the reader's needs.
If you truly want to make a difference, write with compassion for your reader as well as your purpose.
Related Posts
Three Reasons It's Hard to Write for Your Audience
Finding Purpose Through Writing