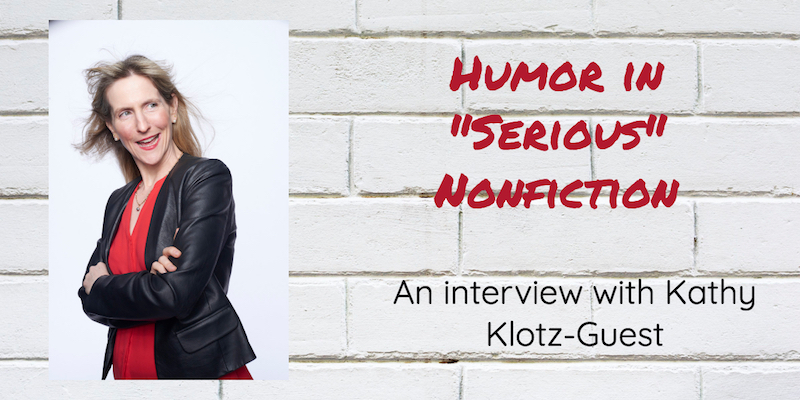 Let's have a serious talk about humor.
It's tough to do well. It can be controversial. And it may land with a thud in business or nonfiction writing, particularly across cultural contexts.
And yet … the careful application of humor catches the reader's attention, sustains their interest, and, if done well, earns their trust.
Many of my favorite nonfiction authors use humor to varying degrees, even when writing about topics that are not inherently funny. A few that come to mind include:
Michael Lewis – financial disasters
Neil deGrasse Tyson – astrophysics
Mary Roach – dead bodies, digestion, etc.
These writers aren't comedians—they're great communicators who use humor as one of many strategies to connect with readers.
If it works for them, it may work for you, whether you write fiction or nonfiction.
For advice on using humor in nonfiction and business writing, I turned to my friend Kathy Klotz-Guest. Kathy is an author, speaker, storytelling strategist, and improvisational comedian.
In addition, she's a genuinely fun and funny person. She generously shared with me some of her thoughts on nonfiction writing.
The Biggest Misconception about Using Humor in Writing
It's not all jokes and gags. In fact, you can be subtle. Kathy offers great advice:
"Many people fundamentally misunderstand humor. Everyone thinks, I have to be funny. Reframe that idea to I need a sense of fun, curiosity, and levity. Making people smile might be enough."
Aim for fun, not funny, and see what happens. Approach a topic with a playful mindset. Kathy says, "Your audience is looking for you to connect with them. I'm convinced that most of us have a sense of fun."
So, what's funny? Look in the mirror.
Kathy says, "Human beings are fallible creatures. The easiest way to have fun is to speak the truth because the truth is often funny. Humor is all about the truth."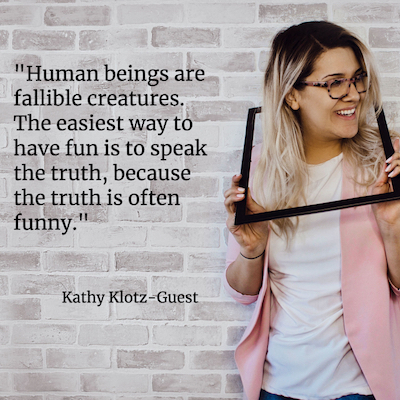 For writers, if you speak the truth about yourself, approaching your vulnerabilities and foibles with a sense of fun, you can forge a connection with readers, earning their trust. Metaphor, similes, and honest stories can go a long way here.
Explaining with Humor
Kathy believes that humor offers an important entry into explaining and humanizing difficult or abstract topics. "You can't explain complexity with more complexity. Humor and fun simplify and humanize topics."
Improv and Empathy
Most often, humor fails when you don't understand the audience.
Did I mention that Kathy is an improvisational comedian and teaches the art to others? That background contributes to her communication skills.
According to Kathy, "The core tenets of my improv faith (ha!) are saying Yes and and making my scene partner look good."
Saying yes and in an improv scene means you accept what the partner offers and build on it. To make the scene partner look good, one refrains from grabbing the spotlight while offering something funny for the other person to work with.
Writers, too, must understand, accept, and build on what the reader brings to a topic. Says Kathy, "In improv, I anticipate what the other person needs. That applies to writing as well. What do my readers already know, and what do they need to know?"
To make the reader look good, consider their perspectives and help them arrive at the right conclusions: "You can tell people things, but they must arrive at their own aha themselves."
---
Find out more about Kathy on her website, KeepingItHuman.
Check out her book Stop Boring Me.
For more on varied nonfiction writing techniques, see Writing to Be Understood: What Works and Why.

No Fields Found.