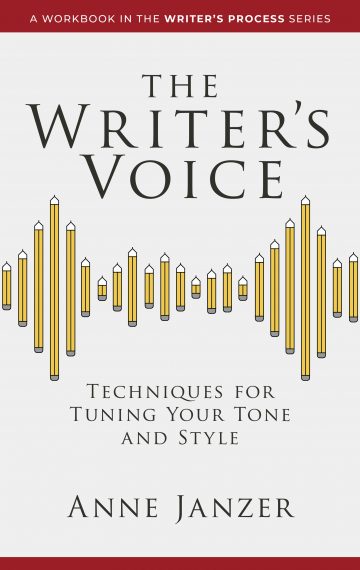 NEW RELEASE
$18.95
Publisher:

Cuesta Park Consulting

Available in:

Paperback, Kindle

ISBN:

9781952284106

Published:

August 22, 2023
Buy it on Amazon
Preorder the ebook from your favorite retailer
Order from Bookshop.Org
Techniques for Tuning Your Tone and Style
Elevate your writing. Amplify your connection with readers.
Everything we write creates a voice in the reader's mind. If you want to make an impact with your writing, learn to control the voice on the page. 
Master the art and science of writing voice with this transformative guide
The Writer's Voice is a comprehensive, hands-on guide to this little-understood aspect of writing. Structured as a twelve-week writing course, the book includes:
Explanations and examples of how stylistic decisions (punctuation, sentence length) affect the reader

Exercises and writing prompts to experiment with different aspects of your writing voice

Strategies for forming a stronger connection with the reader
As you work through the sections of this book, you will learn:
How to find more than one "authentic" voice in your work

Ideas for delighting the reader's inner reading ear

Techniques for shifting your voice based to fit the situation
Whether you write fiction or nonfiction, for professional advancement or personal growth, learn to stretch beyond your usual writing comfort zone. You may even discover new joy in writing as you flex your voice beyond its usual boundaries.
Invest in yourself and your writing today. Pick up a copy of The Writer's Voice and start making your voice heard.
---
What Others Say
"This book demonstrates that voice is not just something you have, it's something you make."
Roy Peter Clark, author of Writing Tools and Tell It Like It Is
---
"Your originality is in your voice. In this inspiring book, Anne Janzer shows how to tap into your unique point of view so your words feel true because they are true. Read it and reap."
Sam Horn, author of POP! and Talking on Eggshells
---
"This delightful and useful book will boost your mastery of the writer's most valuable tool: our writing voice. Follow these directions and you'll maximize your power and versatility. And that's the path to writing success."
Josh Bernoff, bestselling author of Build a Better Business Book.
---
"Write, write, and write more — you'll find your voice eventually." Anytime someone tells me they're struggling to find their writing voice, this used to be my only advice.
Not anymore. Now I'll send them straight to The Writer's Voice: Techniques for Tuning Your Tone and Style, by Anne Janzer. Anne's in-depth and easy-to-use workbook format is like having a coach guide you to your voice, step-by-step.
This book is another crucial entry in what I have come to think of as the Anne Janzer Canon. Anne's uplifting, authoritative books are treasures for all aspiring writers."
Pamela Wilson, author of the Master Content series
---
Watch the Video Series
In this series of short videos, writers of all kinds talk their favorite take-aways from The Writer's Voice. You'll hear from fiction writers, business writing teachers, magazine writers, health and meditation writers, and more.
---
More About Voice
Watch this conversation about Writing Voice on the Extraordinary Business Book Club with Alison Jones.
Listen to Anne Janzer and Dan Janal discuss writing voice and ghostwriting on the Write Your Book in a Flash podcast.