Short Version
If you want to change people's opinions with your words, and particularly if you want to write an opinion piece that makes an impact, read this new book by the former editor of the New York Times Op-Ed page. Writing to Persuade by Trish Hall interweaves fun, behind-the-scenes stories about the workings of the Times opinions page with solid advice grounded in both research and experience. It's both informative and entertaining.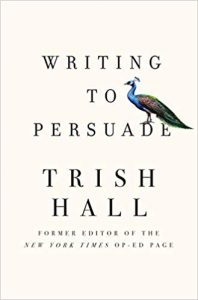 Long Version
In Writing to Persuade, Trish Hall shares her hard-won lessons as editor of the New York Times op-ed page, handling everything from celebrity opinion pieces to personal discussions of sensitive topics. If you've ever wondered exactly how those pieces land on the website or in the paper, or what makes one of these things effective, this is the book for you. More importantly, if you hope to change other people's minds through writing, whether op-ed pieces, books, or blog posts, this book has valuable advice.
The Memoir
Part One of the book, "Lessons from My Story," shares Hall's personal journal from writer to editor to the op-ed editor at the New York Times.
Regular readers of the New York Times will enjoy the "behind the scenes" stories of the pieces that make it to the op-ed page sprinkled throughout the book. There's a particularly entertaining chapter on "Dealing with Celebrities" that will make you pause the next time you read an opinion piece from a well-known name.
While the book then quickly moves into general writing advice, Hall has years' worth of stories to use to illustrate her points. The memoir nature of the book underpins the advice that follows, making the whole thing an entertaining read.
Solid Writing Advice
The meat of the book is practical advice on exactly how you, as a reader, can learn to write persuasively.
In the preface, she presents her 15 principles of persuasive writing, concisely laying out the essential advice that she extrapolates on in the remainder of the book. It would make a great poster for nonfiction writers – and if you got no further than following the advice in the preface, you'd be in good shape.
Parts Two through Five cover finding your own voice and story, winning people over, and general writing tips.
Hall shares personal advice and tactics as well as general strategies.
On finding her own voice, she suggests that "Sometimes, when I can't get started, I write with my eyes closed, to block out reality." Fascinating tip.
But her unique angle is her inside view into effective opinion pieces.
If you hope to publish an opinion piece in a major publication, pay attention to her advice on how to please editors: surprise them, offer a fresh perspective on an old issue, or delight them with the quality of your writing. (Easy enough, right?)
And there are other gems we should all remember. For example, she suggests that persuasive writers make more positive statements than negative ones. "Remember that scaring people and being negative does not generally agree with our fundamental natures."
Always cede the good points that the other side makes. If you want to rebut something, repeating it with a negative like not only reinforces the point. (See how the "I am not a crook" rebuttal worked for Nixon.)
My Favorite Parts
My favorite section may be the last one, entitled "The Psychology of Persuasion." It's right up my alley, exploring the psychological underpinnings of effective persuasive writing. If you want to change minds with your words, you need some insight into how those minds work.
The chapters here include guidance on the power of moral values, what really changes people's minds, and the difficulty of changing beliefs. These are all topics I tackled in Writing to Be Understood; Hall treats them brilliantly from her perspective, and shares fascinating research that applies to writing.
One of the tactics she suggests here is that when writing, you inform people of the "socially accepted consensus" if you want people to open their thoughts. And she also impresses on writers the importance of not judging those who don't agree with them.
If you want to change the world through writing, pick up this book and internalize its lessons. You'll never read the opinion sections of the paper in quite the same way again.
More Books for Writers:
What Alan Alda Understands about Science Writing
The Sense of Style by Steven Pinker [Review]