A Book Review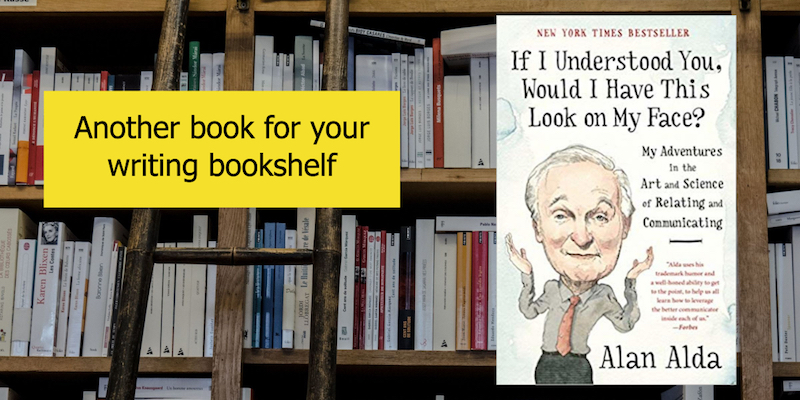 Short Version
If I Understood You, Would I Have This Look on My Face? by Alan Alda is a terrific addition to your writer's bookshelf. Although the book focuses on scientific communication, it holds valuable lessons for all nonfiction writers about effective communication. Oh, and it's fun to read as well.
Long Version
What can Alan Alda teach you about better nonfiction writing? As it turns out, plenty. In addition to being an entertaining storyteller and effective writer, he offers a great deal of interesting research and solid advice in his book If I Understood You, Would I Have This Look on My Face?
Although he is best known for his acting skills, Alan Alda has dedicated years to the cause of improving scientific communication. This mission started with a gig he had hosting the PBS television series Scientific American Frontiers for eleven years. Doing this, he confronted the challenges of communicating effectively about scientific topics to a general television-viewing audience.
His passion for the subject comes through in the introduction: "People are dying because we can't communicate in ways that allow us to understand one another."
But the lessons in the book extend well beyond communicating about science.
Reasons to Read, Even If You're Not a Scientist
The book's cover, title, and subtitle set certain expectations.
The cover image suggests that you'll hear plenty of Alda's voice and personal style.
The title hints at self-deprecating humor.
The subtitle, My Adventures in the Art and Science of Relating and Communicating, promises a combination of story and science.
The book doesn't disappoint – and in fact, exceeds expectations on all fronts.
It turns out that in addition to being a talented actor, Alda is no slouch as a writer, full of wit and intelligence. He writes with great commitment and an underlying, self-deprecating sense of humor that is consistent with his on-screen persona. (Not the villains, mind you.)
The Unexpected Pleasures
What I didn't realize was the depth Alda's commitment to communication and the science behind it.
Alda has lent his name to the Alan Alda Center for Communicating Science at Stony Brook University in New York. The center conducts training and research in into scientific and medical communication. He and the team at the Alda Center devised the Alda Method™ for Science Communication based on the practices of improvisation to train scientists and others to communicate more effectively.
Why improvisation, you might ask? Because improvisation builds empathy with the other person – the listener, the reader, or whoever you want to reach. And empathy makes you a better communicator.
Writes Alda, "Developing empathy and learning to recognize what the other person is thinking are both essential to good communication."
The depth of research in the book was a pleasant surprise. It's a terrific source of research on communication, as well as the work of the Alda Institute for Communicating Science. It's been a jumping off point for my own research into nonfiction writing techniques.
Why It's on My 'Books for Writers' List
Much of the book deals with in-person communications about difficult topics. (Alda opens with a miscommunication between himself and a dentist that had long-lasting effects.)
Yet the general practices and concepts apply to writers as well. Empathizing with our readers makes us more effective communicators. As writers, we must challenge ourselves to imagine the perspective of readers with different backgrounds and perspectives. Alda writes: "An essay can become a dynamic conversation with the self. It has the chance of being a little less didactic, less like the tiresome uncle at the Thanksgiving table who has the answer to his own questions and doesn't consider the possibility of opposing thoughts."
If you communicate about scientific, technical, or abstract topic, I'd suggest you read this book.
---
Related Book Reviews
How We Learn by Benedict Carey