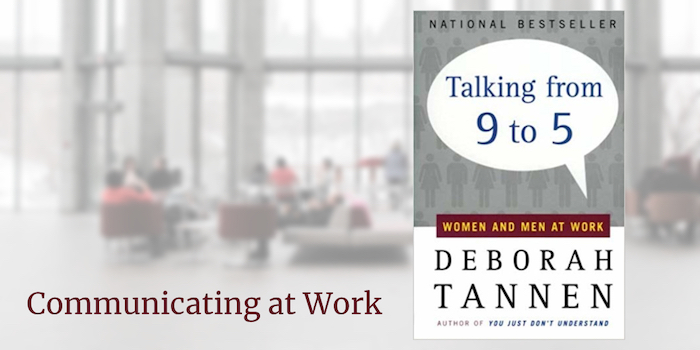 Short Version:
In this fascinating book, Deborah Tannen explores how mismatched conversational styles affect women and men in the workplace. I highly recommend it for writers, as well as anyone who works with other people.
Long Version:
We each develop certain conversational habits and styles during our lives. The words we use when speaking reflect our patterns of thought and speech habits, but also learned social interactions. (We are social animals, after all.)
In Talking from 9 to 5: Women and Men at Work,  linguistics professor Deborah Tannen illustrates with striking clarity how our ingrained conversational patterns affect us at work.
Tannen has spent a career studying and writing about how everyday language and conversation affects our relationships. In Talking from 9 to 5, she turns her focus to the conversations we have in the workplace—private conversations that may have lasting, public consequences. Tannen and her researchers have compiled countless hours of transcriptions of conversations in the workplace. She's followed people around their offices and sat in on meetings, recording their words. Volunteers have recorded their days and given the data to Tannen's team to transcribe.
When you read the transcripts, you may recognize the workplaces you've been part of. You may even hear your own voice and rethink the way you speak or interact with others.
What's happening behind the words
Conversations are more than words—they are communication rituals. Different individuals use these rituals in different ways. And when people don't follow the same rules, problems arise.
Step back and you'll find these rituals everywhere. When a new acquaintance asks How are you?, you recognize it as a polite ritual rather than a genuine inquiry. You'll probably answer briefly and return inquire after them. When your physician asks you in the examination room, you may respond with a list of physical complaints. You interpret the question literally.
If you answer the physician with Fine, and you? and give the gory medical details to the new acquaintance, you'll damage both of those relationships.
That example is obvious. The subtler conversational mismatches in the workplace may be harder to detect, but just as damaging.
People may use apologies, disclaimers, or indirectness to "level the playing field" or make the other person feel welcome and comfortable contributing. For example, a manager might make an indirect request of a direct report, which gives that person a chance to volunteer rather than being told what to do. The listener who understands this ritual may consider this style as a polite collaborative exercise of power. But if the listener expects explicit instructions, they may ignore the hint and neglect the requested task.
Another conversational style revolves around establishing dominance, determining who is in a "one-down" or "one-up" position in a hierarchical order. This pattern shows up in friendly banter or trash-talk. Again, if both participants recognize the rules, it's effective. If not, someone may feel trampled on.
Women are more likely to adopt the collaborative, level-setting rituals. This style can backfire in workplace environments based on the one-up styles. If a woman expresses uncertainty in a meeting to solicit contributions, others not familiar with that ritual might assume that she doesn't know what she's talking about—they'll take it literally.
Writes Tannen: "Problems arise when peoples' styles differ. And styles characteristic of many women put the speaker in a one-down position in conversations with those who have styles characteristic of men."
The book includes chapters on topics including:
Apologies
Indirectness
Women and authority
Status and connection
Speaking in meetings
Here's why it matters: conversational mismatches can harm women's opportunities in male-dominated workplaces. Writes Tannen:
In practice, conversational-style differences result in unequal opportunity.
Key take-aways
What can you do if you're in a workplace with people who don't share your conversational style? Trying to adopt the style of others can backfire.
The first step is having insight into of your own communication style and those of your colleagues. Tannen writes, "My hope is that an understanding of conversational style will make the world safe for individuals with a vase range of styles, including styles that mix elements commonly associated with one gender or the other."
Amen.
I'd recommend the book to anyone who wants to collaborate with diverse colleagues. An understanding of conversational styles will help you sort out or deflect damaging miscommunications.
This book is included in my "books for writers" category for several reasons:
For business writers: If you write with a conversational tone, take care that your conversational rituals don't work their way into the prose. Remember, many readers will miss the "ritual" part of the conversational tone and interpret your words literally.
For women authors/speakers: The book offers important lessons about speaking with authority, without trying to emulate male speakers.
For fiction writers: Mismatched communication styles are a ripe source for conflict and character building. You might check out Tannen's best-selling You Just Don't Understand: Women and Men in Conversation.
Related Content
Writing to Persuade: A Book Review