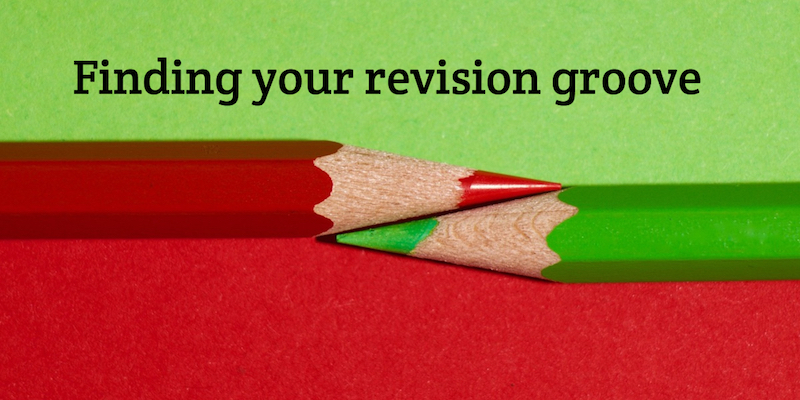 Revision – people love it, people hate it. They forget to leave time for it, or get stuck in it forever. Revising and self-editing can bring out a writer's worst qualities:
Perfectionism: It's never quite good enough to show people.
The imposter syndrome: Who am I to write about this topic? What was I thinking?
Impatience: Who has time for revision?
Irrational exuberance: It's brilliant in the first draft, I'm done.
Boredom: If I look at this one more time, I'm going to scream.
When revising a lengthy work (like, say, a book), you might experience all of these mental states, occasionally at the same time. It's enough to drive you nuts, or to keep you from doing the revision work that your writing needs.
I think I've finally figured out the secret of staying sane in this process: divide and conquer.
The Cycles of Self-Revision
Like writing, revision can overwhelm you when you try to do it all at once. Compartmentalizing keeps you sane.
In The Writer's Process, and in my course on Revising Your Writing, I extol the virtues of revising from the outside in, dividing the process into several phases:
Start with the big-picture, structural revision – does this piece meet its objectives? Is it missing something important, or do you need to cut parts? Cutting is often the first and most important work of revision.
Next, read the piece front to back for the reader's flow. Fix anything confusing, fill in any gaps, and structure the sentences to reduce the reader's cognitive load.
Next, revise for writing style, to achieve the tone you want.
Improve word choice, if you have the time, replacing lame verbs with stronger ones.
Finally, proofread.*
Revising in this way makes the most efficient use of your time. You don't spend time polishing words that you later cut. But while revising my latest book, I realized the more valuable benefit of this approach: sanity.
Why Revising in Phases Keeps You Sane
When I'm revising one of my books, I alternate between thinking Hey, this is great, and Oh no, this is lame.
Reality lies somewhere in the middle. The draft may be messy, but it has merit and will improve through revision — if I do the work.
If you're like me, you may feel similar mood fluctuations when working on a long or important piece of writing. Having a revision plan offers protection from these mental extremes.
Resisting the pull of the negative
While you may banish your inner critic during drafting, it comes back in full force during revision. You need that critical eye to guide you to make the work better. But it can go too far.
Dividing the revision process into phases keeps that inner critic strictly under control, because it only gets to pick apart one aspect of the work at at time – the content, the flow, the tone/style, the word choice, etc.
If you're doing the first read-through of your work and hear the inner critic harping on about boring sentence structures, say to yourself I'll fix those in the second pass. Right now I'm looking at the big picture. Make a note of things to correct in the next pass. This helps.
Resisting impatience
When you feel irrationally pleased with the draft or impatient to be done, you may be tempted to skip self-editing altogether. Again, having a plan ensures that you don't bypass essential revision work because you are, momentarily, thrilled with the words. You can tell yourself, If it's good now, think of how much better it will be with a few editing passes. 
Letting the work go
If you have a hard time letting go of your work, a revision plan may give you the courage to publish. Once you've done the requisite number of passes, the work is probably good enough. It's time to move on to something else.
I've sketched out my basic revision plan above, but you'll need to decide what goes into your personal revision plan. Perhaps you'll do one read-through for flow, another to seek and destroy the writing mannerisms that bother you, a third to add stronger verbs, and a final proofing. The number of passes the work needs depends on what you're revising.
Whatever your revision plan looks like, try it out. Create a checklist and work through it. It will keep your focus solidly on the words, not yourself.
*Note to authors: For my book manuscripts, I also engage a professional copy editor and proofreader after doing the revision and self-editing steps above. That takes pressure of the revision process, while putting more attentive eyes on the draft.
Related Posts
Two Reasons Not to Revise as you Draft
Revision and the Art of Letting Go
Revising Your Writing: An Online Course