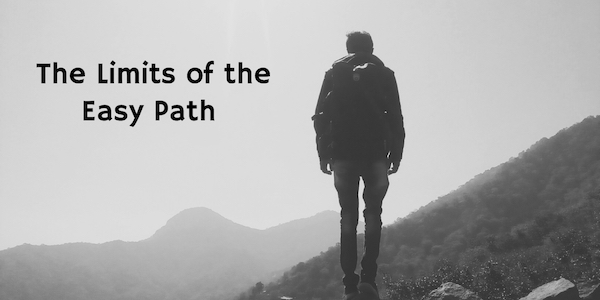 We've all heard those seductive promises:
Write your novel in a weekend!
Make six figures from blogging this year
You can become a best-selling author using ghostwriters
Although the titles are fictional, their real-world counterparts abound on the Internet. If you dream of publishing a book or "being a writer," these promises are compelling.
I'm not saying they're scams. You might write a book by following someone's formula, or create a blog that attracts consistent traffic.
If that's the path you want to take, go for it. But realize what you're missing.
What's Lost along the Easy Path
Whether the final product is a book, an ongoing blog, or an in-depth article, there are two ways to approach the process:
Get to the end result as quickly as possible, with the minimum amount of effort
Approach the project as a transformative experience
When you take the first path, the shortcut, you lose the benefits of the journey.
How is writing transformative? Consider the following:
In the struggle with words, you become a better writer.
By all means, hire editors and learn from them. Work with a co-author. But if you hire ghostwriters, you won't improve your own writing skills.
In writing about a topic, you deepen your expertise.
Doing the necessary research strengthens your understanding of your subject. In trying to explain it, you crystallize your thoughts. Writing forces you to think deeply and make new connections.
Writing enhances your empathy.
You may have heard that reading increases empathy. So does writing, if you set out with an ideal reader in mind or to meet specific audience needs.
In creating a book proposal, for example, you research your target market. In writing a novel, you picture an ideal reader. When pitching an article or drafting a blog post,  you think about the people you want to reach.
Each of these activities require you to take someone else's perspective. That's the definition of cognitive empathy, a trait that serves you well in areas beyond writing.
The focused work of writing retrains your brain.
In his excellent book Deep Work, Cal Newport argues that we are losing our capacity to immerse ourselves in focused work. His basic premise is this:
Deep work is becoming increasingly rare at exactly the same time it is becoming increasingly valuable in our economy. The few who cultivate this rare skill, and then make it the core of their working life, will thrive.
Because our brains are constantly changing, rewiring, and adapting to our behavior, you can change this trend. Deep work begets more capacity to do deep work.
Whether you write to explain a nonfiction topic or create a fictional world, creativity and productivity spring from the ability to focus on the work.
By immersing yourself in the writing, you increase your mental capacity for deep work.
The Opposite of Easy is Transformative
But if you want to write something that provides real value to others and strengthens your expertise, don't shy away from the work.
Don't make the process harder than it needs to be, however. Set up a healthy writing pattern. Plan carefully and learn from others. Think about your audience's needs before writing.
It won't be quick. It won't seem easy.
It might be fun.
It will be fulfilling.
Related Resources
If you're planning to write a nonfiction book and want to start out on the right path, check out my course on Getting Started on Your Nonfiction Book.