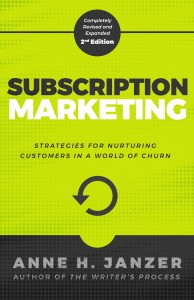 Does your business have a subscription offering? Have you changed your marketing to address the changing behaviors of customers in a growing Subscription Economy?
Today I've published the second edition of Subscription Marketing: Strategies for Nurturing Customers in a World of Churn. Much has changed in the two years since the first edition was published.
What's Changed in Two Years
When I told people about the book in January 2015, I encountered many quizzical looks. Subscription marketing? Is this book about selling magazines and newspapers?
Today I don't run into that situation quite as much. Every month, more businesses commit to a recurring revenue model, or add a paid or unpaid subscription to their offerings. These include:
Services to which people actively subscribe
Cloud-based software with pay-as-you-go pricing
Fee-based membership communities or purchasing programs
Regularly scheduled, recurring purchases of physical or digital goods
Professional or industrial services, including "managed services"
Zuora's Subscription Economy® Index charts the growth in this part of the economy – it's been particularly rapid in the last two years.  Every industry sector is getting in on the subscription act. Each week, a new start-up launches with a subscription model, while established businesses are finding their way in.
If your own business isn't part of this Subscription Economy, your competitors probably are. Pretty soon, we may have to simply call it the economy.
What Hasn't Changed: Churn
We are subscribers inhabiting a world of churn.
Just as we are subscribing to more and more things in our lives, we are also unsubscribing. Churn is what happens when customers leave or recurring revenues vanish. It is the opposite of growth.
Look at your own life. Do you ever sign up for a free trial of software that looks interesting, only to forget to use it? (Seriously, I cannot be the only one who does this.) Do you subscribe to online content, then months later, overwhelmed by all the messages in your inbox, go on an unsubscribing binge?
The barriers to unsubscribing are low, while our expectations of the customer experience are rising. If we aren't finding success or feeling appreciated as customers, we leave. That behavior has major implications for businesses with subscriptions.
What's New In the Book
In the first edition of this book, I tried to focus on the practices and skills of marketing professionals. In talking with people since that time, I've become convinced of the following truth:
Organizational boundaries are the enemies of the subscriber experience.
In a successful subscription-based business, marketers pay attention to what goes on throughout the entire customer journey, venturing out of comfortable organizational boundaries and silos. People in other parts of the organization adopt marketing practices and messaging.
This revised and expanded edition includes guidance and strategies that fall beyond the traditional domain of marketing, including subscription business model variations, cautionary tales about risks and challenges, and suggestions for organizational realignment to adjust to this shifting subscription-based world.
Oh, and it also includes wisdom and guidance from the many people I have encountered since publishing the book. It's been improved by the continued input of multiple smart people and inspiring companies.
Check it out and let me know what you think.

No Fields Found.