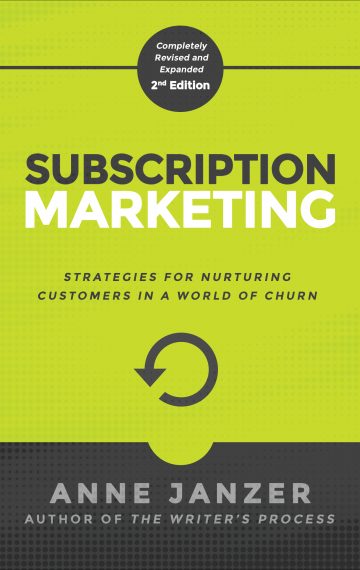 $ 4.99
Publisher:

Cuesta Park Consulting

Edition:

2

Available in:

Paperback, Kindle, ePub, audiobook

ISBN:

978-0-9864062-5-6

Published:

March 28, 2017
Buy it on Amazon
Listen on Audible
Buy it in bulk
Subscription Marketing is one of the best marketing books of all time, according to Book Authority. 
Welcome to the World of Churn!
Subscriptions are shifting revenues and reshaping markets, and changing our expectations for how we buy things. Have you changed your marketing practices to thrive in this new reality?
Subscription Marketing offers creative marketing strategies for sustaining the customer relationships that build long-term success.
This book is a practical guide for marketers, entrepreneurs, small business owners, customer success management professionals, and executives of businesses adopting or transitioning to a subscription-based model.
Revised and expanded to reflect the growing Subscription Economy
This completely revised, expanded edition includes:
Updated research and case studies reflecting the rapid growth of subscription-based businesses
Real-world examples of effective value nurturing strategies
A new chapter on the risks and challenges of subscription marketing
If your business has a recurring revenue component, you'll want to pay attention to how well you're nurturing subscribers after the sale. This book gives everything you need to align marketing with changing expectations of your customers.
Join the Subscription Marketing Group
Subscribe to the Subscription Marketing list for monthly updates.
Sign me up
Buy copies of Subscription Marketing for your entire team. Read more about bulk purchase offers.
What Others Say
Keeping an existing customer is much more profitable than selling a new one, especially in a subscription business. Anne Janzer shows you how to add value and nurture customers before and after the sale, driving success in today's real-time business environment."
David Meerman Scott
Best-selling author of The New Rules of Marketing and PR,
now in 25 languages from Arabic to Vietnamese
Anne's terrific book is an excellent primer to help your business take advantage of the subscription economy, while navigating around potential potholes. And as a bonus: It's clear, straightforward, and refreshingly jargon-free!"
Ann Handley
Chief Content Officer, MarketingProfs, and
author of the WSJ best seller, Everybody Writes
Finally, a roadmap. Anne Janzer not only illustrates the power of truly understanding what drives value throughout the subscription customer lifecycle, but essentially gives us the very roadmap needed to make it happen."
Michelle Lange
Cofounder, SUBTA
(Subscription Trade Association)
Bulk purchases: Buy copies for your whole team  from 800ceoreads.
News
Subscription Marketing is now available in a Japanese language version. See it on Kindle, or on the bookstore shelves: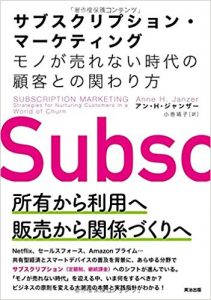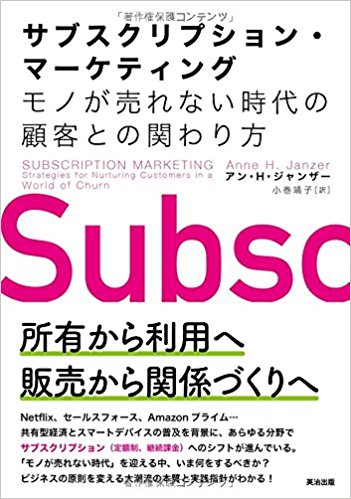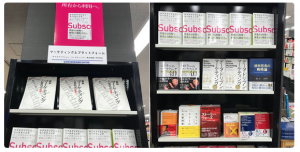 Preview the Ebook
Listen to a Clip of the Audiobook
Praise for Subscription Marketing
"Fascinating read with clear, concise and actionable strategies to give your ROI a solid boost!" Sheila Green, Green Productivity Solutions
"The book completely changed the way I view my subscription company's approach to marketing." – Amazon customer
"A must-read for software industry leaders and enthusiasts." – Sarah E.