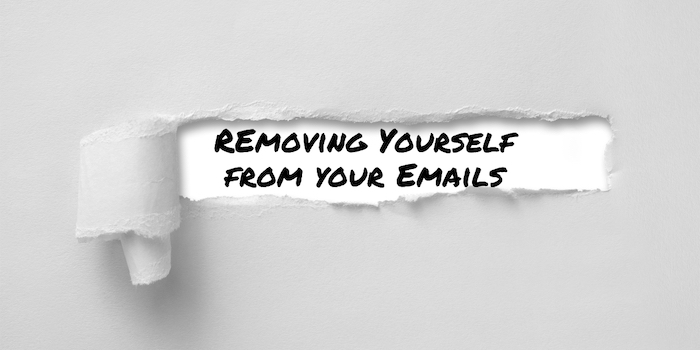 You need something from a colleague, a vendor, a partner, a relative – what do you do? If you're of a certain age, you write an email.
You do it in hopes that something will happen as a result – the recipient(s) will take action, respond, whatever. Yet often, those emails go unnoticed, lingering unread in overfilled inboxes. How can you get around it?
Emails are a kind of transactional writing. Their value lies not in the beauty of the prose, but in their effectiveness.
Get Outside Your Own Head
Before you send the next transactional email, scan it through for words and phrases talking about yourself.
Chances are you talk about yourself more than is strictly necessary. It's only natural. We write as we think, and we tend to think about ourselves and our motives. We live inside our own heads.
Your recipient, however, has their own needs and viewpoints. To break through the clutter of words demanding their attention, bring them into the picture.
Look for sentences that include I, me, my, and other self-focused words, and try to flip them to the reader's perspective.
Let's see how this looks in action.
Someone recently sent me an email that started like this:
I am emailing you because I have a quick question about …
That's a fine start, but this might be a better one:
Could you answer my question about …
If you want to notify someone of a change in date, lead with their needs, not yours.
Change this: I want to you know that the project is delayed.
To this: You should know that the project date has slipped.
A meeting request, likewise, should be direct.
Change this: I've scheduled a meeting for 1pm Tuesday about …
To this: Please come to a meeting on Tuesday, at 1pm, about…
You get the idea.
There's still room for being polite. If you're writing to a stranger, you might introduce yourself first. For an acquaintance or colleague, consider putting the polite inquiries and chat after the meat of the email. (Sometimes, people don't read beyond the first paragraph, especially when reading on a phone.)
See how many self-centered sentences you can reframe from the reader's perspective. This simple change alone will make your emails much more effective.
Try it and see if it works for you.
Related posts
Find more business writing advice in my book The Workplace Writer's Process.