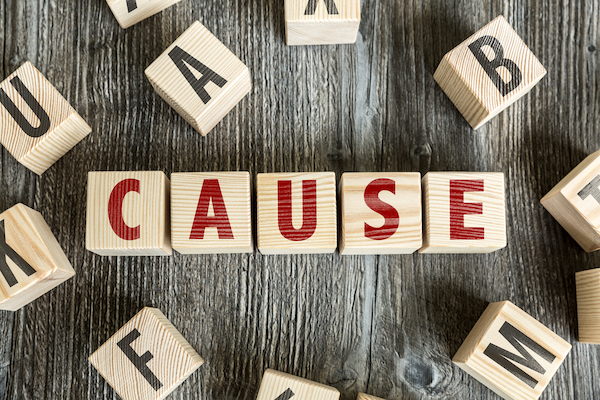 Black History month has just wrapped up, and Women's History Month (aka March) is upon us. Cue the well-intentioned marketing campaigns that align brands with social causes.
Brands do have the ability to influence cultural change. But cause-based marketing is challenging to do well. In a recent example from the world of publishing, Barnes and Noble thought it would be a good idea to reissue classics like Romeo and Juliet, Frankenstein, and Moby Dick with new cover art representing people of cover.
They quickly pulled the "Diverse Editions" campaign after the universe pointed out the obvious: Changing the cover doesn't change the canon.
(Hear from author L.L. McKinney on NPR's website.)
I can hardly wait to see what's coming up for Women's History Month.
That's why it's a perfect time to check in with Katie Martell, an unapologetic truth-teller about the marketing industry in which she works as a freelance consultant and speaker.
Katie helped me immeasurably with the chapter on values-based marketing in the third edition of Subscription Marketing. She is working on a book and documentary about the intersection of marketing and social movements.
Our conversation covered much more than can fit in that much-expanded chapter. Here are a few nuggets of wisdom from her interview for Subscription Marketing.
---
The explosion in social cause or values-based marketing
Anne: Several years ago, brands' "social" or cause-based marketing campaigns were pretty safe. Businesses donated goods or money to unobjectionable causes like disaster relief and saving wildlife. Now we're seeing many marketing campaigns lining up with larger social values. Why is that?
Katie: Brands adopt values-based marketing for many reasons. Competitive differentiation is one of the largest drivers today. When everything around you is a commodity, you could try to differentiate on values.
From a tactical perspective, taking a stand generates "earned media," or press that you don't have to buy. Over the years, Dove's Real Women, Real Beauty campaign has generated way more media exposure than any paid advertising placement.
One of the important reasons is trust. Human beings make decisions emotionally, then justify them logically. Appealing to someone's values accelerates that emotional connection. The brand becomes part of your personal set of values and identity in a meaningful way.
The Edelman Trust Barometer research suggests that few people know which companies to trust, and many distrust the marketing industry as a whole. In my opinion this is partly due to the lip-service that many companies are giving to social causes and broader purpose.
Lip service, pandering, or true alignment
Anne: Let's talk about that lip-service, because one of the things you do is call brands out when their "marketing" values don't match their actions. What kinds of values should brands align themselves with?
Katie: Global Strategy Group conducts an annual survey on business and politics, including questions in which people ranked their opinion of which issues businesses should get involved in.
At the top of the list are those issues that affect the core business, which may include fair labor standards, environmental issues, and industry-specific policies. For buyers, anything aligned with your core business is fair game.
At the bottom of the list, the ones that people are less tolerant of brands voicing an opinion on, you'll find societal issues like the legalization of marijuana, transgender issues, and more.
I believe that brands cannot afford to be passive about the issues that they themselves can own and that their buyers care passionately about.
I'm not suggesting that every brand take a political stance. Values don't have to be inherently controversial. Your values might be embedded in how you do business. For Salesforce, proclaiming "No software" was a stance. For Buffer, complete transparency is part of the brand value that they express in nearly every communication with customers.
Understanding the risks
Anne: What are the risks of aligning marketing with social movements?
Katie: The risks fall into two categories: risks to your brand, and risks to the movement you're trying to support.
You could get called out for pandering by consumers, employees who are uneasy with the disconnect, or someone like me and journalists with broad reach. Even well-intentioned companies like Dove sometimes make moves that don't align with the standards they set. That's fine. But if you are hypocritical, profiting off the values, you will get called out.
You also risk alienating customers or prospects who don't agree with you. That might be a risk worth taking. As Bill Bernbach once said, "If you stand for something, you will always find some people for you and some against you. If you stand for nothing, you will find nobody against you, and nobody for you."
Anne: What do you mean by risks to the movement? Surely, it's a good thing when brands weigh in on important topics like #MeToo?
Katie: I see brands trying to align with three movements that are part of the zeitgeist: women's rights, LGBTQ rights, and racial injustice. When brands jump on the bandwagon, they can do as much harm as good.
Each of those movements has been built on the backs of real people who have dedicated their time, resources, and sometimes their lives, to progress. When brands jump in without having participated in those campaigns, it's not only inconsiderate, it shows a brazen disregard for the history of these movements. Any consumer who aligns with these social initiatives is right to be skeptical.
On the surface, it could seem like a good thing if brands elevate the discussion to a national level. Marketing is pervasive and carries enormous power to affect perception, start conversation, and change attitudes. The flip side is that these brand campaigns may create an "illusion of progress" or a sense of false normalcy. I could be watching a world on television that doesn't reflect the reality I know to be true. The disconnect gets larger as more brands jump on the bandwagon, but the issues themselves aren't addressed.
I believe profiting from these movements without also doing something tangible is not clever, it's exploitation. If you're going to run a feminist campaign on International Women's Day on March 8th, first take a look at pay inequality in your own organization (for example.) In fact, I created a litmus test for brands considering a campaign like this. If the answers are mostly "no" you're exposing yourself to the risk of hypocrisy: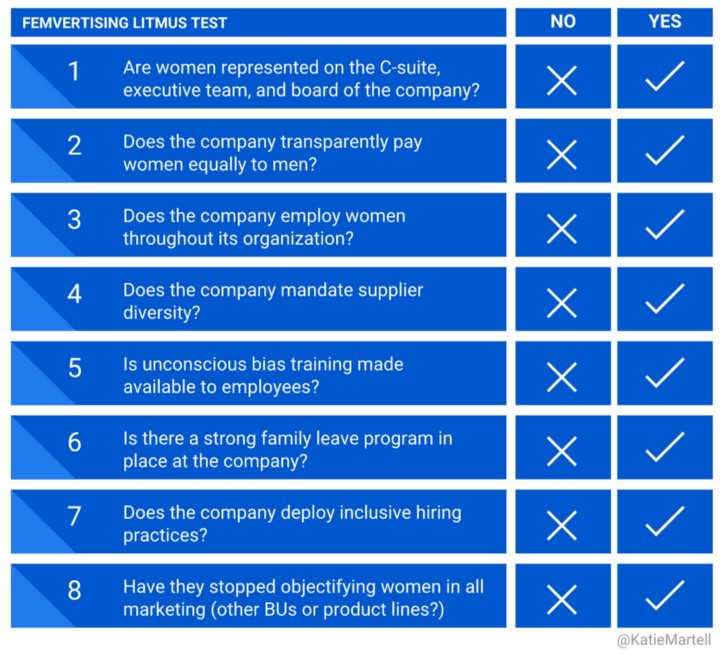 Marketing is a tremendously powerful force. It can lift brands from unknown startups to industry leaders, but it also has power to influence change in the world. If this is the "new normal" of marketing, we need new rules of engagement.
---
Check out Katie's "Pandermonium" roadshow coming up in Boston, Austin, and Chicago.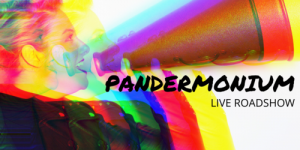 No Fields Found.