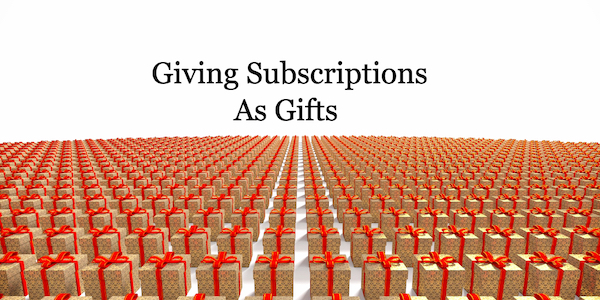 Every year, around this time, I struggle with that age-old problem: shopping. What should I get family members who are distributed around the country?
(My own needs are quite simple: books, chocolate, and tea, in case anyone asks…)
I spend a fair amount of time thinking and talking about subscription businesses – I even wrote a book about them. So, it's only natural that I think of subscriptions as potential gifts.
My mother has given me a subscription to The New Yorker for my entire adult life. (Thanks, Mom!) So I know that this model works.
But today's shoppers have many more options, particularly with the growing number of Subscription Boxes. For inspiration, check out the site MySubscriptionAddiction. You might be surprised at the range of possibilities.
Unboxing a Subscription Holiday
This year, Black Friday and Cyber Monday had a new companion: Subscription Box Sunday. Created by the Fosina Marketing Group, companies like CrateJoy embraced the idea of setting aside a day to pick out subscriptions to give as gifts.
But wait – before we jump on this, let's ask two questions:
Do subscription boxes really make great gifts?
If you sell subscriptions, should you invest heavily in marketing campaigns promoting gifting?
The answer to both questions is a resounding "It depends."
The Pros and Cons of Giving Subscriptions
From the gift-giver's perspective, subscription boxes have many upsides.
Variety: For people (like me) who wrack our brains to come up with meaningful gifts every year, subscription boxes might be a godsend. There is a box for nearly every interest and type of person: pet lovers, readers, exercise nuts – you name it.
Ease of giving: Someone else curates the goods. The business does the work of wrapping and shipping, saving you time in Post Office lines.
Duration: Instead of a single gift, your recipient may receive multiple installments, depending on the length of the subscription. The impact of your gift can extend beyond the holiday itself.
Happiness: Cognitive scientists report that we derive more happiness from experiences than from stuff. Well, the subscription box is itself an experience, complete with anticipation, unboxing, and the element of surprise.
But–and there's always a but–subscriptions gifts can backfire as well.
Some subscription services require an investment of effort and time on the part of the recipient. Like pets, they are fun at first, but a handful to take care of.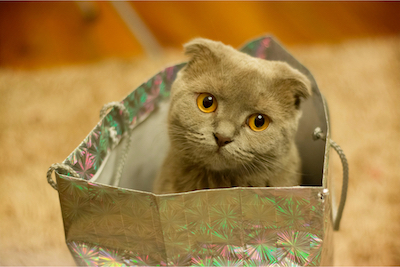 If the recipient doesn't have time to read, cook, consume, or manage the subscription, gratitude can turn to guilt, or even resentment toward the giver. For example, I would only gift a Blue Apron or similar food preparation box to someone who had explicitly expressed a desire in the service.
Physical subscription boxes also present package shipment issues. If the recipient travels frequently or doesn't have a secure place for receiving packages, this gift could become a hassle.
Some even say that subscription boxes are an addiction. Perhaps you're feeding or creating an addiction. Talk about the gift that keeps on giving!
Here's the important point to remember about any subscription: it's not a one-time thing.
A subscription is a relationship.
When you sign someone up for a subscription, providing their mailing address or email, you enter them into an ongoing relationship with the business. So, think carefully.
Before giving a subscription, make sure you can answer these questions:
How does the recipient feel about their information being provided to the vendor?
Who will the vendor contact for renewals – you (the gift-giver) or the recipient?
Is this something that the recipient has time (or desire) to deal with?
Gifts are a Mixed Bag for Sellers as Well
While the holiday season may represent new business opportunities for subscription businesses, make sure you understand the economics before investing in major marketing campaigns.
A gift recipient is less likely to renew than someone who intentionally chose to become a customer. The churn rate among these customers will probably be higher, which means that you shouldn't spend more to acquire this segment of customers (compared to your baseline spending), or you might end up in the red.
Of course, if your avid fans give subscriptions to people with similar interests, they can grow your customer base in a healthy way as well. The trick is figuring out how to manage the growth and find those customers who will stick around, so you don't end up in a crazy cycle of desperately spending each holiday season to replace the departures from the previous year.
Here are a few ideas to consider:
Help gift-givers align the gift with recipient's interest. There is such a thing as a bad fit customer, so don't encourage them.
Segment the customers who are gift recipients, and make sure to reach out during the subscription period to nurture their experience of value.
Determine when and how to request renewals for these subscribers when the subscription period has completed. You might contact the giver to find out if they want to renew (if this is a yearly gift). Do this early enough so that, if the giver isn't continuing, you can contact the recipient and gently notify them of the end. Also, let them know the options available fo renewal.
If gift recipients choose not to renew, let them go gracefully and make sure they feel good about your business. Who knows, they might refer it to someone else.
Whatever your gift-giving solutions, I hope you unwrap a joyous and peaceful holiday season.