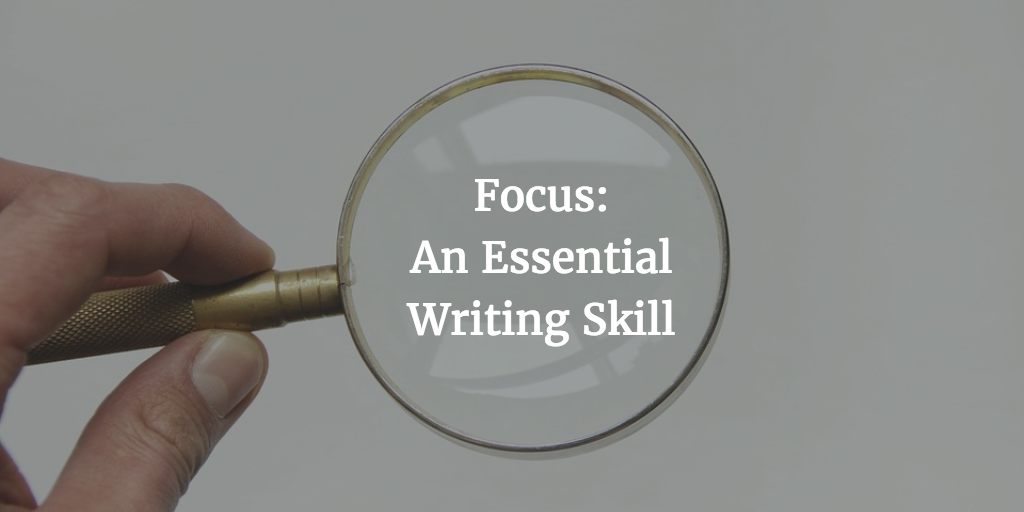 Grammar and spelling are important, but focus may be your most valuable writing skill.
Editors can fix the grammar. Only you can fix your focus.
I posed the following question to a group of people who write in a busy corporate environment:  "How do you find the focus to get the work done?"
These are a few of their answers:
Turn on music
Block every Thursday morning from my schedule
Work from a coffee shop
Write at home in the middle of the night
Go hide in a conference room for an hour
Come in to work early
Come back to the office after the kids are in bed.
The answers reveal an important point:
Focus is a battle fought on two fronts: external and internal.
The External Battle for Focus
Did you notice the common theme in those answers? Most involve getting out of the office, or returning when no one is there.
The outside world conspires against the deep focus necessary for drafting.
Everyone has their own preferred writing environment. Some people like to work in a crowd of people bent over their desks. Some can tune out conversations or noise, while others are easily distracted by them.
The first part of the battle is understanding where you do your best writing. Where are you when you find a state of flow while working? Pay attention, and then try to return to that state when you need to focus.
The Inner Battle
Even if you escape to the empty conference room or a quiet home office, focus can still elude you. We bring our own distractions with us, in the form of email, phones, Internet, the waiting Netflix queue, the pie in the fridge…
We are our own worst enemies.
Cognitive scientists have identified several biases or mental habits that conspire against our writing plans:
Because of the present bias, we tend to put off harder projects for the future and pick easier, more fun things to do immediately. (Procrastinators know what I'm talking about.)
The optimism bias means that we we're pretty bad at realistic planning – again, making us more likely to put off the work in favor of something more immediately rewarding.
Technology exerts its addicting forces on us, calling us away from our thoughts. Nir Eyal writes about this in his book Hooked: How to Build Habit-Forming Products.
We're left to find ways to work around our human tendencies and trick ourselves into focusing and working, using strategies and tools like:
Turning off Wi-fi
Using apps like Freedom to silence online distractions
Setting a timer and focusing until it goes off
Leaving the phone in another room (and silencing it)
Writing first thing in the day, before everything else
Writers love sharing our strategies for fighting the inner focus battle. Here are a couple that have been working for me recently.
Categorize Competing Demands
If the writing project is one of twelve tasks on your to-do list for the day, there's a good chance you won't get to it. But when there are fewer items, the writing doesn't get lost as easily.
Group the competing demands into buckets based on projects or your personal goals. Then tackle only the most important task from each bucket on your list for the day, rather than trying to hit everything.
Your working categories may change from week to week. If a project becomes high priority, you may only work from that bucket.
As a by-product of this exercise, you can spot what you may be missing. For example, if you have a professional development category but spend all of your time in other places, you have have a prioritization problem. And if you find yourself doing tasks that don't fit in any of your buckets, stop and ask yourself why you're doing them at all.
If the writing is important to you – personally or professionally – make sure you pull from that bucket regularly.
Go On Virtual Lockdown
This next strategy works when you're sprinting on a writing project: go on a virtual lockdown.
My daughter's workplace uses the "lockdown" model for teams facing big deadlines. When a team is in lockdown, its member cannot be pulled into outside (unrelated) meetings, and don't have to do ordinary administrative tasks.
Lockdown mode shuts off competing distractions.
Right now, I'm wrapping up the draft of a book about writing in the workplace. To meet my self-imposed deadlines, I have been putting myself in virtual lockdown:
Limiting extra activities (except those need to maintain health and sanity)
Dialing back on commitments to others (guest blogging, podcasts, speaking)
Giving myself a pass on the many competing demands or things I feel that should be doing
Checking email less frequently (I'm sorry if I've been slow to respond to yours!)
I can't maintain lockdown for long, but certainly helps me focus.
Related content
Find more on this in my book The Writer's Process. (There's a whole chapter on focus.)
Mark McGuinness offers a number of planning tips in his book Productivity for Creative People. Read my review here.
Check out Nir Eyal's post Tech Companies Are Addicting People.
Read my rant about  writing in the open floorplan office.