Better emails for 99 cents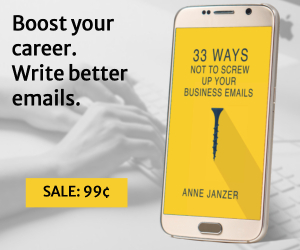 Ever send an email you regret? Are you frustrated by emails in general—sending and receiving them?
You can do better—we all can!
Pick up valuable strategies for mastering email.
Write emails that people open and respond to.
Cut back on the back-and-forth.
Collaborate with colleagues more efficiently
Find the audiobook of 33 Ways Not to Screw Up Your Business Emails on sale at the following retailers:
Spotify (99¢)
Apple Books ($1.99)
Google Play (99¢)
Chirp Books (99¢)
Barnes & Noble Audiobooks (99¢)
Buy it today—or heed the advice of one reviewer and buy it for everyone on your team.