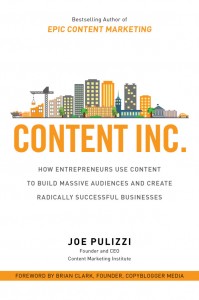 Reading Joe Pulizzi's new book Content Inc is a welcome shock for someone who lives in the engineering-driven, growth-hacking Silicon Valley. The book's message: start your business by building an audience with content, before you write a line of code. Once you own the loyal audience, figure out what that community wants and build it.
Wait—what? Content first, not product?
Instead of the Minimum Viable Product (MVP) of the lean startup, Joe proposes a  Content Inc startup built on Maximally Valuable Content. (Can we make MVC a thing?)
If you're involved in content marketing, you'll enjoy the examples of building a business on the strength of great, differentiating content.
From a subscription marketing perspective, I love the idea of building and nurturing a subscriber base before selling anything. A company founded on this premise will develop a corporate culture based on adding value through content and aligning with customers' values – both core value nurturing practices described in Subscription Marketing.
Even if you're not involved in a startup, the book builds a cogent argument for finding your content niche (or executing your content tilt) and developing it to build your business.
Finally, I sense that Joe could be falling down a flight of stairs and he'd still reach out a hand to help someone else. The relentlessly helpful trend continues in this book. Even as it builds the main narrative arc on the Content Inc strategy, the book offers tons of useful resources, examples, and even one-line suggestions that are incredibly helpful.
I'm going to be keeping this one around and referring to it, time and again.
Other reviews you might enjoy
Read my review of Joe's next marketing book, Killing Marketing.
Master Content Strategy by Pamela Wilson