Share the book on Facebook, Twitter, or Email.
What Others Say
Keeping an existing customer is much more profitable than selling a new one, especially in a subscription business. Today's real-time communications environment makes a subscription model incredibly lucrative for those who know how to navigate the new rules — just ask the likes of Google, Netflix, and Amazon.com. Anne Janzer shows you how to implement value nurturing of existing and potential clients that will drive your success in this new world."
David Meerman Scott
Bestselling author of The New Rules of Marketing and PR, now in 25 languages from Arabic to Vietnamese
Anne's terrific new book is an excellent primer to help your business take advantage of the subscription economy, while navigating around potential potholes. And as a bonus: It's clear, straight-forward, and refreshingly jargon-free!"
Ann Handley
Chief Content Officer, MarketingProfs and author of the WSJ bestseller, Everybody Writes
If your business is a subscription business model or you're considering adding that as a customer offering, you'll want to read this book."
-Douglas Burdett, The Marketing Book Podcast
Subscription Marketing already shows signs of becoming one of 2015's most important content marketing books."
-Roger C. Parker, Published and Profitable
Although there is no "holy grail" measurement for content marketing, there is one that sits atop the rest—the subscriber. As more organizations move from paid to owned media, acquiring and keeping subscribers to our information is more important than ever. This is critical to your business. Read Anne's book and you'll have everything you need to create and execute a subscription strategy that works."
– Joe Pulizzi, Content Marketing Institute and
author, Epic Content Marketing and Content, Inc.
About the Book
What happens to marketing when businesses shift to a subscription model? How can marketers increase their revenue impact and add value to the business, beyond simply generating more leads and hoping for the best?
In the subscription economy, marketing needs to adopt a new set of practices: customer value nurturing.  Because you're just getting started when someone becomes a subscriber.
Whether you're marketing a membership program, a complex managed services offering, or a cloud-based solution, Subscription Marketing offers creative marketing strategies for nurturing customers long after the initial sale.
Share the book on Facebook, Twitter, or Email.
Download Related Digital Content
Sign up to download the content, including:
The subscription marketing checklist
A value nurturing infographic
An updated list of recommended reading
Graphics and research (useful for those of you with audio or digital versions of the book.)
Buy the Book
Subscription marketing is available as paperback, Kindle ebook, and audiobook: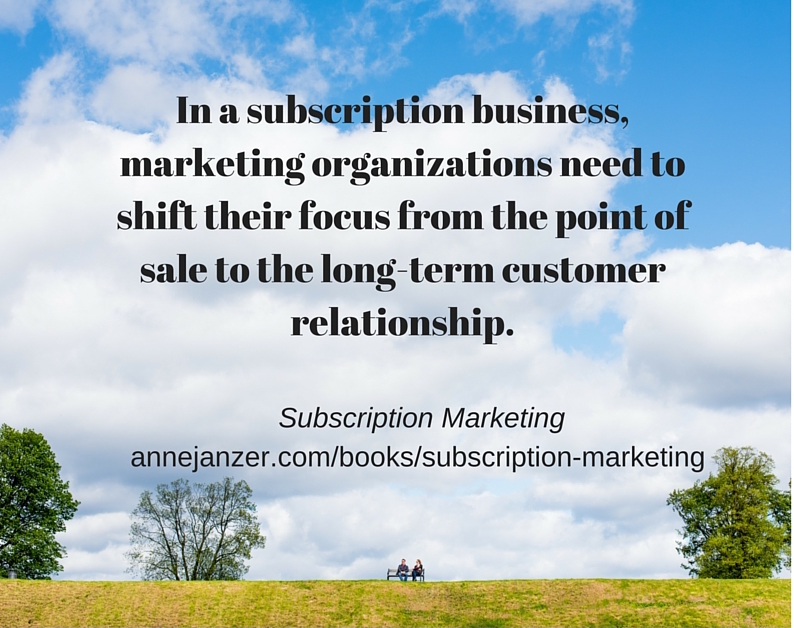 Share this on Pinterest.