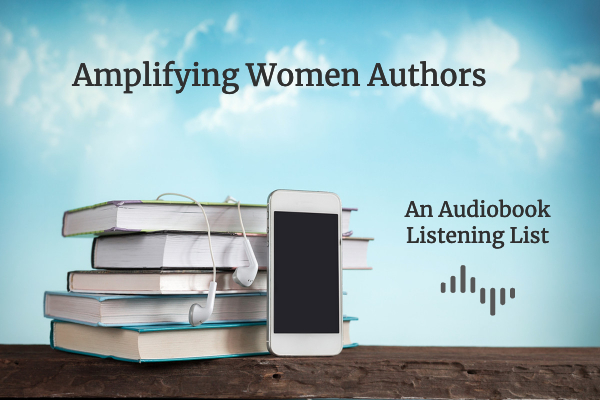 June is Audiobook Month and the time when we compile our "summer reading/listening lists." It's the perfect opportunity to amplify the voices of women authors—both literally and figuratively!
Put aside some time this summer to listen to, review, and/or share an audiobook or two. And why not look for a few written by women?
Did you know that only 17 of the 200 best-selling business books of 2020 were written by women? (See Susan Althoff's Fortune article.) That's only 8.5%—and as many as were written by men named John. Yikes! Readers are missing out on a whole bunch of voices worth hearing.
So, here's a list of possibilities from smart, inspiring, and entertaining authors, ranging from business books to personal development, memoir, history, and thriller. There's something for every part of your summer reading/listening experience.
(A few of the publishers and authors are offering bonuses or discounts during June, so act quickly on these.)
Business Audiobooks
Branding Basics: How to Create an Irresistible Brand on Any Budget (2nd Edition) by Maria Ross
No matter whether you're a large organization or a company of one, the secret to attracting loyal customers starts and a strong reputation is to start with a strong brand strategy, which goes far beyond a logo. Marketing expert Maria Ross offers real-life case studies, expert interviews, and a simple 10-question process so you can build a strong brand strategy to attract more customers, make smarter marketing decisions, and stand out from the crowd.
---
The Connector's Advantage: 7 Mindsets to Grow Your Influence and Impact by Michele Tillis Lederman
Regardless of your goal—a new job, a promotion, new business, a referral—who you know and who knows you will lead to opportunities. It is the strength of your relationships that leads to your success.
Bonuses: Buy one, get one (print edition)
---
The Empathy Edge: Harnessing the Power of Compassion as an Engine for Success (A Playbook for Brands, Leaders, and Teams) by Maria Ross
Empathy is not just good for society, it's great for business. Through proven research and fascinating stories from executives, change makers, and community leaders, Maria Ross reveals exactly how empathy makes leaders and brands stronger and more successful.
---
---
Just Work: Get Sh*t Done, Fast & Fair by Kim Scott
Just Work reveals a practical framework for both respecting everyone's individuality and collaborating effectively. This is the essential guide leaders and their employees need to create more just workplaces and establish new norms of collaboration and respect.
---
Marketing Above the Noise: Achieve Strategic Advantage with Marketing that Matters by Linda Popky
With all the new marketing techniques accessible to the masses, it's becoming harder and harder to stand out from the crowd. Learn how to cut through the clutter, stand out, and effectively build business by implementing timeless marketing principles.
---
The Pivot: Orchestrating Extraordinary Business Momentum by Lori Michele Leavitt
Leaders, you can move your business and yourself from where you are today to a more vibrant future. Great leaders orchestrate a culture primed for change; they are nimble and never stall.
Bonus: Purchase an audio, book or e-book and get a free strategy call between June 11 and October 31 2021. Contact us for a call. OR take a free online assessment (est. 8 minutes) and use the 11-digit code "AudioJune21" when you register, and we'll email you a report with our recommendation of your best next steps in addition to your bonus strategy call.
---
Radical Candor: Be a Kick-Ass Boss Without Losing Your Humanity by Kim Scott
You don't have to choose between being a pushover and a jerk. Using Radical Candor—avoiding the perils of Obnoxious Aggression, Manipulative Insincerity, and Ruinous Empathy—you can be kind and clear at the same time.
---
Ready to Be a Thought Leader? by Denise Brosseau
A highly readable go-to guide for becoming a recognized thought leader in your field. This best-selling book outlines a proven seven-step process for any successful executive, professional or civic leader to set a course for maximum impact in their field.
---
Rare Breed: A Guide to Success for the Defiant, Dangerous, and Different by Sunny Bonnell and Ashleigh Hansberger
RARE BREED is an unconventional business book for those who don't fit the mold. It turns seven so-called vices that society deems counterintuitive to success into virtues that lead to shattering templates and owning all of who you are, not just the pretty parts.
---
You Are What You Risk: The New Art and Science of Navigating an Uncertain World, by Michele Wucker; narrated by Tavia Gilbert
The number-one international best-selling author of The Gray Rhino offers a bold new framework for understanding risk and how we can reexamine and reshape our relationship with uncertainty to live more productive and successful lives.

An AudioFile Magazine Earphones Award winner
---
Women in Business
The Adventures of Women in Tech: How We Got Here and Why We Stay by Alana Karen
A 20-year tech leader, Alana Karen brilliantly replaces what we know about women in tech with 80+ women's stories of what it's honestly like to join, lead, and thrive in technology companies. As featured in Forbes, Karen offers "a lens through which readers can gain insight into obstacles faced, barriers broken down and feats accomplished."
---
Changing Tides: Powerful Strategies for Female Founders by Jennifer LeBlanc
Changing Tides brings together experienced female venture capitalists, entrepreneurs, and thought leaders who share their expertise and tactical guidance through a collection of essays and discussions on how to change the tides. This audiobook is intended as a resource for anyone wanting to win – or support a woman to win – at the heavily stacked entrepreneur and funding game.
Free offer: Continue the conversation and change the tides in our online community where you can connect with other female founders around the world, access valuable resources and make connections to investors, allies and ecosystem partners who are actively supporting female founders. It's free to join!
---
You Can't Fix What You Can't See: An Eye-Opening Toolkit for Cultivating Gender Harmony in Business by Karen F. Cornwell
You trip over differences at work constantly and just can't see it. Understanding differences leads to discovering alternative approaches we can use to leverage the diversity in our workplaces.
---
Career/Professional Development
The 11 Laws of Likability: Relationship Networking . . . Because People Do Business with People They Like by Michelle Tillis Lederman
This book presents a new paradigm that shows even the most networking-averse how to network well–and maybe even enjoy the process. This book teaches readers how to build the kind of deep relationships that have true staying power, bring genuine joy, and provide long-term support.
Bonus: Receive a networking style assessment, personal branding exercise, and more in Michelle's free gift pack for readers.
---
Every Job is a Sales Job by Dr. Cindy McGovern
While you may not have "sales" in your title, that doesn't mean you don't have to sell. Every Job is a Sales Job will help you learn to identify "selling" opportunities that you may have overlooked.
This indispensable roadmap will show you how to take control of your personal and professional success.
Amazon Apple Books Blackstone Library Spanish Version (Audible)
---
Millennials' Guide to Work: What No One Ever Told You About How to Achieve Success and Respect, by Jennifer P. Wisdom
Millennials' Guide to Work helps listeners identify what is important to them, how to clarify their values, and how to navigate complex workplaces. Clinical Psychologist Jennifer P. Wisdom believes we all need to work together to help the youngest members of the workforce be successful.
---

More Than My Title: The Power of Hybrid Professionals in a Workforce of Experts and Generalists by Sarabeth Berk
If you do more than one thing for work, then you are more than one thing. If this describes you, then you may be a hybrid professional. Until recently, hybrids have been hidden in the workforce. But today and moving forward, the secret is out.
---
---
Personal Development
F❤️ck the Bucket List for the Soul: Discover the Wonder of You by Ayelet Baron
This award-winning BIBA 2020 guide helps you leave behind the exhaustion, overwhelm, burnout, stress, anger, fear, blame, and judgement of society's decaying systems, and reveal yourself to the universe in all your wonder. Life will never be the same. The journey will be intense. It is not for the faint of heart.
---
Meditation Illuminated: Simple Ways to Manage Your Busy Mind by Joy Rains
Learn to meditate with simple explanations and more than 20 guided exercises. The first part of the audiobook is designed to give you a complete understanding of how meditation works – and how to meditate. Then, Joy Rains will guide you through more than 20 meditations (with brief periods of silence woven throughout), so you can discover the meditation styles that resonate with you.
---
When Life Hits the Fan: A Mindful Guide to Caring for Yourself While Caring for Others by Janet Fouts
A deeply personal book, When Life Hits the Fan shares the experiences of a number of caregivers and activities they can do for mindful self-care. The practices in the audiobook come from the author's training in mindfulness, emotional intelligence, and positive psychology, as well as her own caregiving journey.
---
The Writer's Process: Getting Your Brain in Gear by Anne Janzer
A guide to the "inner game" of writing, whether you're working on a novel or a term paper.
Amazon/Audible Apple Books Chirp Google Play
Bonus: Through June, purchase it for $1.99 on Apple Books and Chirp
---
Memoir
Identity Theft: Rediscovering Ourselves After Stroke by Debra E. Meyerson with Danny Zuckerman, narrated by Julia Whelan
Identity Theft follows Stanford professor Debra Meyerson's journey to recover from a severe stroke. It focuses on the less frequently documented emotional journey in recovery. Virtually every survivor is haunted by questions like: "Who am I now?" and "How do I rebuild a meaningful and rewarding life?" This is a book full of ideas and hope for survivors—from stroke or other injuries—as well as families, supporters and healthcare professionals.
Amazon/Audible Google Play Apple Books Libro
---
Rebooting My Brain: How a Freak Aneurysm Reframed My Life by Maria Ross
The true story of what happens when you get yanked out of your life by a crisis and have to get back on the ride all over again. With refreshing candor, humor, and heart, Maria Ross shares how her busy life came to a screeching halt when a brain aneurysm ruptured and nearly killed her – and how she bounced back changed for the better.
---
Send Yourself Roses: Thoughts on My Life, Love, and Leading Roles by Kathleen Turner and Gloria Feldt
Co-written by Gloria Feldt and Kathleen Turner, this is an honest, courageous look at the fascinating life and career of the Golden Globe winning, Oscar-nominated actress. Turner candidly shares lessons learned from her personal struggles and anecdotes from the memorable roles she has played on stage and screen. Read in her own iconic voice.
Audible Amazon Soundcloud- Hachette (with audio excerpt)
---
History
The Woman They Could Not Silence: One Woman, Her Incredible Fight for Freedom, and the Men Who Tried to Make Her Disappear by Kate Moore
The powerful true story of an American housewife from the nineteenth century who was locked up in an insane asylum for daring to defy her husband and courageously fought for justice.
---
Fiction: Thrillers/Suspense
Dread of Winter by Susan Alice Bickford
Thirteen years ago, Sydney Lucerno escaped the creeping addictions and long-simmering anger that are as much a part of the landscape as the bitter cold of Oriska, NY.. But when she gets the call that her mother is dying, every secret and fear she left behind is waiting to welcome her back. Listen to this Edgar-nominated thriller.
(Edgar Award Nominee)
---
A Short Time to Die by Susan Alice Bickford
In this electrifying thriller, two women from opposite sides of the country find their lives inextricably bound—by blood, by fear, and by a merciless, murderous revenge . . .
(Left Coast Crime Debut Author Nominee)