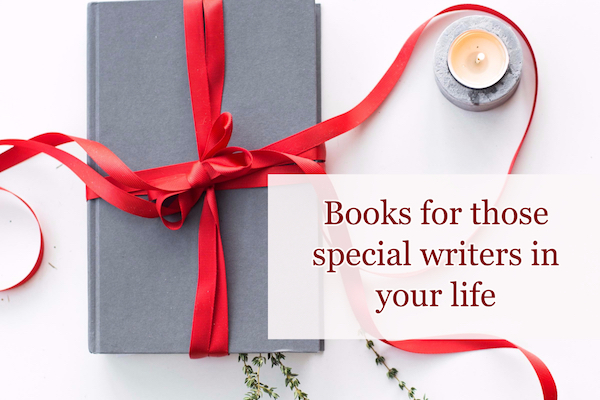 One of the greatest gifts you can offer someone is a book that changes their life or shifts their perspective in a meaningful way.
The challenge, of course, is matching the book to the recipient. Of the millions of volumes to choose from, which ones will speak directly to the people that you care about?
This is my highly personal, biased guide to books to give the writers in your life, based on their personalities, problems, or situations.
Note that many of these works aren't explicitly about writing. But most have had a significant impact on my writing life.
Oh, and I slipped two of my own books into the list. As I said, it's a highly biased collection.
For the writer who never feels their writing is good enough
Shut Your Monkey by Danny Gregory

Gregory likens the inner critic to a noisy monkey in your head. That image alone can help you conquer it. His book is filled with advice for creative people on shutting up that monkey. My favorite quote: "The only people who don't have monkeys camping out in their heads are sociopaths." Read my review here.
Grit: The Power of Passion and Perseverance by Angela Duckworth

Successful writers must develop a healthy amount of grit. Angela Duckworth presents solid psychological reasons for persevering, even when the going is tough. This readable and inspiring book includes practical advice for nurturing your own grit.
For the aspirational writer who wants to write, but isn't doing much
The War of Art by Steven Pressfield

Steven Pressfield describes the epic inner battle between the Muse and Resistance. Pressfield's words have inspired countless writers, myself included.
The Writer's Process by me…

Instead of a battleground, The Writer's Process suggests that your goal is to achieve a delicate balance of the mental systems and cognitive processes involved in writing (the Muse and the Scribe). It offers practical strategies for optimizing your own practice. As one review testimonial suggests: "Not only did the creative part of my process begin to bear new and interesting fruit, but I also became more productive."
For writers who are uncomfortable talking about their work
Quiet, by Susan Cain

Introversion isn't a dirty word. Introverts are all around you – not hiding in closets, but engaging with the world. Introversion, as Cain defines it, affects nearly half the population. But large gatherings take a toll, and we need to recharge in quieter settings.  By understanding and acknowledging this personality trait, we can better protect ourselves. If you haven't read this yet, run and get it – if not for yourself, then for the sake of the introverts you live or work with.
The Charisma Myth by Olivia Fox Cabane
Sometimes you've have speak to people in person, even if you'd rather be writing. Olivia Fox Cabane offers practical, inspiring strategies for connecting in real life. The advice is invaluable if you want to be an effective advocate for your ideas.
For the content marketer on the hook for more and more content
Here are a couple of my favorite content marketing books for writers:
Master Content Marketing, by Pamela Wilson

Pamela's "lazy but efficient" approach to content marketing warms my heart. She is a firm believer in the power of a regular process – I think we may be soul sisters. Read my review here.
Everybody Writes by Ann Handley

This books offers practical, beautiful advice about writing in the business context. Oh, and because Ann Handley wrote it, it is both useful and entertaining.
For the person writing in the office
The Workplace Writer's Process by … okay, me again.

If you or someone you know and love writes in an office environment, with work that goes through approvals and committees, give them this book. It has all of my best advice for surviving and thriving as a writer within an organization.
For the writer who enjoys cognitive science
The Sense of Style by Steven Pinker

The book is subtitled "The Thinking Person's Guide to Writing in the 21st Century" – and that about sums it up. Warning: Pinker can get a bit geeky in a linguistic sense, but he presents the best explanation of grammar I have ever seen. Read my review here.
Flow by Mihaly Csikszentmihalyi

This book by the renowned psychologist is a beautiful, even philosophical, discussion about finding the state of flow in your work. After reading it, you'll be inspired to find your writing flow.
For the science or technology writer
If I Understood You, Would I Have This Look On My Face, by Alan Alda

This book is less about writing and more about relating and communicating with others, but writers can certainly find lessons here about connecting with readers. And Alda is an entertaining and personable guide.
---
This list could easily go on forever. Narrative nonfiction writers might enjoy John McPhee's Draft No. 4. Fiction writers might love Stephen King's On Writing. Everyone can cherish Anne Lamott's Bird by Bird. You can add your favorites in the comments.
If nothing here strikes your fancy, check out these other reading lists:
Download Recommended Reading for Writers (from The Writer's Process)
See all of my book review blog posts