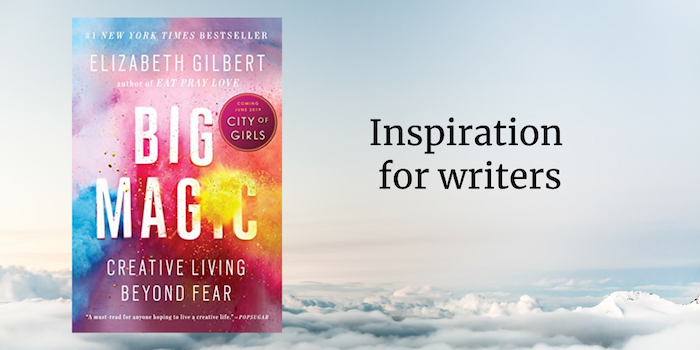 Short Version
This classic writing-related book was first published in 2015, but I only got around to reading it recently. Elizabeth Gilbert's wonder-filled, "magical" approach to creativity would seem to be the antithesis of my cognitive-science-based approach, but I loved Big Magic and found it inspiring. You probably will as well.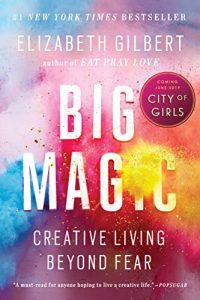 Long Version
At the outset, I didn't expect to like Big Magic.
As the title suggests, Gilbert approaches creativity with a sense of mysticism and magic. She inhabits a world of free-floating ideas that alight on us from beyond.
In contrast, I believe that inspiration arises from the associative, nonlinear thought processes in our heads, accessible with practice through incubation and open attention.
Yet I love the book. Gilbert's viewpoint is one of magic and wonder, mine of science and possibility. You don't have to choose between these approaches. And a little magic might be exactly what you need.
The Book's Structure
Gilbert is author of the wildly popular Eat, Pray, Love, among other  works. In Big Magic, she shares the stories of her writing successes as well as failures, and their contributions to her working model of creativity and the creative life.
The book consists of a series of personal essays clustered around several themes:
Courage
Enchantement
Permission
Persistence
Trust
Divinity
You can easily read through the book in one or two sittings, or savor it section by section. You might keep it handy to revisit when you need a soothing dose of encouragement or wonder.
The section on Trust resonated with me. In this part, Gilbert makes a strong argument to abandon the idea that you have to suffer for your work.
She describes the competing archetypes of the Martyr and the Trickster. The Martyr is the one who suffers for their art, while the Trickster figures out a work-around for any problems. She writes:
"Creativity wants to flip the mundane world upside down and turn it inside out, and that's exactly what a trickster does best. But somewhere in the last few centuries, creativity got kidnapped by the martyrs, and it's been held hostage in their camp of suffering every since."
The alternative to suffering is approaching your writing with a sense of curiosity, playfulness, and even joy. That seems much healthier for everyone involved.
Instead of finding your passion, Gilbert advocates that writers instead follow their curiosity. She writes, "Curiosity is the truth and the way of creative living."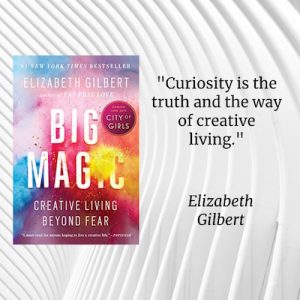 Why I Love the Book
In general, I'm not a fan of "I did this, so you should, too" advice books. Gilbert doesn't take that tone. Instead, her personal stories illustrate and explain her working philosophy of creativity. The stories convey deeper truths.
She also strikes just the right tone: encouraging and motivating. She never suggests that you sit around and wait for the magic to happen.
Finally, she writes compellingly of living a creative life. Her book is about more than writing.  As she writes, "My ultimate choice, then, is to always approach my work from a place of stubborn gladness." We need more stubborn gladness in the world.
Take-Away
You don't have to choose between seeing creativity as a process in your brain or as spirits in the world. It  does seem magical when a voice in your head delivers a perfect line of poetry, or an idea shakes you out of slumber to jump up and write.
It's possible to hold two competing views of creativity in our minds and call on them as needed. Creativity is science and magic. It's a paradox, and Elizabeth Gilbert would be just fine with that.
---
Find other book recommendations in this post: Books to Give the Writers in Your Life.