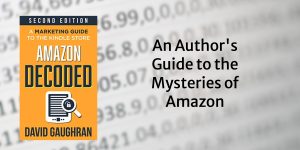 As an indie author, I have a silent business partner that is wealthy and powerful, sometimes high-handed, and occasionally mysterious.
That partner is Amazon.
David Gaughran is one of my go-to sources for insight into Amazon. His advice has helped me better understand how to use Amazon in my book launches and promotions. So when he published a second edition of his book Amazon Decoded, I got it right away, even though I'd read the first edition. And I'm glad I did—the second edition is filled with much more detail.
Authors have many theories about Amazon—some of them crazy and conspiratorial. Some speak with confidence about a "magic number" of reviews you need before everything happens. Others talk about Amazon's hidden agendas. Most of it is pure speculation.
David Gaughran offers solid, actionable advice, grounded in research, experimentation, and common sense. If you're an author, this book is an excellent investment of your time and attention.
"Why should I read a book about Amazon?"
Let's answer that question using the author's own words:
"If you understand how the system works, you can encourage Amazon to recommend your books more frequently. Not only that, if you also understand what makes books visible in the Kindle Store, you can make simple tweaks to increase the footprint of your book in Amazon's system, meaning that more readers will discover it when browsing for new reads."

David Gaughran
Here's my perspective. Having a better understanding of how Amazon works will help you get your book into the hands of the people who value it. Amazon can help you embrace the goals of servant authorship (serving people with your book) by putting your book in front of its audience.
The Geeky Goodness Within
If you've been publishing books on Amazon for a while, this book should trigger a number of "Aha!" moments. You'll understand why some things happen or what you've been seeing.
Part one explains what's happening in the Kindle store, and the mysterious issue of sales rank.
Part two is all about metadata, which sounds wonky but is definitely worth spending time to get right. (Bonus: there's no end date on tinkering with a book's metadata. It's always worth revisiting.)
Visibility on Amazon is the subject of part three. Here Gaughran demystifies the difference between the best-seller list and the popularity list, also-boughts, and much more.
Part four covers ebook distribution and offers perspectives on that troubling question: should you stay exclusive to Amazon or publish your ebook in other places as well?
Part five is all about promotions—you know, discounts and sales. These can play an important role in helping your book find its audience.
In the last section, he puts it all together in sample promotion plans.
The book is rich in geeky detail. If you're like me, you may have to take breaks in reading to go browse Amazon with fresh eyes.
My Take-aways
After reading this second edition, I have a much better understanding of KDP Select and Kindle Unlimited. I'm a "wide" author myself—and I'm not talking about my girth, thank you very much, but about making books available through multiple retailers. Even so, I benefit from understanding what Kindle Unlimited readers see and how this affects my books.
As a bonus, Gaughran writes with self-deprecating humor. For example:
I have an analytical mindset, I'm told—which I think is a polite way of telling me that I have the natural empathy of a dehumidifier, but it's also handy for figuring out how systems work

David Gaughran
From a nonfiction, explanatory writing perspective, he keeps the tone light and entertaining while clearly explaining algorithms and metadata. That's a fine example of writing to be understood!
Caveats: As the subtitle indicates, the book focuses primarily on Kindle books rather than print. And parts of the book are aimed at fiction writers, including most of the sample launch and promotion plans.
That said, there's still plenty of wisdom for nonfiction authors and those who rely on print sales. Read it and become wiser about reaching your audience with Amazon's help.
Other Resources
Find Amazon Decoded on Amazon or on Bookshop.
Hurry over to David's website and sign up for his email list.
If you're interested in book marketing, check out my monthly book marketing webinar series.