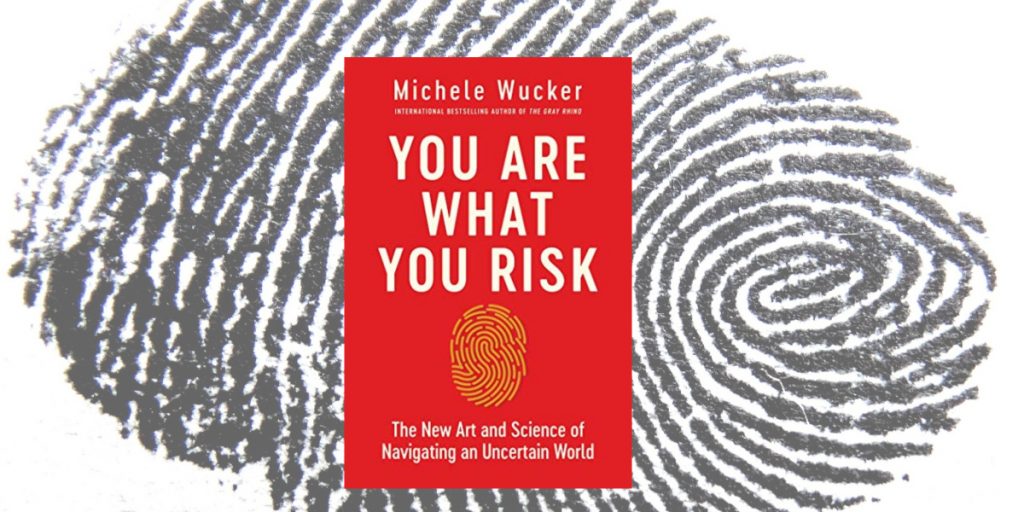 Your friend says she won't fly anywhere until 2022. Is that excessively cautious? Another friend is flying around the country before they've gotten vaccines. Does that make sense? When should you go visit that elderly relative across the country?
In the past year, we've all become armchair risk analysts contemplating the various risk levels of our lives. Vaccines, variants… the calculations change from week to week.
Have you noticed that faced with the same information, people make different choices? What's going on?
Michele Wucker's new book You Are What You Risk addresses those issues perfectly. It arrives at a perfect moment, just when we need it most.
A new vocabulary of risk
You Are What You Risk is a Deep dive into personal risk, and it gives us a better vocabulary to understand and talk about risk.
Wucker describes us as each having a risk fingerprint, which is influenced by personality, social context, and experiences. It's a fascinating way to think about this, as we notice the diversity of human behavior in this time of uncertainty.
She also asks that we stop throwing around the risk averse label and instead consider terms like risk perception (are we aware of the risks?), and risk attitude (how do we feel about them?)
My favorite definition is risk savvy:
The ability to recognize and assess dangers and opportunities reasonably accurately while balancing emotion and reason, and taking smart precautions so as to avoid being either foolhardy or overcautious.

Michele Wucker, You Are What You Risk
The book dives into the various factors affecting our risk fingerprints, including the societies in which we live, the people we spend time with, our personalities, our sense of purpose, even whether we're eating spicy food!
Not All Risks Are Bad
While we want to protect ourselves from negative risks, we also need to get comfortable taking chances for positive outcomes. The book offers advice on how to train ourselves to take risks in service of growth and a greater purpose.
In many situations, it's riskier to stay in your comfort zone than to act on opportunities to stretch and adapt to changing situations.
How can we better manage our own risks? We start by understanding our current risk fingerprint, then working with ourselves and our environment. Even things as subtle as what music is playing in the background can affect our decision making.
We can also build up our positive risk-taking with practice, and by surrounding ourselves with accountability groups (or risk circles) to help us stretch.
Risk Empathy
Wucker also writes about risk empathy, which she defines as "the ability to relate to the ways others experience risks and adapt your own behavior to accommodate those needs."
I predict that for the rest of 2021, we'll yet again be divided. This time it's not mask-wearing. Rather, we'll have varying degrees of comfort and understanding of risks of the lingering COVID-19 pandemic. Some people will hop on planes or attend in-person chorus rehearsals quickly, while make different choices.
We'll need to show each other, and ourselves, grace in the coming months. Let's understand and acknowledge our different risk fingerprints, and demonstrate risk empathy as we work together to define our new normal.
This book is a great place to start. Kudos to Michele Wucker for working diligently through the pandemic to get it out into the world when we need it.
Related Content
Find Michele's Book on Amazon or Bookshop.
Listen to my interview with Michele from last year (while she was writing), in which she tells the story of how this book came about.
Read more author stories in Get the Word Out: Write a Book That Makes a Difference.