Serving the Biliterate Brain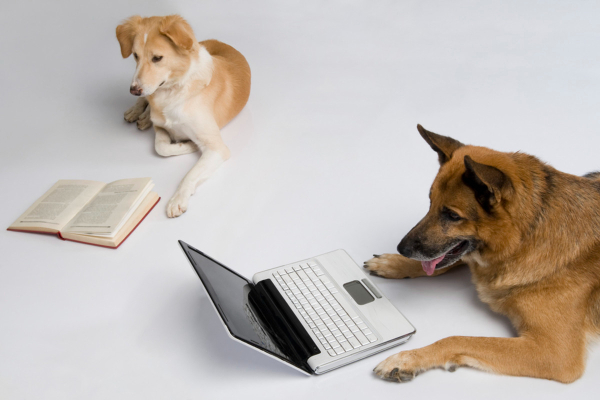 Here's an experiment: Try reading an 18th of 19th-century novel today. It could be Austen, Dickens, Eliot—choose your favorite.
Even if you loved the book years ago, you may find you have to slow down your brain to get into it. You need to switch reading modes, and it may feel awkward at first.
You have more than one way of reading.
Maryanne Wolf is author of Reader, Come Home and a scientist and scholar who studies reading. She coined the term the biliterate brain, referring to digital reading and deeper reading.
Digital reading consumes much of our time. We navigate a sea of digital content by skimming and filtering, extracting what we need despite distractions.
Deeper reading is more immersive or reflective. It happens more often with physical books and printed matter.
Most of our ordinary reading lives in the digital realm. This reading is valuable and important, and the neural pathways in charge of digital reading get plenty of practice.
Deeper reading is becoming rarer, but precious.
In her excellent book Reader, Come Home, Wolf argues that we lose proficiency at deeper reading unless we specifically practice or cultivate it. Our brains, seeing those deep reading pathways neglected, simply repurposes them for skimming.
As readers, we need to be aware of when we are deploying the different systems.
What does this mean for writers?
Most people are better at skimming than reading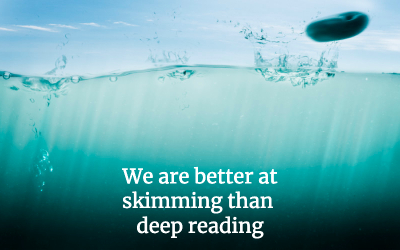 When we write for online formats (website copy, emails), we are dealing with the first type of reading: surface skimming. We should package the information accordingly.
Whether emails, blog posts, or online articles and web pages, support that digital reading and help people know when to dive in further with:
Careful subject lines
Short sentences
Short paragraphs
Subheadings
How about writing books? You might think that these rules don't apply.
But the world of book readers is made up of people like you and me, who are spending less and less time in deep reading.
Write for all of your readers
Many people, when they set out to write a book, pull on their "writerly" hat. They think of the classic books they have read, or that sit on their shelves.
They write books for immersive readers.
But remember: Your reader's brain is biased toward the online reading mode. That's what it practices, day in and day out.
If you want people to luxuriate in our sentences or wrestled with tough concepts, lead or tempt them back into that deeper reading experience.
Not everyone will get there. Your readers may be distracted, tired, or overwhelmed.
Decide what to do about that. Do you leave them by the side, or give them guideposts?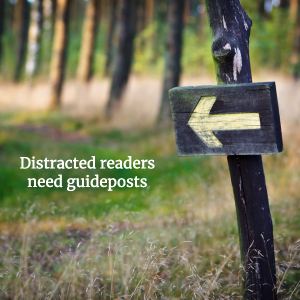 Genre matters
When people read fiction, they want to become absorbed in the book. Even then, you need to bring the reader into that world carefully. Reward their time, engage their curiosity or their senses—don't take their attention for granted.
Nonfiction might serve both the surface-level and the deeper readers—sometimes both in the same book.
If you're writing prescriptive (how-to) books, consider the reader's mental state as you adjust your writing voice.
If you're writing a book for parents of young children, assume they are sleep-deprived and stressed, and unable to read deeply. Bring the most important concepts to the surface clearly.
If readers might find your subject stressful (the tax code, for example, or making a job transition), the same thing applies. Help people get what they need, and give them options for diving deeper.
Even if your audience does want to immerse themselves in your story, remember that second reading mode might be harder for them than it was even a decade ago. Remove any unnecessary obstacles. Show them some grace.
Want to go deeper?
Listen to Maryanne Wolf talk about deep reading on the Ezra Klein podcast.
Read Wolf's book Reader, Come Home.