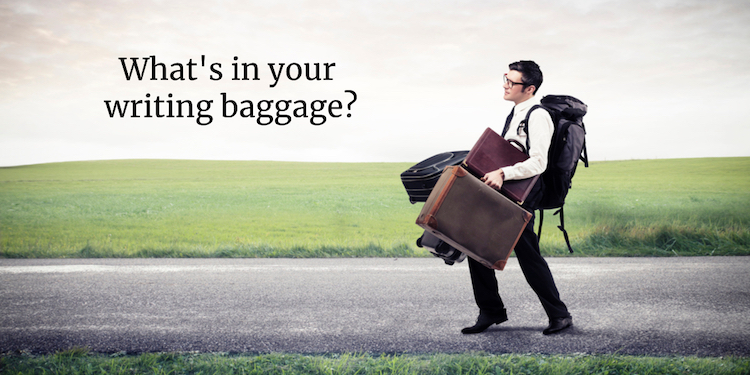 Every time you sit down to write, you bring extra baggage with you. And, just as with the airlines, that extra baggage can cost you dearly.
Your writing baggage might be filled with past experiences in the educational system: college, high school, or before. Perhaps you struggled with language mechanics or diagramming sentences, and now have perpetually low expectations for your writing.
The educational system doesn't always teach students how to understand and honor their own writing process.
Conversely, people who consider themselves "good writers" carry a burden of high standards. They won't settle for less than pristine, sparkling prose or intricately plotted stories. First drafts rarely meet expectations.
These inner burdens can prevent us from writing. They make the blank page intimidating.
At worst, those stresses become an unsurmountable hurdle that prevent us from sharing our thoughts through writing.
When we have no choice, when we must do the writing, the echoes of critical voices in our head make us question every sentence or agonize over each word.
If you experience trouble getting started, or simply don't enjoy writing, ask yourself:
What would happen if you just wrote?
What if you wrote without worrying about the grammar, or the word choices—without regard to those high school English conventions or the voices of criticism?
What if you didn't polish every sentence, or even stop to assess them as you went?
Write fast, then fix things
"Move fast and break things" was a design motto in the early days of Facebook.
The company has since abandoned the motto; Mark Zuckerberg suggested in jest that a better approach is now "Move fast with stable infra[stracture]".
As a product design strategy it might be problematic, but move fast and break things isn't a bad approach to writing. It's worth trying if you're stuck in the process of getting the words out.
Try writing quickly. Don't worry if the words are broken.
Fixing has never been easier
If you dread revising and fixing, don't worry. It's easier than ever before to fix your grammar, spelling, and other writing issues.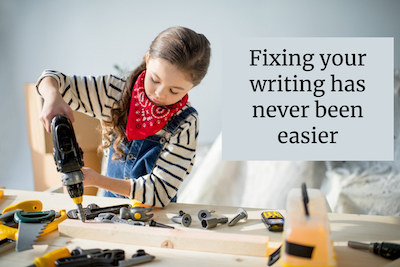 Basic spelling and grammar checking software, available for free, can help you find and correct many problems.
Paid software adds a smart editor over your shoulder as you work; programs like WordRake, ProWritingAid, and Grammarly all have options that integrate into your word processing programs.
You'll have time to revise and polish once the draft is done.
"But I love to polish while I write!"
If you experience the artist's joy in crafting the perfect turn of phrase, or hunting for unexpected word choices, go for it. Enjoy yourself.
But if you find yourself getting frustrated at not finding the right word, let it go.
Crafting and polishing can derail you from finishing the first draft.
If you're stuck, revert to "write fast and fix things later." Get the words down. Fill your text with placeholders: <insert brilliant transition to the next point.>
Once you have a draft, you can always improve it. Without the rough draft, you've got nothing.
Be fearless and write.
Related Posts
Two Reasons Not to Revise as You Draft