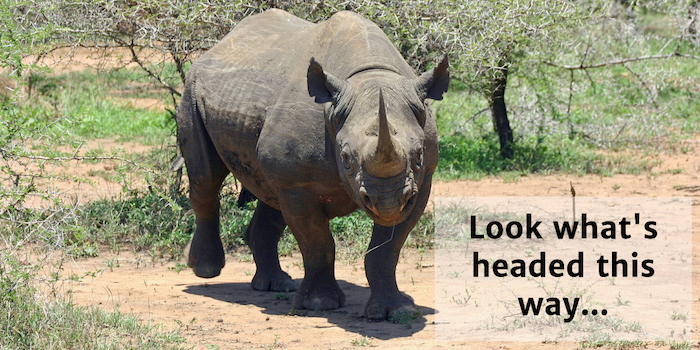 My first job in marketing involved pitching software for database backup and recovery, specifically to reduce downtime and data loss. At that time, databases weren't as distributed and resilient as they are now, and outages happened more often than anyone wanted.
We discovered that many businesses weren't motivated to invest in backup and recovery solutions until after they'd experienced a serious outage. Then the sale was easy. This reticence made no sense, given the financial implications of the outage.
That was my first experience writing about gray rhinos, although I didn't know about the metaphor and the term until recently, when I met Michele Wucker.
Michele is the author of the book The Gray Rhino: How to Recognize and Act on the Obvious Dangers We Ignore. As a financial journalist, then media and think tank executive, she became interested in the financial risks that we collectively turn away from. Her work has driven her deeper into her first love – psychology – and the human tendency to avoid acting on the big problems heading straight at us.
She's just done a TED talk on "Why we ignore obvious problems – and how to act on them" I'd suggest you check it out.
I interviewed her for my own book, Writing to Be Understood. In this post, you'll find an expanded version of the interview that landed in that book. It's valuable advice if you ever try write about a subject that readers might not want to face.
---
AJ: What kinds of responses do you get when you write or talk about the "grey rhino" topics – the obvious problems that are heading our way?
MW: People either get it intuitively and say "This is so important" or they give me pushback like, "This problem is obvious, and someone must be dealing with it. So why do we need a book?" A few refer to Nassim Nicholas Taleb's black swan analogy and say, "We can't foresee anything, so why even try?"
I've also found there's a lot of difference in how people of different cultures, ages and backgrounds view risk and how open they are to hearing and thinking about it. This is especially important because, paradoxically, it's risky to act in order to reduce risks.
AJ: Often people write about topics that seem obvious to them (aka climate change) without realizing that the audience might not want to acknowledge them. What are the signs that a subject might be a gray rhino to some percentage of the audience?
MW: If it makes you squirm even a bit, your topic is likely to be a gray rhino to someone. But you never know what will push people's buttons. On a recent episode of The Bachelor, one of the contestants was terrified of a bumper car contest because of a traumatic childhood experience. We all see obvious challenges from different angles, so what one person sees as a threat might be an opportunity to another. A doom junkie might get happier with each gray rhino you pile on!
It helps to test your idea in real life with small groups of people, so you get some sense of the responses you'll get. In the process, you may also find your superfans, who will help you get the word out about your work.
AJ: Do we need to approach writing about these topics differently?
MW: The first thing I ask the writers I mentor through The Op-Ed Project is: Who is your audience, and what do you want them to do or think differently because they read this piece? Knowing the answer to these questions helps you to craft your writing to maximize its effectiveness. Once you have answered them, delve deeper: Are you writing from an angle that this audience finds important? Do you want them to change their minds, are you helping them to understand an issue, or both? Be sure that you're telling them something new, whether it's a new piece of information or a different way to look at something they think they know.
AJ: What are the best strategies for writers in this situation?
MW: Write to hope, not just to fear. There's a lot of contradictory research into what motivates people most: fear or optimism. But you don't want to put your readers into such a funk that they give up on the problem at hand, or worse, on reading you've written! Include ideas for solutions and stories of people who can inspire your readers through their work.
AJ: What writing strategies do not work in these situations? What should we, as writers, take care to avoid doing?
MW: Don't preach. Do picture your audience and write to what they care about.
Don't bombard people with facts; but do include enough facts, in context, that you clearly have done your homework and have strong evidence to back up your point of view.
Steer far clear of anything that sounds like a personal attack; constructive criticism of behavior or outcomes is important and necessary, but the minute you sound like you're going after someone as a human being, you put your own credibility on the line.
Don't use hot-button words that might limit the reach of your writing. On the internet, you never know whom you are reaching.
AJ: Your book models a few successful strategies: using stories to lead people to their own conclusions and explaining abstract subjects with concrete examples. What else have you tried to do, as a writing strategy?
MW: I wish I were funnier, as humor is such a great tool for getting people to relax and listen. Also, I try to say the same thing in slightly different ways that build on each other. One of the things that has surprised me is how often you have say some things over and over again for them to sink in. Your reader may be distracted or focused on a different sentence or clause that resonates in a way you didn't expect; but other readers will get irritated if you are repetitive. Find ways to repeat that don't sound like repetition.
Other Resources
Check out The Gray Rhino book
Read more of the interviews in Writing to Be Understood: What Works and Why