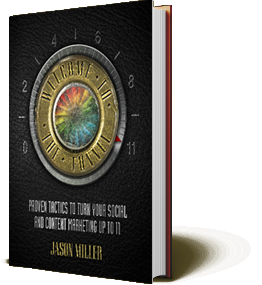 Hungry for a good content marketing book? Although Welcome to the Funnel came out last December, November is the perfect time to read it (in the States). Because Jason Miller applies a turkey dinner analogy to blogging and content marketing.
Jason Miller is the content marketing strategist at LinkedIn. He earned his stripes at Marketo. He certainly knows his content marketing, and has written an entertaining, insightful book on the topic.
Here are my three favorite take-aways from reading Welcome to the Funnel:
The Well Balanced Blogging Diet
Jason proposes a blogging strategy that varies posts like courses of a meal; the main course is a big, meaty blog post. Guest posts, humorous posts, infographics, and stories represent side dishes and condiments. Put them together in the right balance and you serve up a satisfying (and effective) blogging strategy.
It's a useful approach for marketers attempting to populate a business blog with daily updates. See how it plays out on the LinkedIn Marketing Solutions blog.
Valuable, "Big Rock" Content
Beyond blogging, the book recommends developing a few substantial content assets like ebooks, reports, or research. (He refers to these as "big rock" content – a less appetizing metaphor.) This main asset could live behind a lead form on your site.
Find ways to repurpose and distribute that content, in different formats and across various channels, to bring people to your table. You can dine off a substantial ebook or report for months.
This strategy only works with relevant, useful content that your prospects and customers find valuable. Content marketing is always about adding value, whether before the sale or afterwards. (My book Subscription Marketing discusses  using content to add value for customers after the sale – this strategy keeps on giving.)
Build long-term relationships with prospects and customers by providing real value through content. Extend the impact with creative content repurposing and distribution.
Marketing and Writing
In today's cross-channel marketing world, effective marketers work across domains. You don't have to be expert in videography and metrics and writing and graphics. You do need to understand the disciplines and include them in your planning. The days of operating in comfortable marketing silos are over.
For Jason Miller, writing is at the core of the content marketing discipline. Here's the title of an early chapter: "If Your Writing Sucks, So Will Your Content." When he hires, he looks for writing chops:
I have hired quite a few content marketers over the years and I can tell you that the most important attribute that I look for is their ability to write. If they are a good writer and know how to craft a story, the rest of this stuff can all be learned."
Amen to that.