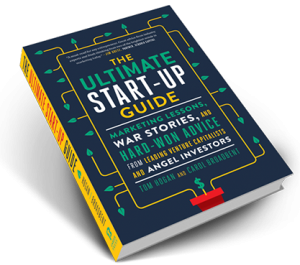 I just finished reading The Ultimate Start-Up Guide by Tom Hogan and Carol Broadbent, and I must say I am surprised.
I expected great start-up marketing advice, and the book delivered. I've worked with Tom and Carol before, and they know their stuff
Knowing the authors, I also expected an engaging,  irreverent tone and style. The book delivers here as well, reading like a conversation with friends who won't hesitate to say something if you are being a jerk.
What surprised me, though, was the scope the start-up guidance, as well as the sheer number of voices and stories rolled into the book, and the wisdom distilled from those experiences.
A Guide to Starting Up
The book's structure follows the story arc of a start-up. It begins and ends with the founder, the entrepreneur, the would-be Steve Jobs. It then plunges into advice about failure – a constant presence in the start-up story.
Then it follows a start-up from idea through funding, launch, growth, and the endgame, incorporating guidance and stories for phase.
The authors have followed this path more than 40 times in their work as Crowded Ocean, and lived to tell the tale.  Beyond their own experiences, they have sprinkled the book with contributions from the venture capitalists and founders they have worked with. Those contributions, together with the authors' advice, make this an indispensable guide for start-ups in any stage.
I've been exposed to enough start-ups to recognize the wisdom contained in this book, but still learned a great deal while giving it a careful read.
The Marketing Bits are Good, Too
Crowded Ocean practices what they call sales-based marketing, or marketing that supports sales and revenues. Here's how they describe this marketing strategy: "If it doesn't generate new sales, shorten the sales cycle, or make repeat sales easier, don't do it." Start-ups don't have the luxury of doing anything else.
Wearing my subscription marketing hat, I must point out the part about making repeat sales easier. Even in start-ups, it's not enough to chase the new sale at all costs – you have to take the long view of the customer relationship.
Reading the Ultimate Startup Marketing Guide is like sitting down with a start-up sherpa and savvy marketer. If you're just getting started or well on your way, take this book along as a guide. You'll be glad of the companionship.