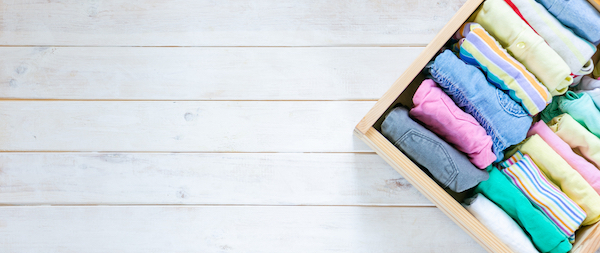 A few years ago, my husband and I moved out of a house that we had lived in for over 25 years. As we sorted and packed, I turned to Marie Kondo's book The Life-Changing Magic of Tidying Up (and later Netflix special) for inspiration in dealing with the accumulated stuff.
Before you ask—no, we did not sort all of our earthly possessions into piles and choose only those that "spark joy" to remain. Even so, her approach offered useful insights into letting go.
Kondo suggests we thank the things we no longer need for their service, and then let donate them or send them on.
It's a beautiful antidote to the sunk cost fallacy. (I paid so much for these pants I never wear, I can't get rid of them!) 
Recently, I realized that this approach works for words as well as stuff.
What to do instead of killing your darlings
Cutting is a necessary, and sometimes painful, part of revision. People often tell writers that they need to "kill their darlings." That advice that sounds doubly dark coming from Stephen King! (See his book On Writing: A Memoir of the Craft.)
Of course, the advice is sound. As writers, we often become attached to bits of brilliance that we enjoy, but that don't serve the reader. Getting rid of them is painful.
Metaphors like kill and murder only make revision harder.
I've been working with an author who has done extensive research for her book. She has countless hours interview transcripts filled with wisdom. Of course she wants to share it in her book. 
As lovely and generous as those conversations are, they don't all belong in the book. That doesn't serve the reader.
Here's the hard truth for nonfiction writers: Only a fraction of the research you do ends up in the manuscript.
Fresh off watching Marie Kondo's latest Netflix special, I tried something different. I told her, "Look at each of these interviews. Will these passages spark joy—or understanding—for the reader? If not, thank them for their service and move them elsewhere."
She laughed, but understood my point.
We talked about things she could do with the research that didn't end up in the book. She could create blog posts or publish interview excerpts to support the book launch.
The research has value, but not all in one place and all at once.
"Tidying up" your writing
How about your work? Are you trying extra hard to keep your favorite bits? Is the resulting book, blog post or article longer than your reader is likely to finish?
You might need to tidy up. To do this, think like the reader. As you read, put yourself in their shoes and ask:
Does this spark joy? Understanding? Insight? Is it necessary for the larger purpose?
If you discover defensive feelings about a passage, at some level you may realize that it doesn't fit. 
You might need another set of eyes. Ask a friend, an early reader, or a developmental editor to weigh in.
Of course, you're the author. You get to include a few things that you find uniquely entertaining or wonderful. If you've earned the reader's trust and understanding, they'll stay with you.
But if readers feel like they're lost in a rummage sale of your favorite things, they might wander off.
If you have a tough time cutting things from your manuscript, give it the Marie Kondo treatment. Acknowledge and honor the things that you're cutting—then send them to a good home. Your reader will appreciate the tidier text.
Related content
Check out Mari Kondo's Netflix special: Tidying Up with Marie Kondo. It's funny and also moving.
Read my post Revising for Cognitive Ease.