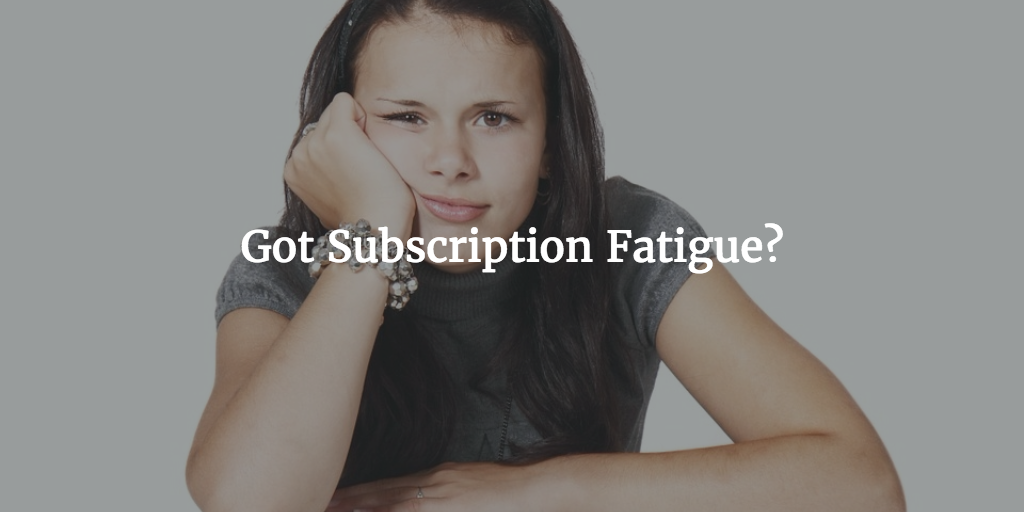 As the calendar turns to September, do you experience any of the following symptoms?
Confusion (or surprise) about charges on credit cards for annual subscriptions
Deep contemplation triggered by pending renewal announcements
Decision fatigue deciding what to do about each new renewal
Overflowing email inboxes and a sense of general overwhelm
The desire to realign priorities, emulate Marie Kondo, and make a clean sweep of trailing subscriptions and online services
If these symptoms sound familiar, you may be experiencing subscription fatigue.
Subscription fatigue gets worse every year as the subscription economy picks up steam. We can now subscribe to nearly anything, from ammunition to razor blades.
I've got it bad…
My business now runs almost entirely on cloud-based software, which means, of course, more subscriptions.  As the paid subscriptions come due I have to make decision after decision about whether to renew, to upgrade, or to unsubscribe.
Then there are the free subscriptions. I've signed up for free versions of applications that I rarely use, either because I've decided against them or I simply forgot. But I get emails from those providers, and have to decide again what to do about them.
My brain hurts.
Are there any budding behavioral economists out there looking for a thesis topic? I suggest Subscription Fatigue. It must be a thing.
Why subscription fatigue strikes in September
I'm one of those people who feel like September is a new beginning.
Right after Labor Day, I feel the urge to try new online tools, decide to change my website, sign up for classes, or join organizations.
As a result, every September I face the annual decisions about the things I started in the frenzy of the previous fall.
Subscription marketers, take note: Your renewal doesn't happen in a vacuum.
Your customer's decision to renew may depend not only on the value that your service provides, but how that value relates to the other things going on in the subscriber's life.
Time, attention, and money are all limited resources, and we must choose to spend them wisely.
What subscription marketers can do
Value nurturing is the antidote to subscription fatigue.
Find ways to continue adding value long after the initial sale, and renewing becomes a no-brainer. (Value nurturing is the topic of the book Subscription Marketing.)
Don't wait until the moment before the renewal is due to reach out. Let people know well in advance about upcoming renewals – and perhaps offer a discount for acting early, to avoid that September pile-up.
Be wary of overwhelming the subscriber with emails and reminders – particularly in "new beginning" times of year like September and January.

No Fields Found.