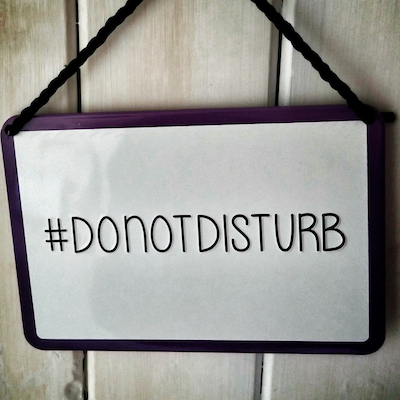 To finish a major project like a book, you often have to put aside everything else for a period of time:
Close the door.
Stop responding to emails.
Put aside the books you want to read, courses you want to take, and meetings you should attend.
Delay other activities—even projects you should be doing.
It's not easy. But sometimes it's necessary to get the job done.
Obsession with limits
When you're in this state, the writing project almost becomes an obsession.
You think about the book while you're at the gym, driving, sleeping, ironing. New ideas appear. Problems resolve themselves in the early morning hours, while you lie awake in bed.
You're using the incubation effect to its fullest capacity. (Incubation refers to the creative work that your background mental processes do while you're otherwise engaged.)
This kind of sprint can be tiring. It's tough on family and friends. Sometimes, though, it's necessary.
Just make sure it's a short sprint. Put limits around your obsession.
Finish the project, then rejoin the living.
—
How about you?
Do you ever go into isolation mode to get things done? And how long can you tolerate it? Let me know in the comments.
Related content
Why writing takes more, and less, time than you think
Cognitive science terms for writers
Read more about the incubation effect and its role in writing in The Writer's Process: Getting Your Brain in Gear.