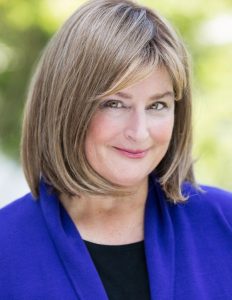 CEO of the Intrigue Agency and Tongue Fu! Training Institute
Sam Horn is a global keynoter and coach/consultant who teaches how to create one-of-a-kind brands, books and businesses. Her 3 TEDx talks and 9 books (including POP!, Tongue Fu! and Wash Post bestseller Got Your Attention?) have been featured in the New York Times, on NPR, and presented to Intel, Cisco, Boeing, and Capital One. As former Exec. Director of the Maui Writers Conference, she has inspired many authors to get their thoughts of their head and into the world.
In our interview, she shared
Sam's three-minute exercise for outlining your experience-based book
Why you need to "go where you're hot" when writing
How she ignores the advice to "stay in her lane"
How she uses Otter.AI to help people capture stories in real time
Every conversation with Sam is inspiring, so you'll enjoy this one.
Find out more about Sam:
Listen to the Interview
---
The Interview Transcript
Anne: Hi Sam, thank you for joining me. There is a beautiful symmetry to our having this conversation today. I first met you at a writer's conference last fall. You stood up in front of a room of writers and got everyone fired up about writing their next book—which is what you do.
I'm now working on the book I had in mind then. Your name keeps popping up as I interview people, and then I turned to your book Pop! to get some title ideas and words to put around this. Now I'm interviewing you for the book. I feel like I'm coming full circle. You didn't know were you my partner in this book, and here you are.
Sam: Anne, you know this. Writers are a community. Aviators and pilots call it hangar flying. If they can't up in the sky flying a plane, they want to be on the ground talking about flying a plane. It's like that with authors. We love to talk story and talk books.
What Motivates Sam
Anne: True. You speak about speaking and you speak about writing. And, you write about speaking and writing. How do you explain to someone not familiar with your body of work, what gets you out of bed in the morning? What is your motivator?
Sam: There's a lovely Japanese term ikigai, which is a reason to get up in the morning. A purpose that gives our lives meaning and momentum. I'm lucky I have a trinity: I write and I speak and I coach.
I've got nine books from New York publishers, from Pop! to Tongue Fu! to Some Day Is Not a Day in the Week. I coach—I have the privilege of working with clients on their TED talks, their SXSW talks, their U.N. talks. I speak, I write, and I coach. I help people get their books out of their heads and into the world, and figure out their next chapter.
A lot of times people are ready for their next chapter, and they don't know what that looks like. We get to connect their dots of their EEE—their experience, expertise, and epiphanies—and come up with a legacy project that puts and keeps the light on in their eyes.
Anne: That's such a wonderful way to put that. You demonstrate right there something you are so good at: framing things into catchy phrases. You are a word nerd like I am. You are a word nerd and a quote collector, which are both things that I admire and love.
Let's talk first about you and your experience, then we'll talk about what you see in other authors.
Why Sam Doesn't Stay In Her Lane
Anne: You have nine books, which is an impressive collection, over some period of time. The books are a part of your career, the speaking is part it as well. How do they fit together as a platform? For example, your most recent book is Some Day Is Not a Day in the Week, which is a lovely and inspirational book. How does that fit with the speaking and coaching?
Sam: We have all heard the advice of pick a lane. We're supposed to pick a niche and stick with that niche. I understand the bottom line benefits of that. Have you ever seen the Leonardo da Vinci exhibit?
Anne: Oh, yes!
Sam: You know what I'm going to say. Imagine if someone had said to Leonardo, "Just stick with anatomy. Stick with flying, forget the painting." No, he was a master at these different things. I am not comparing myself to da Vinci, but I am aligning with it. When I came out with Tongue Fu! thirty years ago, I could have just done Tongue Fu! for thirty years. It's around the world in 17 languages. That is a career right there.
However, I was then interested in confidence, and why some people are supremely confident wherever they go and other people who are talented and smart are not. So I wrote about that. And I wrote about concentration. I discovered through my work with Rod Laver that concentration is a skill. It's not a mysterious ability we have or not: it's something we can learn.
The answer to your question is:
I make my life my lab.
Anne Lamott said "writers get to live life twice." I keep my antenna up. When I'm called to something and am curious about it, and I know it has value, I do a deep dive into writing and speaking about it, and hopefully sharing best practices that might benefit others.
Anne: You are one of these authors who doesn't have a niche, in terms of a confining, narrow space. One author I spoke with talks about having an umbrella. You almost have an umbrella, because it all has to do with communication, connecting with others. This is maybe your umbrella. The idea of a niche is so confining to authors, something people push back on. So I love the example you put forward with your career of how you do this.
Which Comes First, Writing or Speaking on a Topic?
Anne: When you're working on new topic, do you speak your way to the book? Do you write your way to the speaking? Do you do them both at the same time and they inform each other?
Sam: The answers is, yes. Yogi Berra said, "When you come to a fork in the road, take it." I have done all of the above. I had spoken on Tongue Fu! for several years before I got the book deal, from our very first Maui Writer's Conference. That was a joy, writing that book. I just downloaded what I'd been doing. I had crafted those stories. I had honed those techniques. It had the continuity. It had been distilled into real-life examples. The same with my What's Holding You Back? book. The same with my ConZentration book. I had been speaking on them before I wrote, which facilitated and expedited the writing of those books.
Writing from the Experience: Her Year by the Water
Sam: For Someday [Is Not a Day in the Week], I did the opposite. I took a creative risk. When I set off on my year by the water, there were no guarantees. I announced this at the National Press Club. Most people broke into applause and said, "Take me with you."
Three people pulled me aside. One said, "Are you having a midlife crisis?" I assured here I was having midlife clarity.
One pulled me aside and said in all seriousness, "Are you sick?" She assumed I must be on my deathbed to be making such a drastic move.
An investor pulled me over and said, "You know, Sam, you can't put the genie back in the bottle. You'd better keep this quiet, because if your clients find out that you're off the grid, your business may not be there when you come back."
When I went on that year by the water, I was doing it because I was ready for an adventure. I was ready for an opposite of my always. There were no guarantees I would write or speak about it. I didn't think corporations would pay me for this because they didn't want their employees to quit and go to Bali!
Anne: Interesting. So that one you wrote first. It was more internal. But you certainly speak about it. The writing can be a wonderful path to clarifying. I talk to many authors who say, "I really wish I'd done the speaking before I wrote the book, because now I can explain this more clearly than I could when I wrote."
Sam: It's both. It's not either/or. They're both valid, and it's circumstantial. Is there an urgency and we need to get the book and we don't have the three, four, or five years to speak on it first? I know you've experienced this.
For the Someday book, people ask, "What were your favorite places." It's not the places you remember—it's the experiences. It's the Walden Pond story. It's the middle of the Texas Hill Country story. It's the swimming with Zach story.
When we have experiences— anything that we know as writers is profound, transformative, pivotal—it deserves to be in a story because it has the potential to have that profound impact on others.
Anne: One way we live and own and share it is by sharing it through writing. I love what you do. The way you approach your work is very inspirational.
Authors and the Imposter Syndrome
Anne: You work with so many authors, including some names that are very impressive. Let me ask you, because I know that some authors feel that there's them, and then this universe of exalted authors that magically have a whole different experience of writing. Is that true? When you work with the famous people and big names, it is magically easy and wonderful for them, or do they struggle with the same things we do?
Sam: This is your basic rhetorical question, isn't it, Anne?
Anne: Yes, it is. I have a strong theory, anyway.
Sam: I figure that your theory would be proven out. There are multimillionaires who have imposter syndrome. They can grow a business, but sitting down and putting their thoughts on paper? They're often very critical of themselves—perfectionists—and it doesn't come out perfect the first time. And of course the critical voice kills the creative voice. And there we go.
Writing as Joyful Activity
Sam: Do you know how I've helped many of my authors become confident in their voice so that writing becomes the joyful activity it's supposed to be?
Anne: Do tell!
Sam: Another rhetorical question.
Anne: I want to hear!
Sam:
It's time to stop thinking of writing as something you do at a desk.
Many people think "I have to have spare time to write." If we don't have spare time, then we don't write. Many people feel they have to have a chunk of time to write—two to three hours at least—to get in that state of flow.
Let's use Terry Jones as an example. Terry was the founder of Travelocity and Kayak. Terry doesn't have time to write. But he's on planes, right? He has time in between meetings.
Are you familiar with Otter.AI? What my clients and I often do is that we storyboard their book. It's different than outlining it. I'll distinguish between a storyboard and an outline. Once we have the storyboard, then when Terry walks out of a meeting and he thinks, "Wow, that was a fantastic conversation. We solved that problem and averted disaster." He recognizes the extraordinary nature of something that was not just business as usual. They had a big challenge, they came up with a disruptive solution—that deserves to be written down.
Terry doesn't have time to write, but he has five minutes and he has Otter. In the flush of the moment, he puts us in the scene: "There are ten of us at the table. This is an emergency meeting. It's 7am. We found a bug the day we're supposed to send it. Someone says, why don't we do this…" Boom. Five minutes. That's alive, isn't it?
On Storytelling
Anne: Yeah! It not only solves the writing issue, it solves the storytelling issue. People, if you ask them to tell you a story, they freeze up. But if you ask them "put me where you just were" while their emotions are still going, it's natural. We do this naturally.
Sam: What you just said, that's writing. People say, "I'm not a good writer." Writing is just reenacting a situation with the dialog and the emotion, so that people feel we're there. We feel it's happening right now. Robert Frost said, "No tears in the writer, no tears in the reader. No joy in the writer, no joy in the reader." For many writers, writing becomes a grind.
If it's hard work for us, it's going to be hard work for the reader.
When you're like that, in the moment where you're still excited about the epiphany and how you solved it, that is how, using Otter.AI and a storyboard, we go where we're hot. We don't go linearly, because we may not be excited about that chapter. But if we just saw something in the Wall Street Journal and it's a great quote that we riff off, once again, there's joy in the speaker, and the writer, and the readers.
Anne: "Go where you're hot"—that's great. I always say to cherry-pick the thing you want to write right now. I'm one of those people who was brought up to save the best thing for later. Don't eat the dessert now. Nope. If you're a writer, you've got to go for that tasty bit right away because you may not feel the same way in a week or two weeks.
Sam: You're referencing something that in 17 years of the Maui Writer's Conference, our authors agreed on. And they didn't agree on much. Terry Brooks said you have to write first thing in the morning. Dave Barry said he didn't get going until the afternoon.
They agreed on two things. One was "Ink it when you think it." The other is what you're referencing: books have a life of their own.
Barbara Kingsolver said that she couldn't wait to wake up in the morning and come downstairs to find out what her characters wanted to say. This is the "woo woo" part of the conversation— the Muse. Any writer who has spent any time on it understands that something is coming out of our minds and out through our fingers that is better than we know how to do. If we do not honor the Muse, if we do not cherry-pick and go where it is hot, we are turning our back on this creative source and energy that is there for us if we tap into it.
Anne: That's right. And, we're turning our back on the joy of the writing. That's where it comes from, letting us work with our Muse. Even if you're writing nonfiction, something that's not "creative," all good writing is creative.
This is silly to ask because you've written so many books of advice, but I'm going to ask anyway—what advice would you give somebody who has an idea and purpose they feel strongly about. They want to write a book and are wondering, "How the heck am I going to go about this." Do you have any words of wisdom?
Sam's Advice on Storyboarding and Getting the Draft Done
Sam: More rhetorical questions! You bet I do. Let me tell one of my favorite stories. Do you know who Sheri Salata is by any chance?
Anne: The name is familiar.
Sam: Sheri was an executive producer for Oprah for many years, then she ran Harpo and she ran OWN. I had an opportunity to interview Sheri one time. In the middle of the interview, she said, almost as an aside, "If I ever write a book, I know what I'm going to call it."
"What?" I asked
She said, "I Did Everything All Wrong and It Turned Out All Right."
That's a great title, isn't it? That's not what the interview was about, so we went on. But at the break, I said, "Tell me you're writing that book."
She said, "Sam, I don't where to start."
Boy, does she have stories. She put on Oprah's birthday party with Jerry Seinfeld and Beyoncé and Michael Jordan and Chris Rock. She delivered a baby in a 7-Eleven parking lot. Where do you start?
Unless people are driving and listening to this, grab some paper right now. In three minutes we can do this. On a piece of paper in the upper left, put 200 pages. Let's pre-suppose our book is 200 pages. It's not a doorstop, and it's not Who Moved My Cheese. Now put down ten. Let's suppose that no chapter is more than 10 pages, because we want a page-turner in the sense of the psychology of completion.
That gives us 20 chapters. On your piece of paper right now, have four rows of five boxes. Now we go back to Sheri or your listeners, who say, "I don't know where to start." Start by putting us in the scene of some of these pivotal, transformational moments.
"Baby in the parking lot"
"The Birthday Party"
She decided to put herself in her own story instead of supporting Oprah's story.
Often, in five minutes, people can cherry-pick their lessons learned, or the steps to this, or the most important points they want to make. It's all on one page. Now you have Otter.AI. You think, I'm going to keep it ten minutes to fifteen minutes max, which will bring it in as a ten-page chapter. Boom. That expedites the writing process.
Anne: There you go. You've got an ugly first draft to start working with.
Sam: Anne Lamott can't be wrong.
Anne: Exactly. That's wonderful. Sam, I'm going to encourage anyone to go to your books. You are so generous and inspiring. If we tried to count all of the authors in the world you've inspired, we would quickly need a supercomputer. Thank you so much for taking the time and sharing your wisdom.
Parting Inspiration
Sam: Two parting words. You know Dan Poynter? As you know, Dan was almost the father of self-publishing. Way back when, he was very clear that it was not right that New York publishers had the keys to the kingdom. He felt that writing ought to be democratic, and if you have a story to tell, you have the right to get it out there.
Dan has this wonderful quote: "If you wait to write, you're not a writer. You're a waiter."
Then this one's from me. I have had the privilege of working with people for 25 years on their books.
I have never met any author who is sorry they wrote their book. I have only met authors who were sorry they didn't write it sooner.