"How do you give yourself permission to write a book?"
The question came from a friend who was finishing her manuscript. Clearly, she'd found a way—but only after struggling with a sense of not being invited.
Hers is a question each of us must answer, whether we want to write a book, a blog, or a LinkedIn post. Because, most of the time, we must grant ourselves permission to write.
Inviting ourselves to write
Once upon a time, editors and agents decided which voices to publish and amplify. Today, with self-hosted blogs and indie publishing, we can bypass those gatekeepers and reach our own audiences, whether large or small.
Yet those gatekeepers served another role—they granted permission. They soothed the doubting voices in our heads.
They still do. If you land a book deal, you have official permission to write the book. (Of course, authors with book deals can struggle mightily to feel worthy of writing.)
Most of us have moments of doubt and anxiety. Conquering them is part of the growth that comes from writing. If self-doubt prevents us from starting, we never have the chance to clear that hurdle.
How do you give yourself permission to write? The answer is different for everyone, but here are a couple ideas to try if you become mired in doubt and inertia.
Start by writing for yourself
Start a journaling or freewriting practice. You don't need anyone's permission to write for yourself. And as you show up regularly and contribute, you will create a few ideas, sentences, or paragraphs that are worth sharing.
Writing for yourself seeds the work you do for others.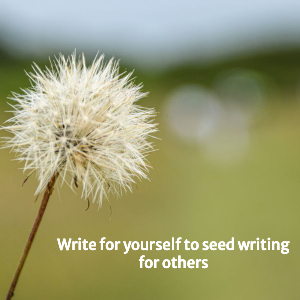 If it feels pointless or self-indulgent to spend time on journal entries that no one will see, tell yourself that you're working on your craft and feeding the creative processes. Because it's true.
Adopt a servant authorship mindset
Think about the people you want to serve with your writing and aim to meet their needs.
Creating something of value is always a valid reason to write. You don't need anyone else's permission or invitation when you have a sense of purpose.
Better yet, when you focus on other people's needs, you'll stop worrying about whether you are "good enough" or "expert enough" to write.
You may not have a clear idea of the purpose until you are deep in the work, so get started.
Related Content
Need more inspiration? Here are a few posts from the blog archive that might help:
Or, watch this quick video, with its two-question test to determine if you're fit to write about a subject: The Imposter Syndrome.