Short Version
The Complete Guide to Pay What You Want Pricing: How You Can Share Your Work and Still Make a Profit by Tom Morkes has inspired me to experiment with this pricing model in my own business. It's filled with solid, practical advice. Check it out.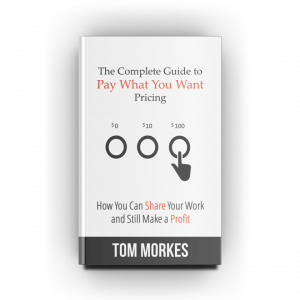 The Long Version
There's an old (really old) joke about the perils of pricing:
Seller: "I'm selling this for less than it cost me."
Customer: "But how can you afford to do that?"
Seller: "I'll make it up on volume."
Pricing challenges every business. For people starting out on consulting, coaching, or online businesses, pricing is a tremendous hurdle.
In The Complete Guide to Pay What You Want Pricing, Tom Morkes offers another pricing option: let customers pay what they feel the service is worth – and what they can afford.
(Let's save time and call it PWYW for Pay What You Want.)
Although the strategy sounds simple, getting it right takes some thought. This book lays out the psychology and method behind this pricing strategy.
Because I blog for both subscription businesses and authors, let's look at the book from both angles.
The Subscription Angle
Loss leaders (products sold below cost) work in retail settings if you can cross-sell the customer once they're in the store. But for subscription businesses in long-term relationships with customers, pricing failures can be fatal.
Charge too little, and you gradually bleed to death. Or, you have to course correct, either raising prices or stripping value (or both). And subscribers leave. I refer you to the tale of MoviePass.
Charge too much, and the subscribers leave or never subscribe.
A successful subscription business sets prices that match (or fall below) the customer's experienced value.
But people are different. We value the same products or services differently.
Richard Reisman advocates for a more sophisticated pricing model, FairPay, in which the buyer and seller negotiate for perceived value of a solution. I love this idea. Read about it in his book FairPay: Adaptively Win-Win Customer Relationships. (See my review here.)
For individual consultants, solopreneurs, and small businesses, implementing this negotiated online pricing is a technical challenge to pull off, at least while we're all using the same standard payment systems. Morkes offers a simpler approach.
It may not make sense to use PWYW pricing for your core subscription offering, but you could try variations on it:
Offer bonus material to existing subscribers using this model
Try it to test the market for a new offering, for a limited time
For Authors
Many authors I know are really authorpreneurs – people building businesses around their writing. Like all small businesses, we struggle to figure out how to price our offerings. We want to share our ideas and escape the dark cloud of obscurity that surrounds us, yet also need to make a living.
Implementing a PWYW strategy isn't just about monetizing your products. It's about building and sustaining relationships with loyal followers, and getting exposure. It's a marketing strategy, if you already have or are building a loyal audience.
The book includes plenty of examples from authors, bloggers, artists and more to spark your imagination.
What I Love About the Book
The book is grounded in the psychology of this pricing model. For example, it stresses the importance of anchoring the potential price range with suggested prices.
Generosity is another important factor in this equation. Morkes writes of using the PWYW pricing model for something that he had previously given away for free. He realized that by giving the work away, he wasn't allowing his most loyal fans to support him.
"The most generous thing we can do as human beings is give OTHERS the chance to be generous. Simply by asking for help, accepting a donation, or letting people contribute to our work, we give them the gift of letting others be generous."
PWYW is powerful marketing strategy if you have a loyal audience.
This pricing strategy won't apply equally well to every product. The book suggests the five requirements of a successful offering. For example, it works best in situations in which you already have a strong relationship with the buyer. (I'm looking at you, subscription providers.)
The book also offers six steps for successfully pitching the model, including being very clear about the offer and anchoring the price. Examples from businesses as varied as video games, authors, musicians, and consultants show how this works in real life.
It's not for every solution or every situation. Yet the book has inspired me to implement a pay-what-you-want pricing model for a new online course I'm considering.
Read it and see if if inspires you as well.
Related Posts
Disrupting Subscription Pricing: FairPay