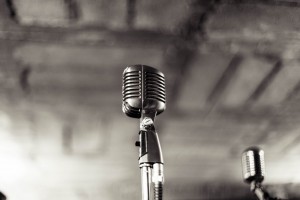 One of the rewards of writing a book is that it spurs interesting conversations on the topics of writing and publishing.
Since publishing my first book earlier this year, I've heard all kinds of questions, including:
How long did it take to write the book?
How long did the self-publishing process take?
How much does it cost to self-publish a book?
How much money can you make from a book?
Why don't you publish a book of poetry?
(Okay, that last one is from my mom, and isn't really representative.)
I'm going to share my thoughts on these questions in this blog, in a regular series of posts on writing and publishing. This is the first post in the series.
A couple of weeks ago my audiobook came out, spurring a new set of questions about audiobook narration and production.
Why release an audiobook?
If you have a book out in printed or digital form, releasing an audiobook makes sense for many reasons.
First, the audience for audiobooks is growing. I've heard from some people who only consume business books as audiobooks.
And because fewer books are available on audio, your book faces less competition. Getting in early on this trend may be good.
As an author, why narrate your own audiobook?
One of the first decisions you'll need to make is whether you want to narrate your own book or have someone else do the reading. If you have a publisher, they may be involved in this decision. If you're self-published, it's all up to you.
I narrated my own book, for a number of reasons:
As a nonfiction book, it didn't present the challenge of character voices. And the written tone and style is fairly personal, so narrating myself didn't seem like a stretch.
I believe I have the skills to do a decent narration job. I'm a singer, I have a long history of performing, and I understand the nuances of what the words should say, since I wrote them.
I was willing and able to put the time into narrating the book.
Curiosity was a factor. I wanted to know what the process was like, as I might do it again.
Before recording, I spent time practicing, trying to get the pacing and intonation right. I used my phone to record myself reading. One run sounded too sing-song, another too deadpan. One was too fast, another too slow. It took some time to find the Goldilocks pace and intonation.  I can't guarantee I maintained it during the actual recording, but it seemed to turn out okay.
Let's be clear about this: PBS isn't calling me with invitations to narrate documentaries. Morgan Freeman can rest easy on that account. I occasionally tripped over the beginning of words, I sputtered my way through the word "subscription" on occasion, and I can hear my Midwestern twang slip in from time to time.
But I wasn't aiming for perfection. It's okay for authors to show up as their real selves when reading an audiobook. Just make sure people can understand you.
In performance, expression is more important than perfection.
Should you narrate your own book?
Only you can answer that question. Based on my experience, here are a few factors to consider:
Do you have the skills and/or willingness to develop them? Do a few practice recordings and listen. If you're not sure, ask others for their feedback.
Are you willing to invest the time to do the recording, as well as test runs and samples?
Are you willing to either do the recording yourself or find someone to create and produce the recording with you narrating? (That's the subject of another blog post.)
I'd love to hear your thoughts, as well as any other questions you might have that I can answer in future posts.
Image: Gavin Whitner on MusicOomph.com.