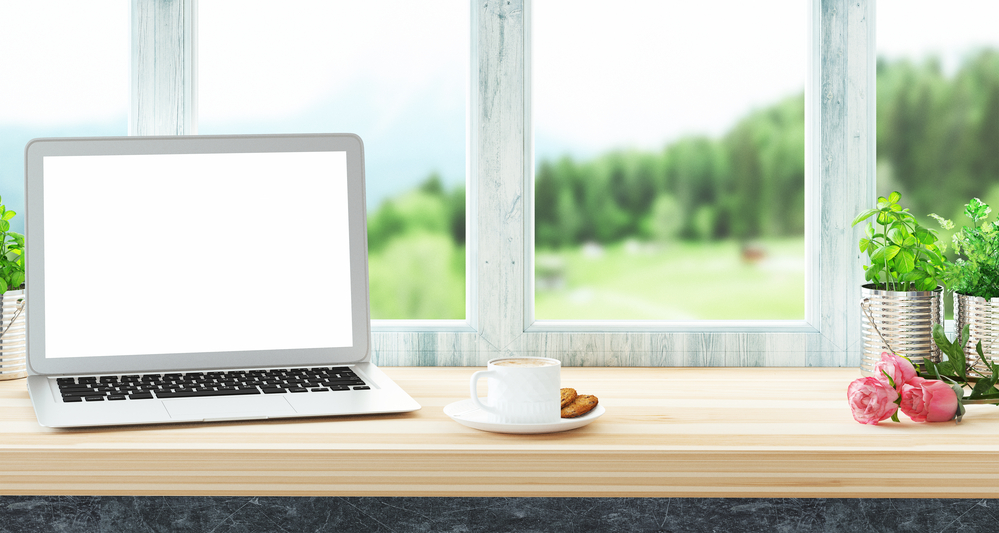 Want to spend time procrastinating from writing, yet still feel like a "writer?"
Do a Google Image or Pinterest search for writing space. You'll find a mouth-watering assortment of home offices, libraries, cozy nooks overlooking forests, you name it.
We all dream of having the perfect space for crafting our works, but maybe that's not what we actually need.
Maybe your retreat is less comfortable and glamorous. Maybe it looks and feels more like an airplane seat at 30,000 feet in the air.
My airplane "writing retreat"
I recently returned from a trip to see my mother. I'm on the west coast, she's in the midwest. Getting there takes two flights and several hours in the air.
On this last trip, I only brought out the laptop and worked for an hour or so in each direction, yet I accomplished a great deal:
Outlining a blog post from lengthy interview notes
Writing the rough draft of a writing post
Outlining a book chapter
Coming up with a plan to rework a section of a book
That's not a bad result for a couple hours of work. The thinking and planning will fuel many hours of productive work back at home.
It's odd, because an airplane seat is not a luxe writing retreat. It's very nearly the opposite.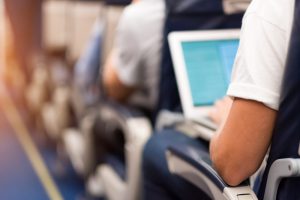 It's constraining. I can't spread out papers and pens. There's barely enough room for my small laptop on the desk, and anything extra lands on my lap. I can't get up and walk around easily. (When you sit in the window seat, as I often do, escaping the seat is an adventure.)
There's no Wi-Fi. Even if it's available, I rarely pay for the Wi-Fi, as I'd rather do concentrated work, then settle down to read a good mystery.
It's not even comfortable. The temperature is often too cold or too hot, the person in front of me may be reclining, and the engine makes a constant, loud background hum.
This isn't the first time that airplane time has been productive. I came up with the idea for The Writer's Process on an airplane. Other writers have reported similar experiences.
Something is going on here, and it's worth paying attention to.
Looking for clues
My output included outlining, planning, and creating a rough draft. The airplane environment supports creative work, reflection, and planning.
Why is that? Maybe it's because of the constraints:
No distractions: Without Wi-Fi, I can't follow online distractions. The most I can do is gaze out the window, and that somehow helps me enter a state of open attention.
Limited options: In the airplane seat, I am literally strapped in with my laptop. I can't get up and do something else, because I'm on the plane and there's nowhere to go.
Background noise. Airplane noise isn't pleasant, but it does fall into the category of white noise, which can support creative thought. In this article on Jane Friedman's blog, Donald M. Rattner, architect and author of My Creative Space, makes the case that silence isn't the answer for creative thought. He writes:
Absolute noiselessness tends to focus our attention, which is helpful for tasks that entail accuracy, fine detail, and linear reasoning, such as balancing our checkbook or fixing a Swiss watch. It's less supportive of the broad, big-picture, abstract mind-wandering that leads to fresh perspectives and a creative work product.
Maybe that silent cottage or idyllic retreat isn't what you need.
Building your own airline seat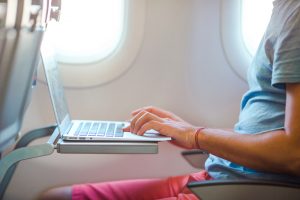 Have you had airplane writing success? Booking trips is too expensive, so consider bringing elements of the experience to your writing life.
You would never want to replicate the airplane environment in your own home. (I can hardly wait to leave it when I'm on the plane.) But you can implement a few of its elements when you need to be creative.
Limit the connectivity. Shutting down Wi-Fi might be dire, but you can try other ways to reduce online distractions. I write first drafts on an old laptop I don't use for anything else. While I do use Wi-Fi (hello, cloud storage), I avoid opening many browser tabs.
Add background noise. Some writers like to work in areas like libraries or cafes, with some background noise. Others use music playlists or white noise. You might find comfort in the sounds of being outdoors; cars, birds, planes, and more.
You can find multiple online sources for customized white noise and soundtracks, including a couple at the end of this post.
Confine yourself to writing. You could strap yourself into your chair, but people might think you're crazy. Instead, trick your mind into thinking you're confined. Set a timer and commit to working until the timer rings. Find your perfect interval.
Followers of the Pomodoro method would say it's 25 minutes. I like to work for an hour at a stretch. Do what works for you.
Pro tip: Don't put a loud alarm on the end of the timer. If you're in the flow of writing, you don't want to be jarred out of it and distracted.
Use strategies like this to build mini creative retreats into your everyday life.
Let me know if it works for you!
Related Links
Soundtracks for creative work:
Focusatwill.com
Brain.fm
On Jane Friedman's blog: For Writers, Silence May Not Be Golden After All