---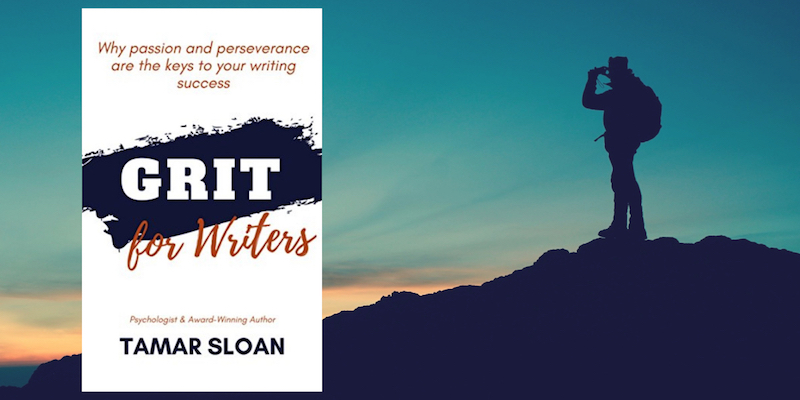 Short Version
Grit for Writers by Tamar Sloan is a guide to cultivating your most important attribute as a writer: grit. If you find yourself discouraged, flagging, or in doubt, you'll find support and solid advice here.
Long Version
Success in writing is a long game. It takes time to build the skills, bulk up the word count, and develop your craft. If you're a published author, it takes sustained effort to find your audience and keep going in the face of discouragement.
That's why I consider Angela Duckworth's book Grit essential reading for writers. (Read my post on Two Books to Build Your Writing Resilience.) But if you haven't gotten to it yet, you're in luck.
Tamar Sloan has done an excellent job of applying the concepts from Duckworth's book directly to the writer's situation in Grit for Writers: Why Passion and Perseverance are the Keys to Your Writing Success. She packs a great deal of wisdom and advice into a short, readable volume.
As a practicing therapist and a skilled writer herself, Sloan supplements the psychological theory with practical suggestions for writers. She knows how to motivate and inspire people, and it shows.
Why We Need Grit
Grit, as Sloan defines it, is "the ability to stick with things that are important to you, through hell and high water, thick and thin, through thousands of words and hundreds of pages." That definition works for me.
As a writer, you need grit to:
Get through repeated edits and revisions to improve your work
Listen to and learn from constructive criticism and thoughtful edits
Handle inevitable negative feedback, destructive criticism, and trolls without giving up
Focus on the audience (your purpose) and persevere when the path seems long
The book includes practical advice and exercises for developing your writerly grit. The section on mindset discusses topics like cultivating a growth mindset and focusing on your unique purpose. Writes Sloan, "Success for every writer will be truly diverse and deeply personal."
A third section describes the behaviors that reinforce grit, including intentional practice, goal setting, and creating habits. Build these into your writing practice, and you'll reinforce your long-term growth.
What I Particularly Love About the Book
As a cognitive science geek, I appreciate the psychological grounding for the book. Sloan describes the science without ever being dull.  She puts this information into a specific, actionable context. She includes activities to try for every topic in the book. In personal profiles, other authors share their stories of persevering through tough situations.
Grit may be the most important attribute you can develop to serve your writing career, whether you're trying to write the great American novel or crush it writing at work. Read this entertaining and inspiring book to build up your own grit and resilience, so you can weather the inevitable bumps in your writing road.
---
Related resources
Two Books to Build Your Writing Resilience