Buy the audiobook for $2.99 this month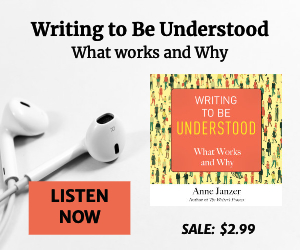 Writing succeeds or fails not on the page, but in the reader's head. What goes on when someone reads your work?
Writing to Be Understood dives into the secrets of analogies and metaphors, story, persuasion, and more. It's the thinking writer's guide to effective nonfiction writing techniques.
Listen and learn:
How to write about abstract subjects without boring the reader
Using analogies to illustrate unseen subjects

How to appeal to the reader's curiosity
Find the audiobook of Writing to Be Understood on sale for $2.99 at the following retailers: