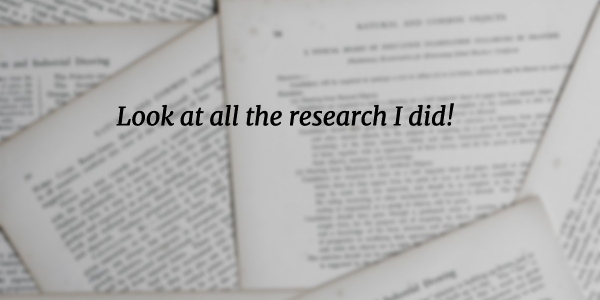 If you write research-based nonfiction, you have to figure out how to deal with supporting research.
How much should you include in the body of the text, and how much in end materials? There's no single, right answer. Often it comes down to personal preference and voice. But the decision affects your relationship with your reader.
Let's look at the dangers of getting the balance wrong.
Too little research: A missed opportunity for trust
Citing external research establishes the reader's trust.
Third-party authorities can back up your key points, for example, or help convince reticent readers.
Citing current research demonstrates that you're up-to-date in your field—especially important in fast-changing, research-based fields like science and technology.
Context matters, too. In scholarly and academic writing, authors commonly shore up every point with multiple citations. But don't bring that same approach to writing for a general audience. How many of us read academic journals for fun?
Too much research overwhelms the reader
Beware of trying to show readers all the research you've done—especially when you're writing for a general or non-specialist audience.
Relying too heavily on citations can backfire, eroding your own authority and the reader's trust.
Most non-specialist readers have a saturation point for dealing with citations. Once you hit that saturation point, two things can happen:
The reader tires of all the citations and stops reading.
The reader loses trust in your authority.
That second point is the unexpected one.
When every important statement begins with "According to," your own voice and opinions disappear. You cede your authority to other people rather than claiming it yourself. The reader sees you as a curator of research rather than an expert.
Find a balance that establishes trust
All of that research you've done contributes to your expertise—which is why people read your work.
The reader wants to trust your expertise. Do the research, but don't cite all of it.
You want people to know that you've done your research? That's what footnotes, endnotes, and bibliographies are for.
How much research should you include? That depends on your personal voice and style, the reader's expectations, and how skeptical the reader might be about your content.
As an example from my own books, Writing to Be Understood relies on research and includes endnotes and a bibliography. But I limited the actual citations to a couple per chapter, to avoid overwhelming the reader.
33 Ways Not to Screw Up Your Business Emails is short and fun—entirely free of footnotes or bibliography. I mention research informally in the chapters and put further reading and research citations into online resources for the book.
Serve the reader's needs.
Strategies for finding the right balance
The presentation of research becomes part of your writing "voice." You may want to tinker with it for different projects.
Read other authors you admire in your genre.
How many direct citations do they include in the text?
Do they describe research in their own words or use the words of others?
Do they rely on footnotes or endnotes? How do they demonstrate their research?
What's the balance of research to story or explanation?
Examine how those decisions affect the way you feel about the author, then decide what makes sense for your situation.
If you never cite research, see what happens when you back up a story with a vetted data point.
If you include a lot of research or come from an academic background, experiment with making a statement and then pointing to a footnote. See what it feels like to share your research-based expertise in your own voice.
Other reading