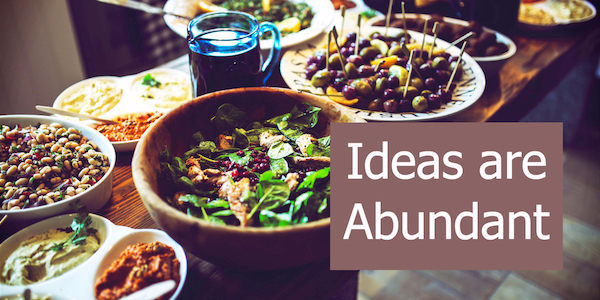 If you're one of those writers who waits until a great idea strikes to write, then you may find yourself running low on fodder. For many of us, the act of writing itself primes the mind to identify insights and create something new.
This is yet another chicken-and-egg writing situation (like writing and outlining).  You must write first to get the ideas to work with.
Coming Up With Ideas
This post is inspired by one of my email list subscribers who, responding to my question about her biggest writing challenge, sent me this:
Coming up with fresh, inspiring content
I hear you.
Marketing professionals in particular often suffer from this problem. They are tasked with creating fresh ideas for businesses, to fuel content marketing goals. Creating content for the marketing machine is like feeding a teenage boy – there never seems to be enough.
Here's the advice I shared with her: Commit to writing regularly, even when you feel empty.
Ideas are truly abundant, but we have to be open to finding them.
By sitting down regularly  to write, even when you have nothing inspiring to say, you signal to your brain that you are serious about the work. Eventually, your mind comes through with the content you need. It notices connections, identifies patterns, or even overhears snippets of conversation that lead to an insight.
Louis Pasteur said that chance favors the prepared mind. The same is true for writing.
Creativity favors the writer who is writing.
Eventually you may suffer from the opposite problem: deciding which ideas to dedicate your time to writing. But that's another post.
A Challenge for the Holidays
If you are sitting down soon at a holiday table, prepare yourself to be alert and open to ideas relevant to your writing.
Before you go to (or host) the gathering, steal a moment to think about your writing. Open a file or journal page and pen a few notes about subjects you'd like to cover or a problem you're facing in a larger work.
Then go enjoy the meal, but keep a notebook handy. Make notes of words, ideas for metaphors, quotes, anything interesting as the conversation passes. By the end of the day, or early the next day if you're still digesting, look through your notes or recollections.
You'll probably find something fresher than the leftover turkey to work with. Let me know if this works for you.
---
Related Resources
Do Not Save Your Best Writing for Later
Videos about barriers to writing