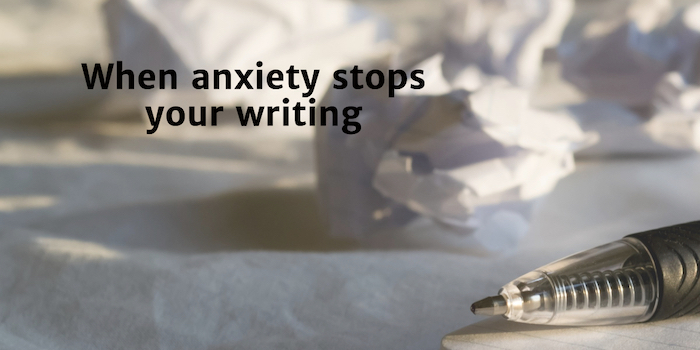 Writers can be anxious people. Our minds generate stories and ideas, looking for sources of conflict and drama. We sometimes have trouble shutting down that narrative engine.
A mind that's always looking for trouble is going to find it. For writers, this means inevitable writing anxiety.
Anxiety and worry stalks writers of all types, whether you're crafting a blog post, term paper, or book. It might sound like this when you're writing:
Why do I keep writing in the passive voice?
Gah, I used an adverb! I'm a terrible writer.
There's nothing original in this thing.
What if no one likes it (or what if my professor hates it?)
If you're working on a book, your mind can seize on worries about the publishing marketing, such as:
What if someone steals my idea?
What if I cannot get an agent/publisher?
What if nobody buys the book?
What happens if I get a negative review?
Critical reflection can improve the work when applied in the revision process. But obsessing over other people's opinions of you or worrying about theft may prevent you from writing in the first place.
Relax.
If you want to write fluidly and creatively, let go of fear. Remember, writing in a state of flow requires an absence of fear.
If you plan to publish anything, from a blog post to a book, you need to put the anxiety behind you and get on with the work.
Ways of Dealing with the Worries
Here are a couple of suggestions in case you experience anxiety that slows you down or stops you in your tracks:
Focus on Serving the Reader
Remember that you're providing value to your ideal reader. The act of writing isn't about you at all. It's about creating work that will benefit the reader.
When you're serving others, it's easier to keep going in the face of uncertainty.
Have Faith in the Process
Divide writing into its component parts, then focus on taking the next step when anxiety strikes. Keep your head down and follow the plan.
Worried that the draft is terrible? That's okay, because when you're done with the first draft, you'll revise until it is good enough.
Don't feel like a writer? That's okay, because you're still writing. Let your actions guide your beliefs.
There's nothing original here? If you're writing from a place of deep thought, the result will be filtered through your unique perspective. If your audience finds value in it, then you have done your job.
Understanding and following your process keeps you moving through the doubts and lessens the destructive impact of anxiety.
Related Content
Blog post: Writing in the Zone
Video: The Imposter Syndrome
Book: Find more thoughts on process in The Writer's Process.

No Fields Found.