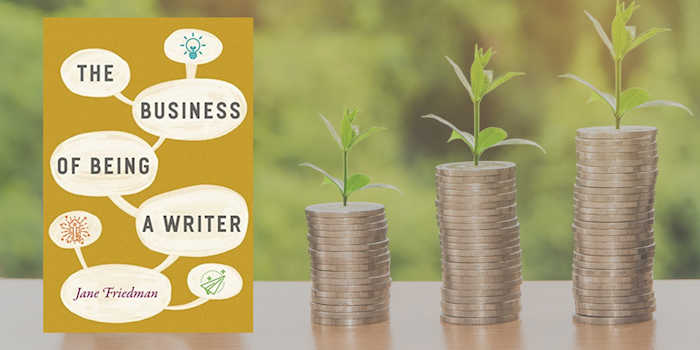 Short Version
It's fashionable to complain that no one can make a living writing,  or that self-publishing is for hobbyists only. In The Business of Being a Writer, Jane Friedman begs to differ. She knows a great deal about the publishing industry, and in this book she suggests that you can make a living, but only if you approach it like a business and think creatively about your income and your time. If you're struggling to make a living with your writing, make room on your bookshelf for this invaluable guide.
Long Version
If you worry about whether you can support yourself with writing, pick up Jane Friedman's new book, The Business of Being a Writer. It's filled with wise, practical, and compassionate advice for writers of all types, by the always-generous Jane Friedman. Reading it is like having a smart, experienced mentor in your corner.
When I heard Jane speak at a writing event recently, she suggested that the core audience for this book is the fiction writer. Indeed, those writers will find important insight about pursuing an MFA or other graduate degrees, teaching, literary agents, and more.
But there's great stuff in here for nonfiction writers as well, including advice on:
Freelance writing practicalities and opportunities
How to write an author bio
Online writing and blogging
The nonfiction book proposal
The book has five parts:
Part One: Making a life as a writer
Part Two: Understanding the publishing industry
Part Three: Getting published
Part Four: The writer as entrepreneur
Part Five: How writers make money
Each section works well on its own. Read them together to develop a realistic view of how authors and other writers can support themselves and thrive in today's market.
In particular, the book will open your eyes to options for crafting a business that supports your writing. It covers everything from affiliate income, teaching, freelance editing, freelance writing, crowd funding, and more.
3 Things I Love About This Book
The author platform discussion: Everyone talks about "author platform" but few people define it well. Friedman identifies six components of the platform:
Publicly available writing
Social media activity
The author website
Personal relationships
Influence
Actual reach
Literary citizenship: Friedman writes of the importance of literary citizenship activities that sustain the community to which you belong. Writers at any stage of their careers can cultivate literary citizenship by sharing the work of others, writing reviews, and building relationships.
The book's overall approach and attitude: Knowledgeable as she is, Friedman does not pretend to have all the answers. Instead, she provides the resources and arms you with the right questions. She writes:
"Successful authorship isn't a formula. It requires individuality, thoughtfulness, and critical thinking."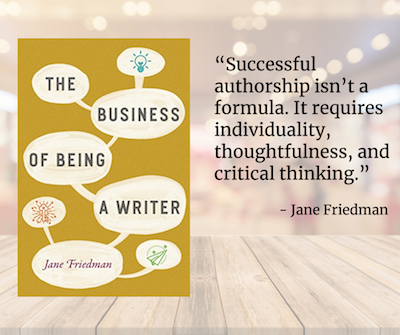 Her supportive approach encourages writers to take the long view. And while realistic, the book is also optimistic:
"It remains possible to make a decent living from writing if you're willing to pay attention to how the business works, devise a business model tailored to your goals, and adapt as needed."
Treat it like a business. Invest your time, effort, and sometimes money to bootstrap a successful writing life. It may not be as glamorous as your dreams, but it's possible. Use this book as a guide.