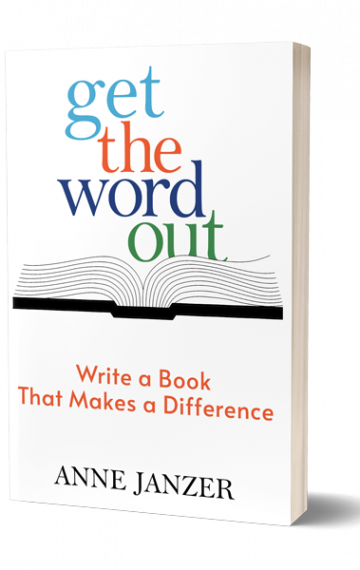 Now on Audio!
$4.99
Publisher:

Cuesta Park Consulting

Available in:

Paperback, Hardback, Kindle, Audiobook

ISBN:

978-1-952284-02-1

Published:

November 10, 2020
Find it on Amazon
Audio, ebook and print retailers
Find it on Bookshop
Write a Book That Makes a Difference
What message do you want or need to share with the world? Are you ready to add your voice to the conversation, expand your impact, and influence others as an author?
Write the book you wish to see into the world.
Get the Word Out is a guide to writing a nonfiction book or memoir grounded in a sense of purpose.
This practical and inspiring book offers advice for every phase of the journey, from clarifying your concept and owning your authority to drafting the manuscript and doing the important work after publication.
Whether you're an industry thought leader seeking to expand your impact or someone with a tiny following and a big idea, this book will help you approach your book project with clarity, confidence, and commitment:
Clarity about your message, your audience, and your vision for the book
Confidence in your expertise, authority, and ability to write the book
Commitment to see the book through to publication and spread the word beyond
You won't find a quick-and-easy recipe or a promise of a best-seller in this book. You will find suggested exercises, original research from a survey of hundreds of nonfiction authors, and stories and advice from other authors who write difference-making books.
Many authors report that they wish they'd written their books sooner. What are you waiting for?
---
Reviews
"The reader comes away not just with a message, not just with a plan, but with a mentor… The book moves beyond prescriptive nonfiction, and the reader receives not only information but connection."
Critic's report, The BookLife Prize
(read the review here)
"I heartily recommend it as useful for all those who are thinking of writing a book or are in the midst of the book-writing process."
Nancy Christie,
Review on The Writer's Place
---
What Others Are Saying
"Want to leave an enduring legacy? Get your book out of your head and into the world. Anne Janzer shows how to turn intentions into results in this inspiring guide. Read it and reap."
Sam Horn, author of POP! and Tongue Fu!
---
"Anne Janzer offers that ever-valuable combination of support and motivation—with the bonus of providing tips to help authors clarify their purpose, which really matters in this industry. The advice in Get the Word Out will encourage you stop waiting for the gatekeepers to give you permission and to green-light your work."
Brooke Warner, publisher of She Writes Press and author of Write On, Sisters!
---
"As writers, we have the ability to make a difference in the world with our books. If you have something important to say, the insights and real-world stories in Get the Word Out will inspire you to cross the finish line. This is a powerful book that every nonfiction writer should read immediately!"
Stephanie Chandler, author of The Nonfiction Book Publishing Plan and CEO, The Nonfiction Author's Association
---
Marketing, for some authors, is a guilty pleasure. For other authors, marketing is guilt and no pleasure. Anne Janzer shows you that it's okay to market using your strengths and not worry about doing things you hate even thinking about doing.
Dan Janal, Book Coach, Developmental Editor and Author of Write Your Book in a Flash
---
Read an Excerpt
Listen to a Conversation about Servant Authorship
Listen to the Marketing Book Podcast interview on the book:
Take a look inside:

Where to find it
Love print books? Find the print book in the usual places, including Barnes and Noble and Amazon. Ask your local indie bookstore to order it, or your library to carry it. Or order from Bookshop.Org and support the indie bookstores.
Instant gratification with ebooks?  Find the ebook on Apple Books, Amazon Kindle, Google Play, Kobo, and more. Here's a universal link to help you find the one you love best.
Prefer audiobooks? Find the audiobook on Audible, Apple Books, Google Play, Chirp, and more. (You can purchase it directly from me on my Authors Direct bookstore.)
Love your library? Ask your library to order the print edition. Or request it from the ebook or audiobook service your library uses: the book is available on many of them.