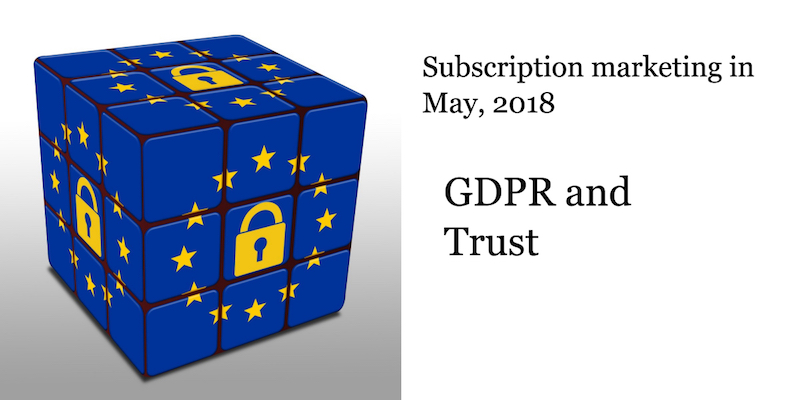 Welcome to the May 2018 Subscription Marketing update. The main topic this month is, of course, GDPR.
Why GDPR is good for subscription marketers
In case you've been hiding under a rock, May 25 is the implementation data for the European General Data Protection Regulation (GDPR). It's the reason for the flood of notices in your inbox saying "We've updated our privacy policy."
In many ways this policy is good news for subscription marketers, as it requires businesses to be more transparent about how they're collecting information and what they're doing with it.
Doug Kessler of Velocity Partners makes a compelling argument that GDPR simply puts an end to "generally dickish practices" in marketing. Read it on the the Velocity Partners blog.
Subscription marketing success, remember, is built on trust. By enforcing transparency and good practices, and taking aim at those who abuse customer information, this regulation is going to reinforce trust.
On a related note … I've updated my privacy policy
Some of you are in Europe and beyond, so I've updated my privacy policy to (I hope) comply with the gist of the regulation. Here's the link to the Privacy policy (also found in the About menu on my site.)
Consider yourself notified!
The latest Amazon delivery vehicle is … your car?
In a move to get ever closer to the customer, Amazon will now deliver to your car. Seriously. Read up on Amazon Key: In-Car delivery. Or, watch this video:
Amazon Key already had an option for opening your front door, now it can unlock your car trunk. These services aim to defeat the package thieves who grab deliveries left on doorsteps.
Does anyone else find this slightly disturbing? I realize that a successful subscription is built on trust, but does this take "trust us" too far? Everyone will answer that question differently.
If the potential for Amazon's intrusion into your life disturbs you, I suggest you do not read this New York Times article about the Amazon Echo (and other home speakers) acting on stealthy voice commands that you cannot here.
Subscription pricing is hard
Pricing can make or break subscription success.  Getting it right is tough. Here are a few resources you might find helpful:
How Amazon raises prices
If you think pricing is tough, try raising prices! Current subscribers will never be happy with a price increase – they may feel like they're losing something. You've got to counteract that.
Amazon is upping the price of its Prime Membership (its main subscription offering) from $99 to $119. As a Prime member, I got the email about it and must say, the company is once again modeling effective subscription marketing practices.
The email did two things:
It notified me of the increase six months in advance. So, Amazon isn't trying to sneak an increase past anyone. They now have six months to convince me of the higher value. Also, from a cognitive science aspect, the advance warning separates the "pain" of the price increase from the decision to renew.
The email reminded me of the value that Amazon is constantly adding to the Prime subscription:
"We have expanded Prime Free Same-Day and Prime Free One-Day delivery to more than 8,000 cities and towns and we will keep expanding. The number of items eligible for free two-day shipping increased in recent years from 20 million to more than 100 million items. Members also enjoy unlimited streaming access to millions of songs and thousands of movies and TV shows, including popular and award-winning Prime Originals."
If you need to raise prices:
Add value before raising prices
Let people know in advance rather than surprising them at renewal time
Remind subscribers of the added value
If you'd like to get this monthly update in your email, sign up below.