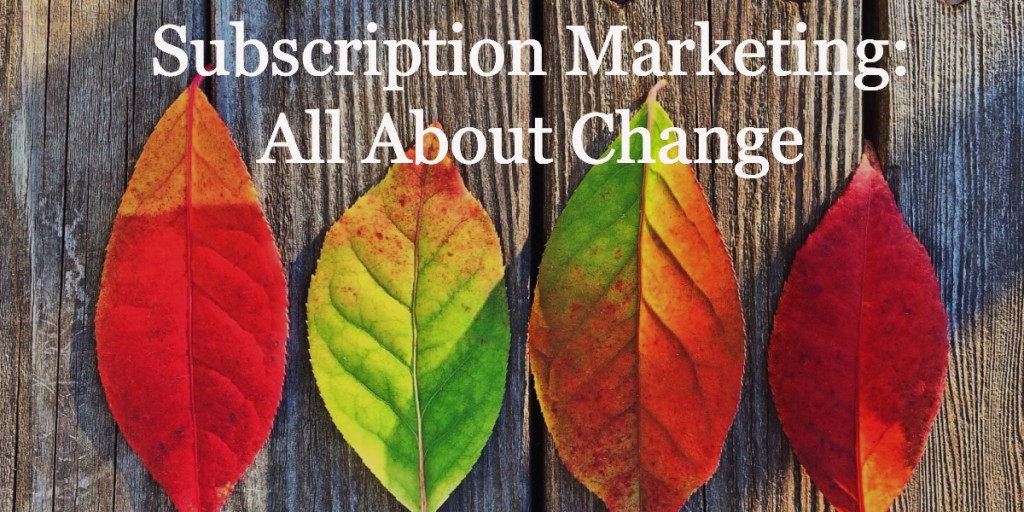 A new season arrives with autumn equinox. So, our theme this month is change, with all of its joys and trials.
Mountain View, California, where I live, is in the midst of a construction boom. I recently returned from a few weeks of travel to find buildings that were one-story metal frames now looming up four stories. Leaving town for a few weeks made the rapid pace of change even more obvious than it already was.
Change can be fun and invigorating when we instigate it ourselves, but threatening when we're not in control. The faster the pace of change, the less time we have to adapt.
The subscription model acts as a change agent in many industries. Remember that "disrupting" isn't always fun when you're on the receiving end.
How do your customers handle change?
When switching an existing business to a subscription model, the transition can be tough for your business and customers alike.
Some customers dislike the trend toward subscriptions. Perhaps they feel forced into a subscription model when they would rather buy goods outright. If they don't trust a vendor, they don't want to embark on a subscription relationship. And sometimes, the pace of change is simply too fast.
If you're switching from a traditional, one-time sales model to a subscription model, consider how you can overcome resistance to change during the transition. For example:
Do you provide levels of membership, giving new subscribers an element of control?
Is there a transition period for people to adapt?
Can you add value to the subscription, so people feel they are getting something new and better rather than being forced into a different payment model?
Even if you're excited about the new model, take the time to understand customer perspectives.
Is it time to change the way we go to the movies?
Hollywood had a tough summer at the movies. This was apparently the worst summer in a decade in terms of box office receipts.
MoviePass might suggest that subscriptions are the answer.
MoviePass offers a monthly subscription to movies in the theater. To spur subscriber growth, the company recently lowered its price, offering unlimited movies for $10 per month. According to an article in Mashable, its subscriber base exploded by hundreds of thousands in a few days.
Handling that rapid growth has been a challenge, but MoviePass is on course to shift the way we go to the movies.
How about college textbooks?
The cost of college textbooks has risen almost as quickly as tuition itself. Change is on the way for college students as well. Check out College Textbooks Are Going the Way of Netflix on Quartz.
Changing your approach to marketing
Joe Pulizzi and Robert Rose, of the Content Marketing Institute, are always pushing the boundaries of content marketing.
Their latest book, Killing Marketing, takes content marketing and value nurturing to the next logical step. In their model, the content and community that marketing creates can become a core business asset, beyond its function in generating and nurturing leads. Read my review of the book here.
Inspiring and leading change (September's book deal)
Are you in a management or entrepreneurial role, or do you aspire to one? If so, check out The Moonshot Effect, on sale on Kindle for 99 cents through the end of September. This book is a guide to leading change in an organization. (It won the 2017 Gold Axiom Business Book Award Winner in Leadership.)

Disclosure: I helped Lisa Goldman and Kate Purmal write this book, so I know that it's chock full of good advice on team communications and leadership.
Fundamentals never change
Seth Godin just keeps shipping great advice. My recent favorite from Seth is a short post entitled Selfish Marketing Doesn't Last. This quote summarizes the essence of value nurturing for the long-term relationship:
"In the long run, your selfishness will catch up with you. Day by day, the long run keeps getting shorter."
Upcoming Events
From Idea to Publication: Crafting Your Nonfiction Book Plan
Writing a book can transform your professional life. If you're in the Bay Area, join me on October 4th, on the LinkedIn campus in Sunnyvale, for a half-day workshop on going from concept to publication.
Women In Consulting is sponsoring the workshop, but you don't have to be a woman or consultant to attend! Here's the registration link: http://bit.ly/WIC-BookWritingWorkshop.
B2B Marketing Forum
October 3-6, Boston, Mass. This terrific conference is almost sold out. Find out more here.
SUBCOM 2017: The Subscription Commerce Summit
November 14-15, Marines Memorial Club, San Francisco.
The event organizers have been adding some interesting speakers.
Sean Kelly, CEO and CO-founder of SnackNation, will present how prioritizing a positive and fun workplace environment will not only improve employee retention, but will in turn increase customer engagement and minimize churn in your subscription business.
Ali Lichtenstein, Director of Customer Experience Design at Dow Jones, will give a talk on the importance of mapping the customer experience in a subscription business in order to identify opportunities to reduce points of friction and improve ROI.