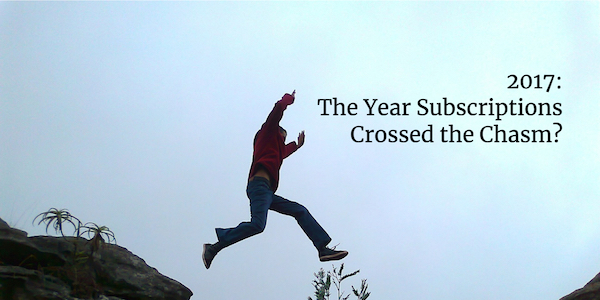 If you've read Geoffrey Moore's seminal book Crossing the Chasm, then you know that there's a point at which a new technology goes from early adopter to mainstream acceptance. Getting to that point is the hard part – a chasm in which many startups flounder.
The subscription business model isn't a startup or technology, but it shares many similar hurdles. This revenue model has struggled to get past skeptics as it enters new industries, and to be taken seriously as the game-changer it truly is.
When I first published Subscription Marketing in 2015, some people thought it only applies to newspapers and magazines.
Things have changed.
I suggest that 2017 was the year that the subscription-business model crossed the chasm into mainstream adoption. These are a few of the indications on which I base this assertion:
2017 saw several notable IPOs of subscription-based businesses, including Stitch Fix, Roku, and Blue Apron.
See this CNBC article about how companies like Stitch Fix resist the "subscription box" label. Once people start arguing over labels, you know you're getting somewhere.
Some people say the whole subscription thing is a bubble – surely a sign that it's hit a critical mass.
Wall Street finally understands subscription revenues. My mother, who follows earning reports, has started mentioning the impact of recurring revenues on publicly-traded companies she follows.
When my rather technophobic mother starts talking about something, you know you've hit a tipping point.
On a personal but related note, 2017 was a banner year for the book Subscription Marketing: Strategies for Nurturing Customers in a World of Churn.
The revised and expanded was published early this year.
The Japanese language version of the book came out in November in Japan, and became the bestselling book in several Amazon Japan categories, including marketing and advertising.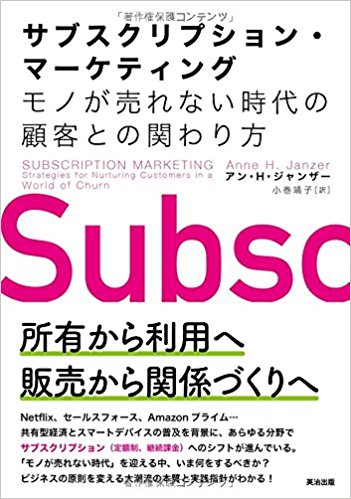 Who knows what 2018 will bring?
Are You Giving Subscriptions as Gifts?
Subscription box companies have been appealing to gift-givers this holiday season. Yet I would suggest that you think carefully before embracing this trend. Read my post The Gift of Subscriptions: A Mixed Bag (or Box).
A Few Gift Options
If you are giving subscriptions as gifts, here are a few new or interesting options beyond magazines and fruit:
For the person who doesn't like doing laundry: Subscription underwear! Fruit of the Loom has jumped into the subscription underwear business with Fruit to your door. It's the largest entrant in a crowded market, with meundies, splendies, and panty drop. I'm not kidding.
For the car enthusiast: Depending on where you live, you might be able to give someone a new car… subscription. Ford has Canvas, Cadillac offers BOOK, and Porsche has the Passport program.
For the magazine reader: Rather than giving a subscription to a single magazine, give the recipient an online subscription to nearly any mainstream magazine with Texture.
Just for Fun
Watch the video for this humorous, seasonally-appropriate subscription offering: Coal.
Something For You
Treat yourself or the people who work with to advice that will build a better 2018.
Free online course: For anyone who writes in the workplace, I've created a free, short course on getting your work through reviews and approvals. Sign up for it here.
Bulk purchase discounts: Want to share your value nurturing philosophy with others? Take advantage of bulk pricing discounts for Subscription Marketing or any of my books.
What Are Your Predictions for 2018?
What do you think lies in store for marketers in 2018? For subscription based businesses? Share your thoughts in the comments.