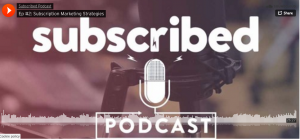 Zuora has launched a new podcast about the implications of the Subscription Economy, and I had the pleasure of being a guest on episode #2.
It was a pleasure to speak with Tom Krackeler and Rachel English from Zuora, as they understand the marketing implications of the subscription business model. We talked about:
Why marketers should focus on the customer's experience of value, rather than the customer's monetary value
The dangers of organizational silos in a subscription business
Betrayal, greed, and other circles of subscription hell
Aligning with customer's deeper value
Find the episode on iTunes, visit the podcast website, or listen below.